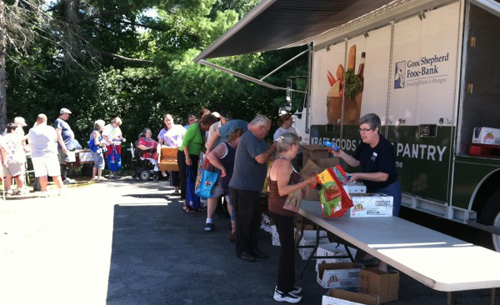 This is the third in a series of articles on aging in America that will appear on People's World as we look back on 50 years of the Older Americans Act. Other articles in the Aging in America Series can be read here.
In the first two articles of this series, we saw the staggering numbers of older Americans having to remain in or return to the labor force to make ends meet, and we discovered that not only will the older population double to 70 million by 2030, but the official measure the federal government uses to gauge poverty dramatically underestimates the real figures-particularly in urban, African-American, and Hispanic populations.
The recently published Policy Priorities 2016 report by the National Association of Area Agencies on Aging, draws attention to the plight of 48 percent of adults ages 75 to 84, and 54 percent of those 85 and older (2010 Census), who are one life or health event away from poverty. Using the admittedly low-ball official poverty measure, over 25 million Americans aged 60+ are economically insecure-living at or below 250% of the federal poverty level (FPL) ($29,425 per year for a single person).
All things being equal, these figures mean that by 2030 the United States will have more older people living in poverty than the entire populations (30 million) of Australia and New Zealand combined. Added to these demographic pressures, our country is plagued by the costliest health care system in the world.
According to the Organization for Economic Cooperation and Development (OECD) 2012 health study, we in the U.S. spent $8,233 on health per person in 2010. Neoliberal apologists say that this is the price we must pay to have the best health care in the world. In fact, three of the countries with the best health care in the world are Norway, the Netherlands, and Switzerland, which spent at least $3,000 less per person. The average spending on health care among the other 33 developed OECD countries was $3,268 per person-less than half what we pay in America.
The crisis that faces working class older Americans is the same struggle which confronts young people, African Americans, Hispanics, women, and everyone who is living from paycheck to paycheck. Our basic human right to a life of dignity-including food, shelter, health care and education-is being poisoned by globalized capitalism. In a land of immense wealth, older adults and working people are told that there are not enough resources to ensure these basic rights.
While national institutions bemoan tightening budgets, instead of leading the charge to prioritize people over profits, we hear catchphrases. In the language of Washington policymakers, "wise investment" means not meeting critical needs. Excuses and cheap tricks replace substantive action to meet immense policy failures, the cost of which is valued not in dollars, but in lives.
But it is precisely in recognizing those political shortcomings that we, as working people, can begin to develop a unified consciousness of why it not just politicians who fail us, but the whole socioeconomic system itself. We begin to organize and find solidarity with others who are also victims of its operation. From this coalescence, the structures and organizations which can take us to something better are born.
Young and old both need health care, a safe home, food, and clean water. We need teachers and caregivers who are educated and healthy. We need clean, efficient public transportation to get to work and the doctor's office. All these facets of our society are either shopworn and underfunded or completely lacking, and it is the crisis of the older population which may bring the fundamental weaknesses and injustices inherent to capitalism in America and the world to a head.
Donald Donato is a writer, priest, and human services advocate from Boston. He has worked with community-based organizations in support of economic, social, and cultural rights as human rights for over a decade, and he is currently the Area Planner and grant writer for an Area Agency on Aging near Boston.
Senior citizens line up to receive allocations from a mobile food bank. / Credit: Good Shepherd Food Bank of Maine