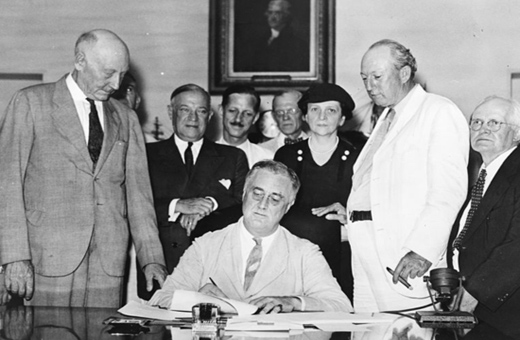 The Republicans have a plan: pit older workers who receive Social Security Old Age and Survivors Insurance (OASI) against so-called "freeloading" beneficiaries of disability insurance. The plan is being sprung just in time for the 2016 election.
No sooner than the first week of the 114th Congress, GOP legislators in the House of Representatives passed rule changes that would allow "any member to raise a 'point of order' if the House considers a 'clean' bill to fix a predicted shortfall by authorizing an internal re-allocation of Social Security funds."
The "point of order" would prevent a transfer of funds – done 11 times by Congress spanning Democratic and Republican administrations alike – from the Social Security trust fund to the disability program.
The problem: payroll tax deductions only account for 80 percent of the disability fund. "If Congress does nothing, the program's 10 million enrollees could face a 19 percent benefit cut, about $200 per month for the typical beneficiary."
The GOP intention is clear: "force us to look for a long-term solution for SSDI rather than raiding Social Security to bail out a failing federal program," explains rule co-sponsor Rep. Tom Reed , R-N.Y. "Retired taxpayers who have paid into the system for years deserve no less."
It's patently obvious they're trying to convince retired workers that in order to preserve the system, the disabled should be sacrificed.
Presidential aspirant Rand Paul took the ploy on the road in a recent swing through New Hampshire claiming "Over half of the people on disability are either anxious or their back hurts."
But Paul knows full well typical beneficiaries aren't gaming the system – most are either physically disabled or injured workers no longer able to hold down a job. Only about 25 percent of the disabled who apply for the benefits are even approved. Over 30 percent are between 60 and 65! Many have been forced to seek disability benefits because of legislation that has raised the age that people are eligible for the regular old-age benefits. Will the scheme hatched by Paul and his cohorts work? Last November's election suggests such appeals to older beneficiaries should not be discounted.
Those who think that it is the intention of Republicans to cut disability benefits so they can save Social Security overall should remember that the GOP has shown by its past deeds that it has no intention of saving Social Security but rather seeks to privatize it.
Senate Democrats have voiced opposition to the plan. But what could happen in future budget negotiations? One thing is clear: Only unity between older and younger, able-bodied and disabled, will prevent significant cuts to the program. Call your Congressperson and let them know you will not tolerate cuts in the disability program.
Photo: The latest parliamentary maneuver by the GOP-controlled House is just one more salvo in an 80-year attack by that party on Social Security ever since it was signed into law by President Franklin Delano Roosevelt in 1933.