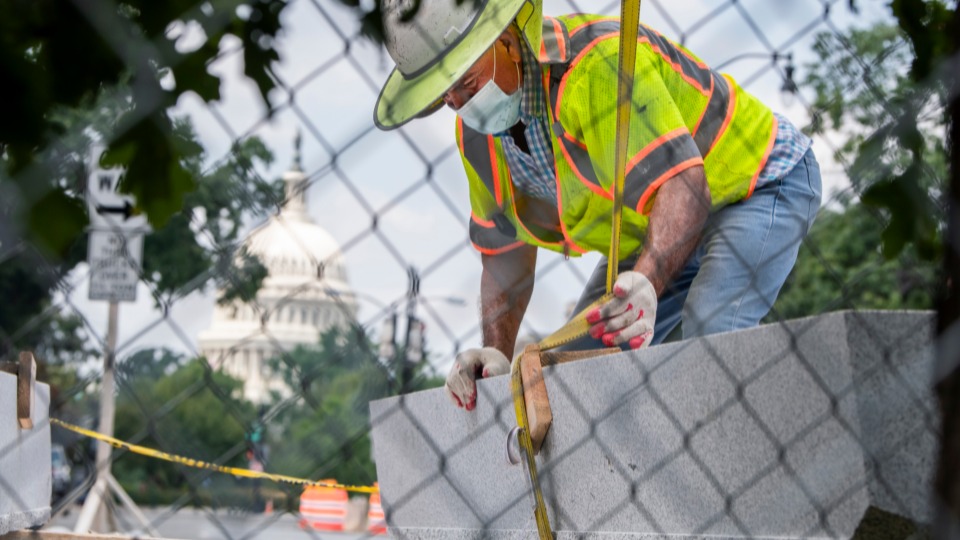 WASHINGTON—Even with the Senate voting 69 to 30 to approve a $1 trillion bill to reconstruct or replace the nation's crumbling roads, failing bridges, elderly subways, and lead-lined water pipes, while adding affordable broadband for everybody, there's a caution flag: There's a lot of heavy lifting still to come on the two big spending bills going through Capitol Hill.
And it won't occur until after Labor Day, and Rosh Hashanah, at the earliest.
That's because the Senate's bipartisan, $1 trillion "hard" infrastructure bill must still clear the Democratic-run House, where there's a razor-thin margin of control—and where progressives are already saying it doesn't do enough to curb the galloping global warming a special United Nations report revealed Monday.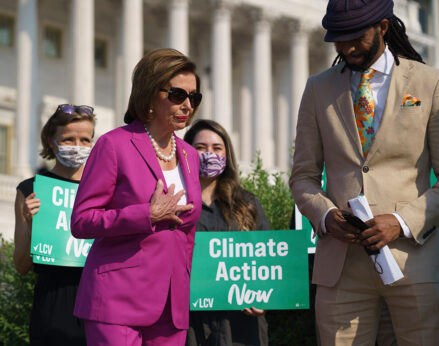 That's also because House Speaker Nancy Pelosi, D-Calif., won't bring the "hard" bill to the floor until senators approve the accompanying $3.5 trillion "reconciliation" bill. Senate Minority Leader Mitch McConnell won't be helping it along, having already declared early Tuesday that "Biden and the Democrats promised to govern down the middle but (with the human infrastructure bill) they have already handed the keys to the radical left."
The reconciliation measure will order Congress to fund everything from combatting global warming to expanding child care and paying workers a living wage to permanent paid family and medical leave to rolling back the 2017 GOP tax cut for the rich and corporations. It'll even sharply increase the fines and penalties for labor law-breakers.
"We will fight to make it easier, not harder, for workers to join unions in America," declared Senate Budget Committee Chairman Bernie Sanders, Ind-Vt., who is trying to shepherd the reconciliation bill through Congress and onto the president's desk for signing.
In the latest development, the Congressional Hispanic Caucus and outside organizations inserted comprehensive immigration reform, as a way to increase revenue.
"Senate Democrats' inclusion of a pathway to citizenship in their newly-unveiled budget resolution (reconciliation) is a testament to our courageous immigrant youth leaders and allies who organized outside of the White House and senators' offices, sent letters to their elected officials, and mobilized their communities over the past eight months to demand a pathway to citizenship for immigrant youth, TPS holders, farmworkers, and other essential workers," said Greisa Martinez Rosas, executive director of United We Dream.
"We have always known that temporary protections like DACA have never been enough."
Added Sanders: "We will bring undocumented people out of the shadows and provide them with a pathway to citizenship, including those who courageously kept our economy running in the middle of a deadly pandemic." His panel's Democrats accepted the immigration insertion.
Lawmakers to get earful
As for the timing, lawmakers are going to get an earful when they take their August break. The House has already quit for the month, and the Senate plans to do so after it passes reconciliation, if it does.
The break, however, gives workers and their allies an opportunity to bend lawmakers' ears and lobby for pro-people priorities.
"To build back better, we must be bold," declared Liz Shuler, the AFL-CIO's acting president, adopting Democratic President Joe Biden's theme for pro-recovery measures. "That means unparalleled investment in America's working families. The $3.5 trillion budget resolution is what we need to continue on the path toward making our country whole again.
"From investing in working families, education, paid leave, child care, clean energy jobs, and game-changing infrastructure projects to the creation of a long overdue path to citizenship, expansion of health care access, and labor law enforcement with real penalties, this budget resolution is a vital part of President Biden's Build Back Better agenda that has already been such a lifeline for our economy. We fully support this bill and look forward to its passage."
MoveOn Executive Director Rahna Epting said, "To build back better, we need to invest in good paying union jobs, clean energy jobs, the care infrastructure that so many people depend on, and a pathway to citizenship for Dreamers, TPS holders, and essential workers like farmworkers. MoveOn members are working tirelessly to ensure this becomes a reality because America cannot afford to wait any longer."
Both bills encompass Biden's plans to lift the country and the economy out of the coronavirus-caused ditch. And that means they're important to workers and citizens as well as taking aim at the 1%.
Unemployment has improved since the depths of the coronavirus-caused depression, which saw official unemployment near 20% and the equivalent of more than a fifth of workers get state or federal jobless aid checks. It's now 5.4%, but there are still 8.7 million jobless, and more women than men still haven't gone back to work.
Further, the galloping spread of the virus's Delta variant threatens to dump the economy—and workers—right back in the drink. The two pieces of legislation are supposed to be enough to keep everyone afloat. As of 10 am on August 10, nearly 36 million people cumulatively had tested positive in the U.S. since the pandemic officially started, and 617,424 have died.
Which is another reason Biden and congressional Democratic leaders, as well as workers and unions, are pushing reconciliation, too.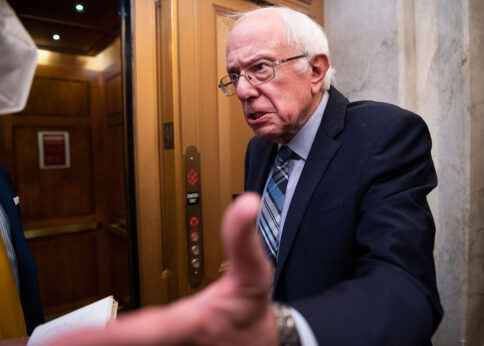 In a series of posts on his Facebook page, Sanders calls his panel's reconciliation bill "the most consequential piece of legislation for working people, the elderly, the children, the sick, and the poor since FDR and the New Deal.
"It will also put the U.S. in a global leadership position to combat climate change and make our planet healthy and habitable for future generations while creating millions of good-paying jobs as we address the long-neglected needs of working families and saving the planet," he wrote.
"At a time of massive income and wealth inequality, we will end the days of billionaires and large, profitable corporations not paying a nickel in federal income taxes. Yes. We will finally ask the very wealthy and largest corporations to pay their fair share of taxes.
Won't pay a penny
"Under this budget, however, no family making under $400,000 a year will pay a penny more in taxes and will, in fact, receive one of the largest tax cuts in American history," he promised.
"We will save taxpayers hundreds of billions by requiring that Medicare negotiate prescription drug prices with the pharmaceutical industry and we will use those savings to expand Medicare by covering the dental care, hearing aids and eyeglasses that seniors desperately need.
"We will take on climate change by transforming our energy systems toward renewable energy and energy efficiency. Through a Civilian Climate Corps we will give hundreds of thousands of young people good paying jobs and educational benefits as they help us combat climate change."
Rep. Alexandria Ocasio-Cortez, D-N.Y., has pushed the climate corps as part of the Green New Deal. But that doesn't guarantee Ocasio-Cortez or other progressives will support the "hard" infrastructure bill. Their price for backing it: Sanders's version of reconciliation.
The catch is he'll need all 48 Senate Democrats and both independents—himself and Maine's Angus King—to vote for it, plus Vice President Kamala Harris to break the Senate's 50-50 tie.
More heavy lifting. And more citizen lobbying to undertake.
"I respect that we have to get Senator Sinema's & Manchin's votes on reconciliation," AOC said in a tweet, referring to the two most-dubious Democrats, Sens. Joe Manchin (W. Va.) and Krysten Sinema (Ariz.).
"They should also respect that there's a very tight House margin. If the Senate doesn't pass reconciliation, funding climate, healthcare & more—then there's no deal. We have the votes," her tweet continued.
And, referring to the climate report issued on August 9, she added in a second tweet that day: "This dire warning from the world's scientists comes as the Senate is preparing to vote on an infrastructure bill that utterly fails to meet the scale of the climate crisis. Reconciliation is now our country's best chance to help stop the worst effects of climate change."
AOC and her allies won't get any Senate GOP votes, for reconciliation, or for immigration reform, warns Rep. Adriano Espillat, D-N.Y.
"Republicans have shown us time and again they will not be satisfied until millions of immigrants are put on the path of deportation, holding citizenship hostage and blocking the permanent protections the vast majority of the American people support," he said after immigration reform was inserted.
It'll also bring in more money to the Treasury, an estimated $40 billion over a decade, he adds, thus satisfying reconciliation's mandate that provisions only deal with tax and spending instructions, Espillat noted.