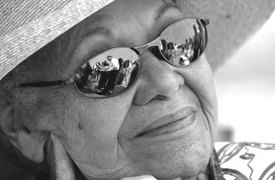 Katherine Dunham, a pioneering dancer and choreographer, author and civil rights activist who founded America's first major Black modern dance company, died May 21. She was 96.
Dunham was perhaps best known for bringing African and Caribbean influences to the European-dominated dance world. An indomitable cultural figure that Dance Magazine once called a "one woman revolution," Dunham fought barriers and prejudices to integrate the rhythms she learned in Haiti, Brazil and Cuba into American formal dance.
Dunham choreographed "Aida" for the Metropolitan Opera and musicals such as "Cabin in the Sky" (although she did not receive credit) for Broadway. She also appeared in several films, including "Stormy Weather" and "Carnival of Rhythm."
Dunham was born in Glen Ellyn, Ill., on June 22, 1909, the daughter of an African American dry cleaner and a French Canadian mother.
At the University of Chicago, she became a promising anthropology student, winning a fellowship to study anthropology in the Caribbean. But she always loved dance. At 21, she founded the Ballet Negre, her first company, in Chicago.
Dunham married costume designer John Pratt in 1941 and they adopted an orphan, Marie-Christine, from Martinique. John Pratt died in 1986.
Judith Jamison, the artistic director of the Alvin Ailey American Dance Theater, said that Dunham "made it easier for dancers of color to realize the possibilities of being on stage; being visible; showcasing our theatricality, creativity and beauty as well as celebrating the [African] diaspora."
Her dance company toured internationally from the 1940s to the 1960s, visiting 57 nations on six continents. Her success was won in the face of widespread discrimination, a struggle Dunham championed by refusing to perform at segregated theaters.
"Katherine Dunham lived through an America that was deeply segregated, where race was always an issue of crisis," said actor Harry Belafonte, a friend and supporter. "For her to have made the contribution she did to culture, through her dance and her intellect, enriched America. She brought, through her art and intellectual passion and power, an insight into Black life that shaped everyone's thinking of who we are."
In Cuba, Dunham was honored by the socialist nation with its Fernando Ortiz International Award for her lifetime contributions to dance and choreography and her promotion and celebration of African and African American culture.
Battling racism was a constant for Dunham and she felt its oppression deeply. In an interview with Cuba Now magazine in 2005 she said, "I got tired of certain kinds of problems. What hotel and where, and somebody couldn't get a seat in the audience. … I won't say that drove me out of the country, but it had an effect."
In 1951, she moved audiences with "Southland," a dance about a Southern lynching that Dunham believes hurt her efforts to obtain U.S. sponsorship for her overseas travels.
The ballet was premiered in the Teatro Municipal in Santiago de Chile, in January 1951. In the program notes to the ballet, Dunham wrote: "This is the story of no actual lynching in the Southern states of America, and still it is the story of every one of them." She spoke a prologue on stage at the premiere: "Through the creative artist comes the need … to show this thing to the world, hoping that by exposing the ill, the conscience of the many will protest. This is not all of America, it is not all of the South, but it is a living, present part."
After 1967, Dunham lived most of each year in East St. Louis, Ill., where she struggled to bring the arts to the Mississippi River city of burned-out buildings and high poverty rates.
"She was a legendary person who was committed to doing the hard work you have to do … in a community like East St. Louis," said poet Quincy Troupe, a St. Louis native who visited her there. "That's important work that sometimes goes unnoticed. It's not glamorous."
Dunham kept up her activism and made international news in 1992 when she undertook a 47-day hunger strike to protest the U.S. policy of turning back Haitian refugees to their military-ruled island.