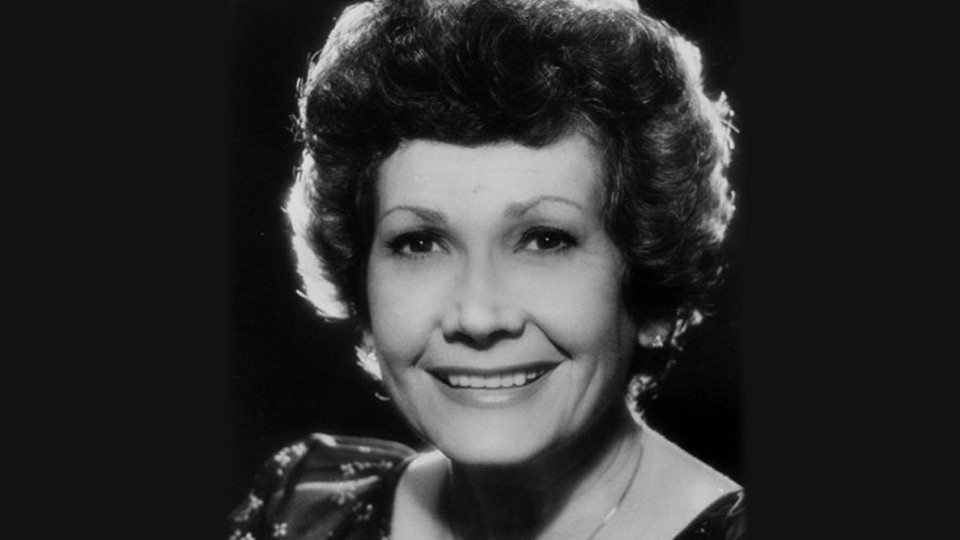 I had the singular privilege of knowing the American soprano Brenda Lewis for almost forty years. She died at her Westport, Conn., home on September 16, at the age of 96. When I last spoke with her by phone, a couple of months ago, she was feisty, gutsy, opinionated and clear minded as ever, although I could see on my visits East over the last few years that she had entered serious physical decline.
Our connection began in the fall of 1978 and concerned our mutual interest in the composer Marc Blitzstein, creator of The Cradle Will Rock, the Airborne Symphony, Regina, Juno, and numerous other works, including his brilliant translation of The Threepenny Opera. Curiously, she shared her birthday (March 2) with Blitzstein—as well as with Kurt Weill.
By 1978 (she was 57 then) her singing career was long over. She was teaching at the Hartt School of Music in West Hartford, Conn., but her years on the stage had been a glorious comet-like adventure. A precocious talent from childhood, she took on big roles for big voices early on—too early, as she truly did not have the maturity or proper training for them. Astoundingly, she was cast as the Marschallin in Der Rosenkavalier in 1941, when she was only twenty. For the next two decades or more she assumed such roles as Carmen, Salome, Venus in Tannhäuser, Santuzza in Cavalleria Rusticana, Cio-Cio-San in Madama Butterfly, Donna Elvira in Don Giovanni, and Marie in Wozzeck. She appeared on many worldwide stages, and was a mainstay at the Metropolitan Opera and the New York City Opera.
Lewis was favored by American composers who featured her in premieres of their new operas. Among her best remembered roles was the title role in Jack Beeson's Lizzie Borden in 1965, which was later broadcast on television.
From time to time she accepted Broadway roles as well, appearing in operettas, operas, and musicals over the course of two decades. Her most successful appearance on Broadway was in the role of Birdie Hubbard, the abused wife of Oscar Hubbard, in the world premiere of Blitzstein's Regina in 1949, the "Broadway opera" he audaciously fashioned from Lillian Hellman's play The Little Foxes. With her superior vocal and theatrical experience, she fairly outshone the leading soprano title role performed by the then popular singer Jane Pickens. In later revivals of Regina, Lewis switched to the title role with the New York City Opera, a searing performance that was captured on disc in 1958 and is still regarded as one of the high points in recorded American opera.
My first exposure to Marc Blitzstein
I was living in the Hartford area, finishing up my doctoral dissertation in Latin American history. The year 1977 was the fiftieth anniversary of the execution of Sacco and Vanzetti. Some friends of mine on the left gathered to plan a memorial program in Connecticut, and we wanted to include relevant music. Woody Guthrie had recorded a suite of original songs about the two anarchists wrongly convicted of murder in the Commonwealth of Massachusetts, and songwriter Charlie King penned a new number, "Two Good Hands," for the occasion. As I researched the musical legacy, I heard that there was an opera on the subject, which surprised me, because I was an avid opera fan, and a leftie, and I had never heard of it.
It turned out that Marc Blitzstein had started work on such an opera, commissioned by the Metropolitan Opera, but he died in 1964 before completing it. From a microfiche search at the library I learned that three fellow composers, David Diamond, Aaron Copland and Leonard Bernstein, were co-executors of Blitzstein's musical estate. I wrote to Bernstein's office in New York inquiring if he knew of any music from the opera that we might perform at the Sacco-Vanzetti commemoration. Bernstein's people directed me to Blitzstein's sister Jo Davis, living in Philadelphia, who gave me permission to obtain musical materials from the State Historical Society of Wisconsin, the repository of Blitzstein's papers.
From Wisconsin I got one finished aria for Sacco in a performable piano-vocal score, and several drafts of an aria for Vanzetti, which I offered as a project to a friend of mine from Hartt, John Mueter, to "realize" these sketches into a singable piece. We had a couple of professional singers record these arias to play on Sacco-Vanzetti Day.
I returned to work on the dissertation. After I received my degree in August 1978 I was already detached from academic life and resolved I would never do anything that required so much research again! That fall, back in Hartford, I volunteered for the University of Hartford radio station WWUH as a classical music announcer and co-host of an opera program. It turned out that the Regina recording with Brenda Lewis was re-released at that time, and I conceived of a two-part mini-Blitzstein festival with The Cradle Will Rock and Regina in successive broadcasts.
Brenda enters my life
When I learned that Brenda Lewis was on the Hartt faculty, I thought it would be informative to record an interview with her to air during the intermission. I tracked her down and we had a focused chat about Blitzstein for a good hour or more. Brenda was attuned to Blitzstein's politics and music; not only had she appeared in Regina, but coming out of that professional association, they became great personal friends with many shared values. In fact, he had spent his last summer of 1963 at her home in Connecticut pursuing his work on the Sacco and Vanzetti opera.
Thinking I had finished with Blitzstein having done my duty on Sacco and Vanzetti, here it was a year later. I was now familiar with two of his most important works, the New Deal-era labor opera The Cradle Will Rock, and his Broadway opera Regina. And from interviewing Brenda Lewis I for the first time understood more clearly his position and role as "the conscience of American music"—a phrase often used about him—and how he was so profoundly underappreciated in the years following his death. I saw that there was no book about him, only a couple of dissertations about limited aspects of his work; and in the music history books at most a paragraph or two was devoted to him.
Brenda Lewis appears here in a talk in connection with Sacco and Vanzetti speaking of Blitzstein in terms that persuaded me of his importance.
Partly it was anger that such a significant figure had been buried by the Establishment. With a resolve whose conviction almost frightened me, I decided this guy needs a biography, and I felt the calling to write it. I had just acquired the research skills required for a major monograph, and although American music was not my field, I was an informed amateur lover of music. In any case, what I had in mind was not musicology as such, but a musical biography aiming to restore his name to the pantheon of American culture. I threw away my promise never to undertake a huge research project again and committed myself for the next ten years to this book, interrupted, of course, by the need to support myself somehow.
Thus began a solid friendship with Brenda, which only grew and deepened as I progressed with my research. I found out that Brenda and Blitzstein had also done concert-lecture tours together, so Regina was not in fact the only music of his that she performed. She knew his body of work well and spoke of it intelligently.
Our affinity continued long after publication of Mark the Music: The Life and Work of Marc Blitzstein in 1989. Given the political resonance she shared with Blitzstein, I once asked her if to her knowledge there had ever been incidents of "McCarthyism at the Met"—I put that in quotes because I thought I might research an article on that some day. She shared a number of stories with me, one of which involved her.
She was on a national Met tour—and now my memory is a little fuzzy, but I believe she was doing Fledermaus in Cleveland. Outside the opera house—this would have been about 1952 or '53—demonstrators from the American Legion had the names of several performers, including hers, on picket signs asking operagoers to boycott appearances by known Communists, no doubt individuals listed in the scurrilous book Red Channels. Urgent calls went back to Rudolf Bing, general manager of the Met, who vowed that he would not be intimidated and the show would go on. And indeed it did, with no further trouble. How Bing fixed this little kerfuffle in Cleveland she never found out, but he was successful.
Interestingly, Bing was involved in offering Blitzstein the Sacco and Vanzetti commission in 1960, only a few years later, despite the fact that right-wing columnists tried to expose Blitzstein as a Communist (he was a party member from 1939-1949) and shame the Met into rescinding their commitment.
Almost every trip East that I made after moving to California in 1990, I would try to stop in and see Brenda to catch up with the world of music, and especially the news and politics of the day. I met several members of her family on some of these visits, and toward the end, various of her devoted caregivers. She was thrilled for me when I got my job as Southern California director of The Workmen's Circle/Arbeter Ring, as she knew Yiddish almost fluently. We often exchanged a few words of Yiddish in our letters.
I will always miss Brenda, her wit, her knowledge, her memory, her sharp observations. I often asked if she was preserving her own scrapbooks and photos for some possible future biographer, and each time she dismissed the idea. She was not interested in becoming the subject of anyone's study—and I wondered if perhaps her politics caused her to deflect attention away from herself. In the end, I think she was essentially a modest person who was grateful for the career she enjoyed, believing that she shared the stage with many singers of far greater historical and artistic significance than herself.
I'm so sorry she had to live to see the Trump era—even at 96, that's probably what killed her!