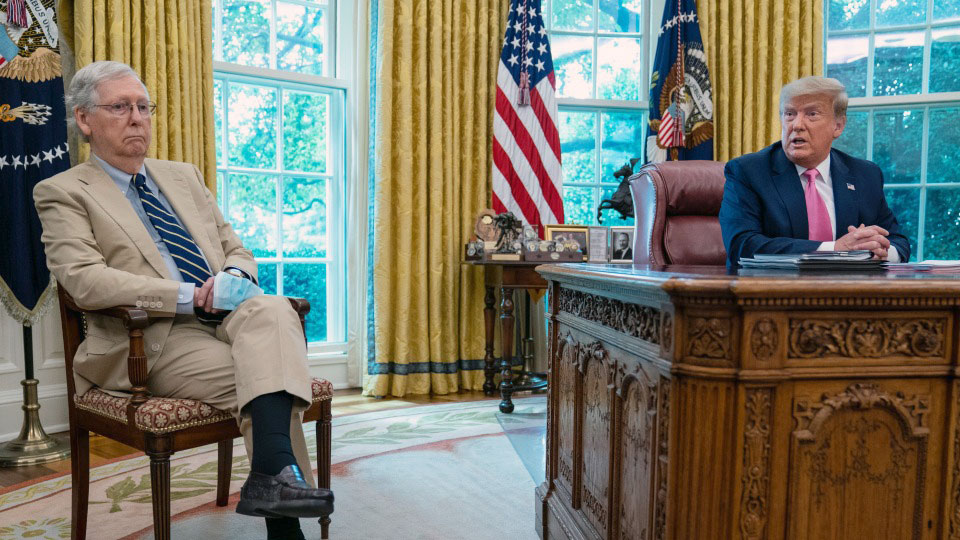 Almost 14 million jobless people will lose their aid checks on Dec. 26.
Twelve million renters could get eviction hearing notices, or evictions, that day.
College students will have their loans called in, too.
Underwater mortgage-holders would see their banks foreclose on them.
Coronavirus cases keep rising. So do deaths. Hospitals are getting full of sick patients.
Up to a million state workers—teachers, Fire Fighters, mental health workers, even people who help their fellow citizens seek jobless benefits—could be out on the street.
Oh, and the federal government and its two million workers could shut down, too, on Dec. 19.
Welcome to Washington and a dysfunctional Republican-run U.S. Senate, which could avert all those calamities if it got off its ass by the Dec. 18 deadline and approved funding to help all those hurting people, yoking that aid to a money bill to keep the federal government going through next Sept. 30.
Except it hasn't, thanks to Senate Majority Leader Mitch McConnell, R-Ky., and his Republican caucus colleagues.
McConnell, a veteran at gumming up the works against any ideas advanced by his political foes while toadying to the tantrums of GOP Oval Office occupant Donald Trump, has held up funding for economic aid for the nation's coronavirus victims, whose numbers have kept growing since the pandemic was officially announced on March 13.
Now they total 17 million people who have tested positive for the modern-day plague. For more than 310,000, there will be no aid. They're dead.
Some 20.65 million people are already receiving state or federal jobless aid checks and 2.76 million more applied for them since the end of November. Of that group, economists note 14 million could lose their aid unless lawmakers act.
All have lost their jobs due to coronavirus-caused forced business closures in the effort to stop community-wide spread of the modern plague, according to a Dec. 17 Labor Department report.
The inaction has occurred because McConnell, using legislation from Sen. John Cornyn, R-Texas, demands corporate capitalist backers be immunized from lawsuits by workers or customers who get sick or die because firms refuse to take basic measures to protect them against the spread of the virus.
Their brainstorm would ban suits not just under anti-coronavirus laws. Also barred: Suits under most key labor laws as well, such as the Occupational Safety and Health Act, the Fair Labor Standards Act—the minimum wage and overtime pay law—and the 1964 Civil Rights Act and its ban on discrimination based on race, sex, gender, religion, or other factors. Joined with that would be $160 billion in aid for state and local governments whose revenues have tanked due to the coronavirus-caused depression.
"Here is what it comes down to: Should people be able to go to court if they believe they have been harmed or that members of their family have died as a result of the wrongdoing of people during this COVID-19 pandemic?" Senate Minority Whip Dick Durbin, D-Ill., told his colleagues.
"Some argue businesses should not have that possibility hanging over their heads, and that is what Sen. Cornyn used, which makes it almost impossible for anyone to recover for any losses during COVID-19."
The bare numbers do not measure the depth of the suffering. Just take one example, the renters. Syracuse University Professor Gretchen Purser, an expert in the rental market, told Press Associates Union News Service in a telephone interview that "there's a tremendous amount of anxiety and fear" among people facing eviction.
"Any prediction" about how bad things will become "is really hard to know," especially for renters who are Black or brown—the same group of people disproportionately affected by job loss, the coronavirus, or both.
"Some are thousands of dollars behind" in rent and haven't been able to pay it since April, when the economy collapsed and Congress then—forced by the House Democrats—imposed the rent and foreclosure moratoriums which end Dec. 26.
"All the research shows eviction is tremendously devastating, even under normal circumstances" and would be made much worse by the coronavirus's spread. That's because evicted homeowners and renters, forced to sleep in shelters, on the streets, or in their cars, would become much more vulnerable to the galloping illness.
Senators are haggling over two pieces of legislation. One is a $748 billion, stripped-down aid bill that would keep jobless aid flowing to the 14 million who could lose it and extend $300 weekly checks—half of what people used to get, and half of what Democrats want—to unemployed workers, including gig workers, through April 30.
It also would extend a $10 billion loan to the Postal Service to keep its 600,000 workers on the job and the mail flowing, $15 billion to bus and subway systems so others can get to work, $17 billion to airline workers even as almost-empty planes keep flying, and $54 billion to the nation's K-12 schools to sanitize, socially distance, take temperatures daily of students, staff, and teachers and otherwise ready themselves to start classes again.
"Flight Attendants were promised imminent relief when furloughs began Oct. 1," AFA-CWA President Sara Nelson said on Dec 15. "The stress and strain put on people who can't imagine why 'overwhelming support' doesn't turn into real relief has made the hardship and loss during this pandemic all the more painful."
"All we need is a vote to save lives and livelihoods. Leadership needs to bring this bipartisan package to a vote as soon as possible."
That $748 billion measure also has $13 billion to develop and distribute anti-coronavirus vaccines and trace the spread of the disease. But it's a far cry from the original, wide-ranging $3.4 trillion relief measure the Democratic-run House approved in May. McConnell killed it, as well as a smaller $2 trillion version approved in October.
The other bill joins the state and local government aid to the McConnell-Cornyn pro-corporate brainstorm. And either measure, or both, would be joined with a $1.4 trillion measure to keep the federal government going, and its two million workers on the job, from now through Sept. 30.
But there are no one-time $1,200 checks for all adults and $500 per kid, as there were in the biggest prior aid bill, the Cares Act, approved in March. Sen. Bernie Sanders, Ind-Vt., threatened to hold up everything unless those checks are included, too.
"As a result of the pandemic, tens of millions of Americans are facing economic desperation," Sanders said. "They can't afford to pay their rent and face eviction, they can't afford to go to the doctor, they can't afford to feed their children and they are going deeper and deeper into debt."
"Congress cannot go home…until we pass legislation which provides a $1,200 direct payment to working-class adults, $2,400 for couples, and a $500 payment to their children. This is what Democrats and Republicans did unanimously in March through the Cares Act. This is what we have to do."
And where is Trump in all this? Sitting sulking in the White House, watching his propaganda network, Fox, and endlessly tweeting that he actually won the November election—which in reality, he lost to Democratic nominee Joe Biden by millions of votes. Trump's said little about aiding his nation full of hurting people, other than to unveil one skeleton aid proposal of his own which satisfied no one.
Let Purser have the last word on the impact of the D.C . dysfunction and McConnell's stand:
"We'll be facing a crisis of unbelievable proportions," she says. And lawmakers "just keep punting it down the road."
As with all op-eds published by People's World, this article reflects the opinions of its author.