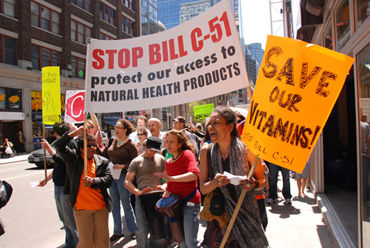 VANCOUVER, B.C. – After initially wavering on the issue, the official opposition in Parliament, the center left New Democratic Party (NDP) has now vowed to fight Bill C-51, Conservative legislation that will give intelligence and police agencies new legal powers to crack down on dissidents.
"Terrorism is a real threat, and public safety must be the priority for any government," according to NDP leader Tom Mulcair. "But we cannot protect our freedoms by sacrificing them. We have a responsibility to stand up for our values and to never allow these cowardly attackers to change our way of life.
"The NDP has identified several serious problems in C-51, including that the bill will give broad new powers to CSIS (Canadian Security Intelligence Service) without enhancing oversight, that it includes provisions that could impact legitimate dissent, and that the government has not produced any plan to counter radicalization in Canadian communities. This legislation is sweeping, dangerously vague, and likely ineffective. The Conservatives have played politics and intimidated the Liberals into giving them a blank cheque to pass any law, even one like C-51 that goes too far," added Mr. Mulcair. "Canadians can count on New Democrats to take a principled stand for our rights and freedoms."
When the rightwing Conservative government of Stephen Harper first introduced Bill C-51 on Jan. 30, the NDP's initial reservation about the bill was the lack of parliamentary oversight over intelligence agencies. Only the Green and Communist Parties came out strongly against the legislation. The Liberal Party, which has also expressed reservations about the bill, has said that it will vote for the legislation, despite its defects.
A Royal Canadian Mounted Police (RCMP) report, obtained by Greenpeace recently, hints at whom the Harper Conservatives might go after if C-51 is passed by Parliament. Dated Jan. 24, 2014, the police report states: "There is a growing, highly organized and well-financed anti-Canada petroleum movement that consists of peaceful activists, militants and violent extremists who are opposed to society's reliance on fossil fuels," states the report which is stamped "protected/Canadian eyes only."
"If violent environmentalist extremists engage in unlawful activity, it jeopardizes the health and safety of its participants, the general public, and the natural environment." The report emphasizes the importance that the oil and gas industry play in the Canadian economy.
"NGOs such as Greenpeace, Tides Canada and Sierra Club Canada, to name a few, assert climate change is now the most serious global threat, and that climate change is a direct consequence of elevated anthropogenic greenhouse gas emissions which, they believe, are directly linked to the continued use of fossil fuels…. Research and analysis done in support of ongoing RCMP criminal investigations show that those involved in the anti-Canadian petroleum industry have an interest in drawing public attention to, and building recognition of the perceived environmental threat from the continued use of fossil fuels. The publicizing of these concerns has led to significant, and often negative, media coverage surrounding the Canadian petroleum industry."
Bill C-51 defines terrorism as: "interference with the capability of the government of Canada in relation to intelligence, defense, border operations, public safety, administration of justice, diplomatic or consular relations, or the economic or financial stability of Canada; changing or unduly influencing a government in Canada by force or unlawful means; interference with critical infrastructure; interference with global information infrastructure; an activity that causes serious harm to a person or their property…; an activity that takes place in Canada and undermines the security of another state."
The "violent" extremists mentioned by the RCMP can only refer to environmentalists who have used acts of peaceful civil disobedience such as sit-ins and blockades to stop the expansion of pipelines to transport bitumen from the oil sands, because there have been no bomb attacks or other acts of sabotage against the industry. Civil liberty organizations fear that C-51 will allow the RCMP and CSIS (Canada's version of the CIA) to infiltrate and criminalize the environmental movement because it interferes with economic stability and infrastructure.
The Harper government, which is closely aligned with the gas and oil industry, has long viewed the environmental movement as a threat.
In response to the RCMP report, John Bennet, national director of the Sierra Club Canada Foundation, said the Sierra Club, Greenpeace and other environmental groups have no plans to launch unlawful actions against the oil industry, and accused the RCMP of having "a one-sided view" of climate change.
"In policing terms, there is a lot more to be concerned about when it comes to climate change. It's not just protesters the RCMP needs to be thinking about. The RCMP is an institution we will depend on as climate change causes more frequent and more severe storms. Only last week the RCMP was criticized for not having a clear plan for seizing unsecured firearms during the 2013 Alberta floods."
"Climate change is something we know – not something we 'assert.' This understanding is based on science and not on anything else. It's a real threat – not 'perceived' – and the threat is, in fact, getting more significant every day. Clearly the RCMP has not kept up and does not understand what is coming their way."
Bennet said that instead of getting angry, he wrote to the RCMP offering to provide workshops on climate change to the police force "so they can understand why so many of us are exercising our rights to free speech and assembly."
On Jan. 30, Harper introduced C-51 to ensure that security agencies can uncover and halt jihadi terrorist attacks. However, critics assert that the number of people who have met a violent end from terrorist attacks in Canada over the last decade can be counted on one hand.
Photo: Vitality Magazine