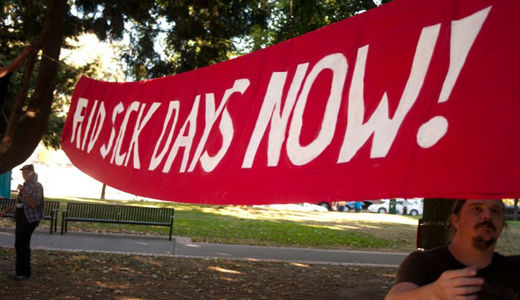 EUGENE, Oregon (PAI) – What seemed to be a win for the growing national campaign for local paid sick leave laws, a new ordinance in Eugene, Oregon, has turned into a battle royal between the city and Lake County. And the whole mess is headed for court.
There, the proponents of paid sick leave are confident they will win, the Northwest Labor Press reports.
The Eugene City Council voted 5-3 for the ordinance, which is scheduled to take effect next July 1. It gives almost all workers in the city up to 40 hours of paid sick leave yearly. The exceptions are federal, state, county and school district workers – because a city ordinance can't cover them – and construction workers under union contracts. It covers all other workers in Eugene, including workers in businesses whose headquarters are elsewhere.
The Eugene ordinance is part of a nationwide movement for paid sick and family leave, city-by-city and state-by-state. Advocates, led by women's' groups and unions, campaign for paid sick and family leave that way since the dysfunctional GOP-hamstrung U.S. Congress shows no sign of approving a national paid leave law.
Strong backing from United Food and Commercial Workers Local 555, other unions and sympathetic businesses helped prod the council to act. The unions and businesses aided the non-profit Family Forward Oregon, and all the groups mobilized campaigners and canvassers to knock on more than 10,000 doors and develop a several-thousand-name supporter list in the 158,000-person city, the Northwest Labor Press added.
"Sick leave was the hot topic in Eugene for the last seven months," Family Forward Oregon organizer Lori Trieger told the paper. Her group estimates the ordinance would help 25,000 workers. But faced with defeat in the city council, foes, led by the Chamber of Commerce, launched a sneak attack – through the county commission.
County Commissioner Jay Bozievich pushed through three ordinances to negate Eugene's law. The first two passed 4-0, with one pro-sick leave commissioner absent out of town. One exempts other public employers from Eugene's ordinance, just as the Eugene measure itself does. The second says a city's employment conditions don't apply to employers with addresses outside city limits.
And the third, passed 3-1 and dubbed "the nuclear option," declares any local ordinance that regulates employment conditions "to be without legal force and effect." And to make sure its anti-paid leave measures overrode Eugene, the county declared all three were "emergency measures" that would take effect immediately.
Paid sick leave backers are girding for the court case, which they expect to win. They also vow to remember the paid leave rollback votes when the county commissioners seek re-election. "Every action has an equal and opposite reaction," Local 555 Secretary-Treasurer Jeff Anderson told the Labor Press. "In 2016, the county commissioners will see theirs."
Photo: Think Progress