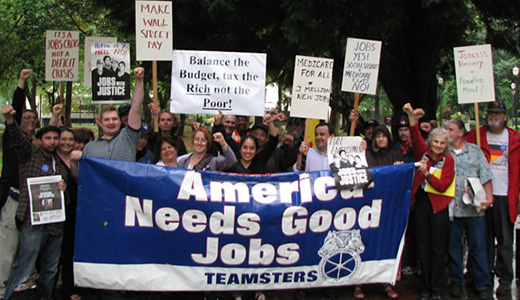 PORTLAND, Ore. – The jobless rate here in the Rose City rose to 10.6 percent or 38,402 workers unemployed in November. In Prineville, a sawmill town in Central Oregon, the jobless rate is now 19.2 percent and no relief in sight.
The labor movement and its allies are fed up and fighting back.
Portland Jobs with Justice is circulating a petition addressed to Oregon's congressional delegation urging them to sign a pledge "to oppose all efforts to diminish in any way our social safety net benefits including Social Security, Medicare and Medicaid." To insure full funding of these benefits, the pledge vows to increase taxes "on the very wealthy whose incomes have skyrocketed as their taxes fell in the 1980s."
The pledge concludes: "I pledge to work to develop a public program that will create millions of sustainable, living wage jobs and as an immediate first step, I pledge to co-cosponsor the Miller Jobs Bill (the Local Jobs for America Act)."
JwJ mobilized a march for jobs through downtown Portland recently, joined by members of the Teamsters, Service Employees International Union, United Steelworkers, International Longshore and Warehouse Union, and many other unions. A union member, Greg Margolis, told reporters that a federal public works program is urgently needed to create millions of good, green, living wage jobs in every major city across the country including Portland. "Bridges are falling down all over this country," he said.
Portland JwJ leader, Laurie King, writes on the group's website, "I think the people liked the main message of the rally that we sorely need Congress to take the leadership in the fight for jobs and fight against all attempts to cut Social Security, Medicare, and Medicaid-and all safety net programs."
Nearly everyone at the rally took two petition sheets each and promised to circulate them and send the filled petition sheets back to JwJ, she said.
JwJ sent delegations to the offices of Sen. Ron Wyden and Rep. Earl Blumenhauer to deliver petitions bearing over 1,400 signatures. With more signatures being added, petitions will also be delivered to Sen. Jeff Merkley's office. All are Democrats.
King told the People's World that Blumenhauer has sent a reply to JwJ. Although he did not sign the pledge, his letter expressed support for every item mentioned in the pledge. She said JwJ and its allies will continue to circulate the petition. They are also stepping up their campaign against the job-destroying Korea Free Trade Agreement.
Portland JwJ is popularizing the writings of Dr. Martin Hart-Lindsberg, an economics professor at Lewis & Clark College. In an article headlined "Work Until You Drop," he blasts the right-wing drive to destroy or privatize Social Security starting with a scheme to raise the retirement age to 70. Prof. Hart-Lindsberg writes that any shortfall in Social Security funding would be solved by lifting the current cap on income subject to the Social Security tax, extending the tax to all the income of the wealthy.
In another article, "Debunking Deficit Hysteria," he calls for full funding of safety net programs, increased federal funds for cash-strapped states, a national health care system and public works programs that create millions of jobs. Yet even these are not enough, he adds. "We need to begin building support for a bigger economic transformation, one that will give us real control over the economic decisions that shape our lives."
Photo: March through downtown organized by Portland Jobs with Justice. (Portland JwJ)