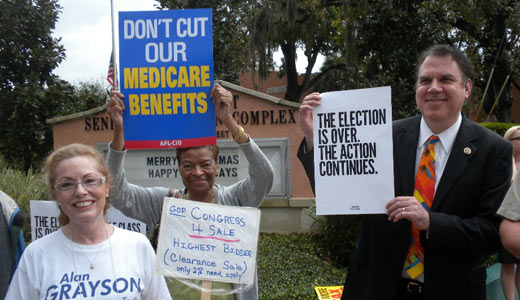 ORLANDO, Fla. – Progressive forces in the Orlando area held multiple actions on Dec. 10 around higher taxes for the rich and pending cuts in social benefits for the middle and working classes. They called on Congress to make the top two percent of income earners pay their fair share in taxes and stood firm against attempts to balance the federal budget on the backs of the 98 percent.
The three Orlando-area actions were just a few of the hundreds held around the country on Nov. 10 and organized by groups ranging from the AFL-CIO to Moveon.org.
Austerity in the form of tax increases and cuts in spending for Medicare, Medicaid and Social Security will come crashing down upon middle- and low-income people and the elderly on Jan. 2 unless the White House, the Democrat-controlled Senate and the Republican-controlled House of Representatives reach agreement on taxes and federal spending.
A major sticking point is whether to extend tax cuts enacted under President George W. Bush for Americans with the highest incomes–the top two percent. President Barack Obama wants individuals making more than $200,000 a year and families with combined annual incomes of more than $250,000 to pay more taxes. The House Republicans oppose this. (The Senate passed middle- and lower-income tax cuts this summer.)
A late afternoon rally and protest at an Orlando senior center was organized by the Florida AFL-CIO and The Action, which uses grassroots power to build support for Obama's agenda.
"We support the plan of the president, and that is to cut taxes for middle-class and lower-income individuals, but raise to a fair share [the taxes] that the upper two percent should be paying," said Jasmine Burney, a field organizer with The Action.
House Speaker John Boehner and other Republicans have proposed hundreds of billions of dollars in cuts to entitlement programs and domestic spending. They also want to curtail yearly increases in Social Security payments and eventually raise the age for enrollment in Medicare from 65 to 67.
Rep.-elect Alan Grayson, D-Fla., told the crowd at the senior center–many of whom held signs saying "NO MORE TAX CUTS FOR THE RICH"–that on a recent TV appearance he had been asked to explain the so-called fiscal cliff.
"I said these words: 'It's an artificial crisis to steal from the middle class.' The fiscal cliff itself does nothing on its own to Social Security and Medicare, but it's being used as a smokescreen to hurt [those programs] and us," said Grayson.
Medicare spending has grown, but that is not a justification for cuts to the program since it still operates at a surplus, and will do so for at least another decade, said Grayson.
"There's no reason to cut it except for the fact that the greedy want more," he said. "The greedy want to be able to avoid the tax increases that would put the economy back on a steady level and get some way toward paying down the debt."
Grayson noted that former GOP presidential nominee Mitt Romney had only paid 14 percent of his income in taxes while middle-class Americans pay up to 35 percent.
"The rich should pay at least as much as the middle class–that would be a good start," said Grayson, who also suggested that it was time for the U.S. to get out of Afghanistan and use the money that would have been spent there to rebuild roads and schools at home.
Rafael Suarez, an SEIU member and CNA (certified nursing assistant), told the rally that Medicare and Medicaid cuts would hurt nursing homes and nursing home workers who already make poverty wages.
"The minorities, the poor people, the middle class–we're all being attacked by the Koch brothers and all these rich people," said Suarez. "It's time for us to say we're not going to take this crap any more, and we're going to go out there and fight."
Penny White, 57, of Orlando, a private-duty CNA, said she paid 30 percent of her 2011 income of $17,000 in taxes. "There's no tax deductions that I can take because I'm poor," said White, adding that she earns the same now that she did 30 years ago.
Tax fairness has become an important issue for White. "I was always told that there are two things you have to do in life, and that is pay taxes and die," she said. "I hadn't given taxes even a thought until I realized that the wealthier Americans were not having to pay the taxes that I do."
In the evening, Organize Now! and Central Florida Jobs with Justice organized a rally and sign-holding protest outside the downtown Orlando office of tea party-backed Sen. Marco Rubio, R-Fla., an opponent of higher taxes for the rich whom some on the right see as the GOP's Great Latino Hope in 2016.
At that rally several participants related how lack of affordable health care had affected them and their families.
Organize Now! staffer Timothy Murray said: "The fact of the matter here is that the American people, for decades, have paid into these social contracts [entitlements], and now some of the folks in Washington want to take those things away so they can give tax breaks to the richest two percent."
Murray, a 36-year-old cancer survivor, said that he had not visited an oncologist in seven years because of lack of health insurance.
Moveon.org held an event at noon in Winter Garden, Fla. (about 15 miles west of Orlando) outside the office of U.S. Rep. Daniel Webster, R-Fla., calling upon the Tea Party-backed congressman to support middle-class tax cuts.
Photo: Ben Markeson/PW