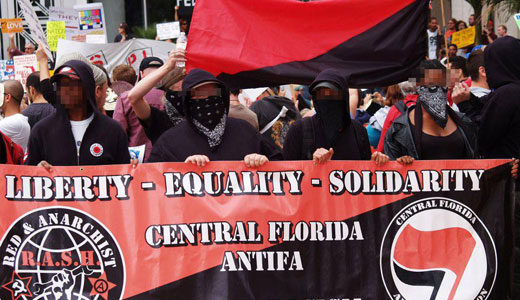 ORLANDO, Fla. – In the past few weeks, the public has been inundated with the report of American Front Nazis in St. Cloud, Fla., planning terrorist attacks on local government and leftist groups they saw as threats; the American Front Nazis even planned on infiltrating and attacking an anti-racist skinhead group in Melbourne and Orlando, Fla.
To many who read or saw the story unfold, the news of Nazis attacking an anti-racist skinhead group was shocking and confusing. But, behind the scenes and in the streets, anti-racist skinheads have always had a well-organized movement in the Central Florida area against racism, and yes, fascism.
To the majority of the public, "skinhead" is synonymous with "Nazi," but the subculture actually traces its roots to a multiracial and multicultural heritage. According to John Brown, a member of Red and Anarchist Skinheads in Central Florida, "The original skinheads came from a mix of the 'Mod' subculture of mid [19]60's Britain and the West Indian 'Rude Boys' look and Jamaican music." John went on to say that "many of the first skinheads were Jamaican immigrants to Britain and could be seen dancing to reggae and soul with other white British skinheads."
John Brown describes "Red and Anarchist Skinheads [R.A.S.H.] as a group of antifascist, left-wing skinheads. We are dedicated to fighting the influence of far-right ideas within the skinhead scene, and to creating and spreading antifascist youth culture." He continued, saying, "We are against racism, sexism, homophobia and capitalism; we are for liberty, equality, unity and working-class pride. We feel that it is our duty to protect our community."
Brown also said that R.A.S.H. works with Central Florida Anti-Fascist Action (A.F.A.) to promote concerts and social events. "We share the same values and are often involved in the same subcultures. We have jointly held two Rock Against Racism concerts, one in Cocoa and one here in Orlando this past year. We have marched alongside civil rights organizations and local unions at recent Martin Luther King, Jr. parades." John continued, "We have also been asked on numerous occasions to help with security by immigrant rights groups because they are constantly threatened by people like the Minutemen and other right-wing groups."
Krist Cooper, a female member and organizer with Central Florida A.F.A., characterizes the group as, "A very diverse group of young activists. We are gay, straight, bisexual, black, brown, white, female, male, and come from different parts of the country and the world. We are bonded by love for our community and the need to keep it hate free." Krist went on to say that, "Our monthly social nights reflect this in the diversity of our music. We have DJs that play soul, ska, afro-beat, reggae, hip-hop, punk, hardcore, and more, all while promoting unity. And I feel that this is the reason why we were targeted by the boneheads (a term used to describe Nazis)." Krist Cooper continued, saying that "We go to concerts, we hold our own concerts and bring in national bands, we show zero tolerance for racism wherever we go, so the boneheads have no other place to recruit than in the woods. In doing what we do, we keep our community of Metro-Orlando free of hate crimes and stop the spread of their ideology."
When asked if they were concerned about the American Front members being out of jail and on bail for the moment, both John Brown and Krist Cooper said they will carry on with their regular social nights and concerts, but with the added precaution of increased security.
Photo: Joshua Leclair/PW