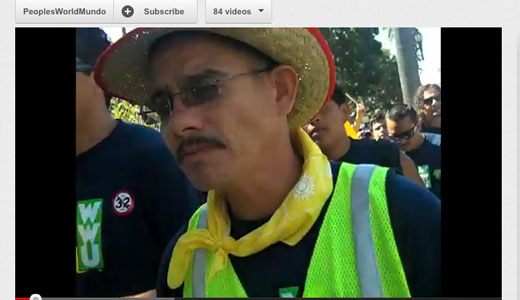 LOS ANGELES – Walmart warehouse workers arrived at City Hall here Sept. 18, after a 50-mile march from Riverside, Calif. Though they were tired and some had blistered feet, their hearts were filled with the love and support they had encountered along the way. (Story continues after video.)
The marchers' struggle began a year ago, with their attempts to get management to fix equipment, provide fans to combat the heat that sometimes got as high as 120 degrees, provide clean drinking water and a decent wage. When they got no response, they took their struggle to Sacramento, and to the streets.
The workers were joined by many organizations including the United Farm Workers, Good Jobs LA, Our Walmart, the Los Angeles County Federation of Labor, the Bus Riders Union, the United Food and Commercial Workers, UNITE HERE, the Asian Pacific American Labor Alliance and the Service Employees International Union.
Also in support were elected officials including Rep. Judy Chu, D-Monterey Park, and Ed Reyes, president pro tem of the Los Angeles City Council.
Marty Morgenstern, secretary of California's Labor and Workforce Development Agency, told the marchers Governor Brown would be signing Assembly Bill 1855 into law in the afternoon. The measure, introduced by Democratic Assemblywomen Norma Torres and Bonnie Lowenthal, guarantees that when an entity such as Walmart contracts with a company to staff a warehouse, the contract includes enough money to pay a fair and legal wage to all its workers.
Walmart warehouse workers from Elwood, Ill. also went on strike this week, protesting unsafe working conditions. The Illinois workers occupied a downtown Walmart store today, chanting to cheering store employees and customers: "4-5-6-8, we're the ones who move your freight."
Photo: (peoplesworld.org video)