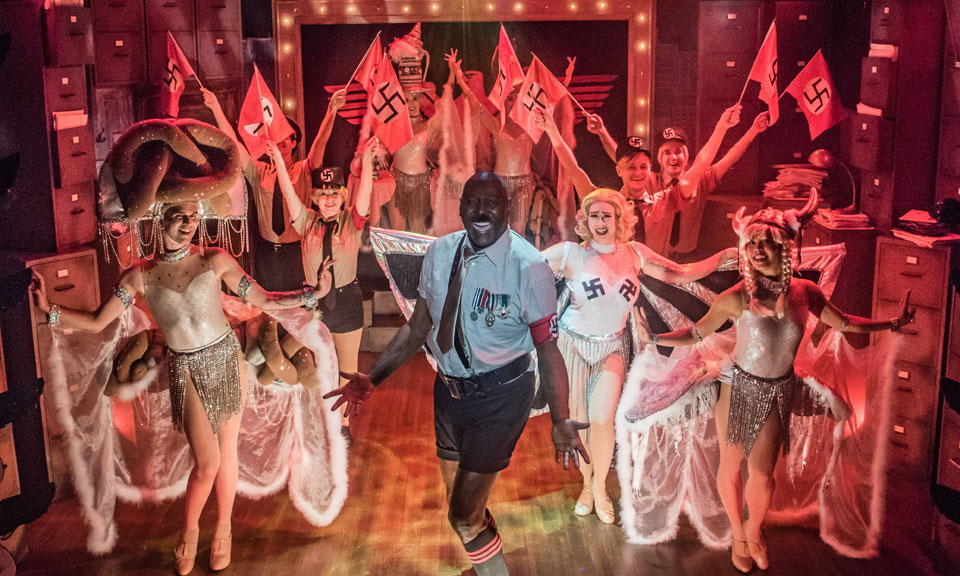 LOS ANGELES—I haven't heard it lately as part of Bernie Sanders's current shtick, but I distinctly recall him saying in his last presidential run that "Fraud is the business model of Wall Street." With which he castigated the big banks, the insurance companies, the stock market, the hedge fund racket, the leveraged buyouts, the corporate lies, and by extension the very business model of American capitalism itself.
Mel Brooks, now 93, created the musical of The Producers in 2001, so it is not exactly a new property. At the time, it aroused vigorous debate as to the tastefulness of offering up Adolf Hitler and his bevy of all-singing, all-dancing Hitler youth and Storm Troop mädchens as chorines in a flashy Broadway musical. Had he finally abandoned all sense of propriety to make a buck? The musical also satirizes Jews, gays and lesbians, beautiful dimwitted women, randy old widows, Irish cops, prisoners, incongruous Latin dance numbers, and indeed the whole history of theatre as not only, but in its basic essence, a clever mechanism designed to extract money from theatergoers' pockets. Against all odds, and considerable offended opposition, it became the smash hit of the season, with stellar leads Nathan Lane and Matthew Broderick.
The musical was based in turn on Brooks's own 1967 movie of the same name, which starred Zero Mostel and Gene Wilder in the roles of the exuberant failed producer Max Bialystock and his nerdy, neurasthenic accountant Leo Bloom. It did not escape my mind that Brooks chose his own initials for his zany lead character. According to Broadway lore, Brooks had been searching for the right composer to turn the film into a musical and invited Jerry Herman over to discuss the project. Herman pored through Brooks's own films and picked out several songs Brooks himself had written for them, played them back to him and suggested that he was clever enough a songwriter to do it himself. And so he did.
And in the familiar tradition of expanding a profitable item into a many-faceted media phenomenon, the 2001 musical was then made into a film in 2005. Not a bad track record for a storyline idea from over half a century ago.
The story is by now quite familiar. Max and Leo stumble on the thesis that if a Broadway show is a success, the producers must pay back the investors according to their share of the profits. However, and here's where the fraud comes in, if the show is a flop, then there's no profit to divvy up, and the producers can abscond with what remains after production costs. Max teaches Leo the two rules: "Never put your own money in the show," and (louder), "Never put your own money in the show." This leads them to choose the worst possible play, the adulatory "Springtime for Hitler," knowing that Broadway attracts a heavily Jewish audience, and it is bound to tank on opening night.
The plot recalls another play, similarly made into a movie, Other People's Money, about the business of monetizing ailing industries, disemboweling them of their unproductive parts, liquidating, downsizing and outsourcing, destroying communities and absconding with the profits in an orgasm of amorality, much as Mitt Romney was (in)famous for doing with his Bain Capital venture—never with his own money, of course. Perhaps New York real estate magnate Donald Trump missed the amorality part when he saw Jerry Sterner's play in 1989 and even offered to help transfer it into a bigger theater, but he pronounced it "an extraordinarily insightful, timely, and witty play." I wonder if Sterner got his idea from the original film of The Producers.
The "New Mel Brooks Musical"—it still carries that tagline—has been staged hundreds of times by now. Every community wants to see it. Celebration, a storied theater ensemble in L.A. that specializes in work relevant to the LGBTQ community, is currently cavorting with it on its low-denomination postage-stamp-sized stage in what it promotes as the "intimate theater premiere." Their claim must be accurate because I can't imagine this over-the-top Broadway extravaganza playing on a square footage any more intimate than this. How they do it is truly the eighth of the Seven Wonders of the Modern World.
The production (seen Aug. 9), which opened in late June, has been extended through Mon., Aug. 26. If there are any seats to be had at this point, my recommendation would be to grab one soon before it disappears into theatre memory. If there were any justice in the world, it would go on and on forever as its own spinoff creation while the main Celebration continues to give us new works.
As Max, Richardson Jones plays slightly young for the role, but it's not a problem: He has an effective theatrical singing voice and he knows how to put over a song. Some of his routines are quite complicated, and he even manages an amusing little repartee with the audience in the "intermission" during one of his big numbers. As Leo, Chris Jewell Valentin has all the attributes required for the high physicality his role demands and for the most part his voice suits the role. My only real disappointment with him may not have been entirely of his making: In the almost end of the show ballad "'Til Him," in which mostly he, but then joined by Max, rhapsodizes on the transformative role of their mutual friendship, the musicians, especially the reed player, were miked way too high, obliterating Leo's voice and the touching lyrics.
Other than that, the four-person band under musical director Anthony Zediker performed miracles with this sprightly score.
Cascading mountains of overstuffed filing cabinets lined the stage, the work of scenic designer Stephen Gifford. Lighting design is by Matthew Brian Denman, and the challenging array of costumes is the creation of E.B. Brooks. Cricket S. Myers provides the sound design. Eye-catching choreography by Janet Roston keeps the action lively in virtually every scene. Michael Matthews directs to perfection.
The cast features a number of other colorful supporting roles. John Colella is strong as the amateur playwright and unrepentant Nazi Franz Liebkind, who is a riot with his German oompah band tongue-twister slapstick comedy mit pigeons. MaryAnn Welshans plays the Swedish sexpot Ulla to good measure, although in my view the role itself could have been written to be less decorative and more integral to the plot.
The real standout in every sense is Michael A. Shepperd, the man of many talents who also serves as artistic director of the company, in the role of Roger De Bris, the schlocky theatre director who makes everything he puts his hands on an ode to kitsch. "Keep it light, keep it bright, keep it gay" is his motto—which gives Celebration the raison d'être for taking this work into its repertoire. De Bris will surely make debris out of this crappy pro-fascist play—although Brooks's choice of name for this character has another meaning. It's no plot spoiler at this late date to reveal that he unexpectedly assumes the role of Adolf Hitler on opening night, making a flamboyant gay man with a bris—the Hebrew and Yiddish word for a ritual Jewish circumcision—a blatant contradiction of everything Aryan.
But Shepperd raises the absurdity level of the show even higher as a Black performer, confounding every possible dream on Liebkind's part to restore the great Führer's sadly tarnished reputation. Now this is truly blind casting, but of course deliberate and purposeful in Celebration's conceit, introducing the theme of racism as the cherry on top of anti-Semitism. An absolutely brilliant touch—and when Mr. Shepperd peers out at you bug-eyed and mugs some of his lines like a blackface Al Jolson singing "Mammy," the hilarity simply goes off the scale.
De Bris is surrounded by a klatch of supporting theatre professionals who share his "Keep it gay" philosophy, a lighting person (a stereotypical lesbian), and his choreographer and design team. His principal partner—his "common-law assistant"—is Carmen Ghia (Andrew Diego), the overacting, oversensitive parody of a jealous gay lover, played to the hilt.
Other members of the ensemble include Evan Borboa, Jasmine Ejan, Michael J. Marchak, Stephen Markarian, Sarah Mullis, Angeline Mirenda and Liz Williams.
With its many inside jokes about other shows and movies (including his own) and the ways they have also stereotyped and misrepresented various ethnic groups (Show Boat, Fiddler on the Roof, among others), The Producers is at heart a loving tribute to the theatre. In one dance number with Hitler center-stage, a German missile marked MGGA appears between his legs, a contemporary joke that audiences must have appreciated as I did.
I don't know if Mel Brooks ever went through a left-wing period, but surely he knows that Broadway producers don't actually produce goods of material use or value. They, like other cultural workers, artists, teachers, priests and professionals, are part of a society's superstructure that holds it together in a more or less universally shared system of values, allowing the material culture of the manufacture of goods for use to advance.
But at the top of the theatre world, Broadway producers are not simply lofty spirits who love drama and actors and seek to enlarge the public mind with fresh and challenging ideas. They may be that, but they are also linked to high finance and capital. The organizations and industries summoned up by names such as Shubert, Nederlander, Geffen and Disney, among others, are major players in the economy, and they do not intentionally set out to produce flops. Each major Broadway show has its own subset of revenue sources you can find at the merch table, and some become Hollywood films if they didn't start out as a Hollywood film to begin with. Thousands of assembly workers in China are grateful, I suppose, for the bounty of jobs Broadway has created for them making tshatshkes and t-shirts for sale.
The notoriously high price for tickets to Hamilton is today's best example in the theater world of the superexploitation of the public, the same fraudulent pocket-picking that spectacle promoters, carnival hucksters and banks have practiced for millennia, the same reification of culture, like the Dutch tulip mania, into the "must-have" consumption item of the season, in the end the same fetishization of money. "Every pocket stuffed with cash," Leo fantasizes. These are ultimately the ideas Mel Brooks is asking us to consider—and from which he has profited well!
The Producers plays Fri., Sat. and Mon. at 8 pm, and Sun. at 2 pm at Celebration @ the Lex Theatre, 6760 Lexington Ave., Los Angeles 90038. For tickets, please call (323) 957-1884 or visit www.celebrationtheatre.com.