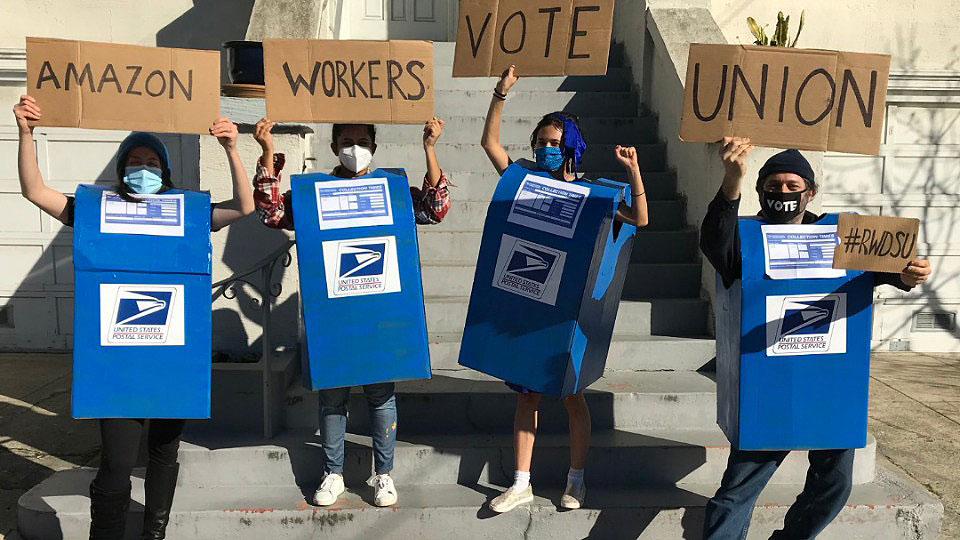 BESSEMER, Ala. (PAI)—Overcoming one final company-crafted hurdle, almost 6,000 workers—most of them Black in a 70% Black city—at the Amazon warehouse in Bessemer, Ala., are now voting by mail on whether to unionize.
Final results of the balloting, on whether the workers will join the Retail, Wholesale, and Department Store Union (RWDSU), a sector of the United Food and Commercial Workers, will be announced March 29.
The last-ditch hurdle, which other anti-union bosses have tried, was to force the 5,805 workers to vote in the traditional manner—in the warehouse during time off from their shifts—despite the lack of physical distancing and other anti-coronavirus measures. The National Labor Relations Board, even with a GOP-named majority, unanimously approved the mail ballot.
"Once again Amazon workers have won another fight in their effort to win a union voice," RWDSU President Stuart Applebaum said after the board's Feb. 5 ruling for mail balloting, not in-person voting.
"Amazon's blatant disregard for the health and safety of its own workforce was demonstrated yet again by its insistence for an in-person election in the middle of the pandemic. Today's decision proves that it's long past time that Amazon starts respecting its own employees and allow them to cast their votes without intimidation and interference."
If RWDSU wins, it would mark a double breakthrough for organized labor in two notoriously hostile environments: Amazon and Alabama. Only 8% of the state's workers were union members last year, a Bureau of Labor Statistics survey reported. And while union density rose around the U.S. in 2020, it declined in right-to-work Alabama.
Meanwhile, Amazon hired 400,000 new workers last year to deal with huge increases in shipping volume due to the coronavirus pandemic, Kevin Vasquez reported in Harvard Law Schools On Labor blog.
Amazon's also notoriously anti-union, even though it could easily afford to pay its workers higher, living wages. Its owner, Jeff Bezos, is one of the three richest people in the U.S. None of Amazon's facilities in the U.S. are unionized.
Appelbaum told Reuters earlier that top union officials had discussed the organizing drive with top aides to new Democratic President Joe Biden, a strong union backer, just after the Jan. 20 inauguration. He did not disclose who talked, or the Biden aides' response.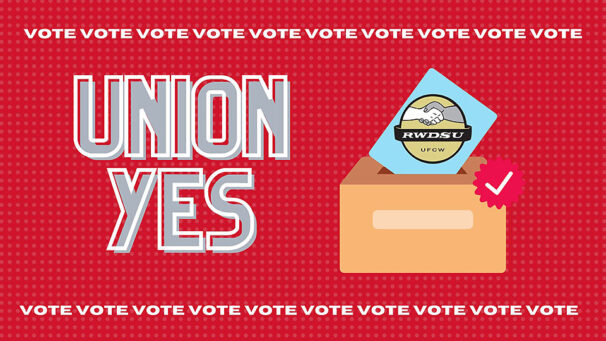 Appelbaum stressed the importance of the Bessemer campaign to the entire labor movement and its effort to break through in the notoriously union-hating South. There, bosses and politicians in the racially antagonistic and stratified society often play off whites versus Blacks to thwart union organizing drives by depriving workers of local community support.
Amazon "has a long and well-documented history of workplace abuses, poor working conditions, and illegal labor practices," Vasquez added. "A successful union campaign could incite a flurry of organizing activity and spread rapidly to its other warehouses."
"In Amazon's eyes, there is apparently no contradiction between the contentions that Black Lives Matter"—a campaign it verbally supported—"on the one hand and that the majority-Black workforce in Bessemer should not be afforded the protections and benefits of a union, which will, among many other things, help to protect them from the unchecked spread of a deadly virus."
Amazon grudgingly admitted in September that the coronavirus had infected more than 19,000 of its workers. It refused to say how many have died. It hasn't released figures since then. Lack of protection against the virus is a key issue for the Bessemer workers.
Past Amazon retaliation against warehouse workers around the country who spoke up—and in the case of four Staten Island workers, sued—about lack of coronavirus protection, reinforced the lack of protection Amazon workers have.
In the Staten Island warehouse case, a federal judge in Brooklyn dismissed their suit last year. He said the workers should have taken their complaint about lack of safety measures to the Occupational Safety and Health Administration, instead.
But under Trump, OSHA was notorious for not enforcing job safety laws in coronavirus cases, until, literally, Biden won last November's election.
Before that, Staten Island worker Chris Smalls had led a lunchtime walkout of dozens of workers over the lack of personal protective equipment for workers at that warehouse. Amazon later fired him on trumped-up charges. It also fired Bashir Mohamed in Minneapolis and Courtney Bowden in Philadelphia, among others.
BuzzFeed reported in early February that its Freedom of Information Act request revealed the NLRB's Philadelphia regional office decided in November that Bowden had a legitimate complaint about illegal retaliation in violation of labor law. It scheduled a hearing for her case to start on March 9.