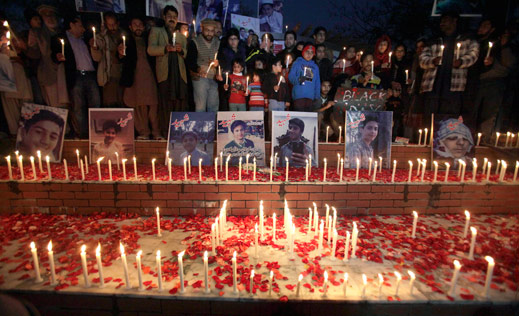 Pakistan's government declared a three-day mourning period today in homage to the 148 people murdered by Taliban terrorists on Dec. 16.
Some critically wounded adults – members of the school staff – died overnight, and authorities raised the overall death toll to 148, with the number of students killed remaining at 132.
Another 121 students and three staff members were wounded in the assault.
The body of head teacher Tahira Qazi was retrieved overnight from the debris. She had been inside her office when the militants forced their way into the administration building. She was killed when the attackers threw a grenade inside through a vent.
Several funerals were held overnight, but most victims were buried Dec. 17.
The Taliban said that the attack had been revenge for a military offensive against their safe havens in Northern Waziristan, along the border with Afghanistan, which began in June.
The attack drew swift condemnation from around the world, with even Taliban militants in neighbouring Afghanistan decrying the killing spree as "un-Islamic."
Teenage Nobel Peace laureate Malala Yousafzai – who survived a Taliban assassination attempt before moving to Britain – said that she was "heartbroken" by the bloodshed.
Prime Minister Nawaz Sharif pledged to step up the campaign that has targeted the Taliban strongholds.
"We must not forget these scenes," he said at a top-level meeting in Peshawar.
"The way they left bullet holes in the bodies of innocent kids, the way they tore apart their faces with bullets."
Indian schools observed two minutes of silence for the Peshawar victims at the urging of Prime Minister Narendra Modi, who called the attack "a senseless act of unspeakable brutality."
Photo: Local residents place candles around portraits of the victims killed in the Dec. 16 Taliban attack on a school in Peshawar, at a ceremony in Islamabad, Pakistan, Dec. 18. The Taliban massacre left a scene of heart-wrenching devastation, pools of blood and young lives snuffed out as the nation mourned and mass funerals for the victims got underway. | Anjum Naveed/AP