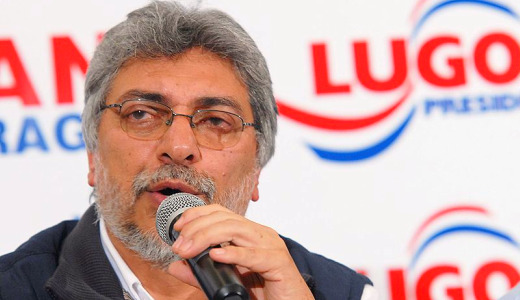 Between a rock and a hard place: that describes the precarious situation of Paraguayan President Fernando Lugo.
Taking office on August 15, 2008, Lugo, the first president in 60 years who did not come from the Colorado Party, was harbinger of a new era. "Red Bishop kindles hope in Paraguay" was how the UK Guardian a week earlier had titled an interview with Lugo. "I do believe we will resurrect this country, a country deeply drowned in misery, poverty, and discrimination," Lugo stated, adding, "[W]here there is sweat, where people are shoeless, we will be there." The former church leader had campaigned at the head of a center-left coalition.
On April 7 this year, Lugo was in Colombia at the Fifth World Economic Forum for Latin America, a conclave of heads of state and 500 business leaders. The agenda covered "roads toward economic recovery," "reduction of inequalities," and openings to Asian economies.
Media reports highlighted Lugo's warm meeting there with Colombian President Alvaro Uribe. "Paraguay," Lugo said, "looks favorably upon actions Colombia has taken against narco-trafficking, against the FARC, against criminality and its efforts to reestablish public order and peace in the country."
In Paraguay, old power brokers rule in the Parliament, Army, and the media. Luismi Uharte describes media obsession with the kidnapping October 15, 2009, of wealthy right-wing rancher Fidel Zavala by an insurgent group, the Paraguayan People's Army (EPP). Parliament and the media are working overtime to portray the Lugo government as weak on terrorism and incompetent. Their campaign continues even though a $550,000 ransom payment allowed Zavala to go free on January 17.
The media has skipped over important developments like the government's renegotiation of a treaty with Brazil over use of the bi-national Itaipú hydroelectric project, rumblings of Parliamentary coup plotting, and the campaign to release hundreds of peasants from near-slavery conditions. The resulting outpouring of sympathy for Zavala, one that crossed class lines, weakened popular support for the Lugo government, according to Uharte.
Interior Minister Rafael Filizzola, seen as a U.S. resource, has used social democratic credentials to insinuate a "police presence" within the peasant movement, a step feeding into its criminalization by the media. Filizzola also pleased Lugo's opponents by reaching out to Colombia for help with policing and by accepting Colombian allegations of ties between the FARC and EPP.
An already riled up opposition had a field day over Defense Minister Luis Bareiro's letter to U.S Ambassador Liliana Ayalde, taking her to task for meetings with civilian and military opposition figures, among them prime Lugo rival Vice President Federico Franco. That rebuke coupled with Bareiro's dim view of the government's "anti-terrorist" cooperation with Colombia came across as mildly anti-imperialist. This created a pretext for a barrage of media and parliamentary negativity toward Bareiro, reported Uharte. The government is portrayed as "subordinated to Chavez and the Bolivarian bloc."
Lugo is taking shots also from the left. Former electoral coalition partners show signs of division. Some are silent in the face of rightist attacks and others are tending toward political independence. And government difficulties in moving toward promised agrarian reforms have alienated some peasant groups.
Late in March thousands of peasants demonstrated in Asunción, demanding land redistribution and progress toward equitable health care, education and housing. National Campesino Federation leader Odilón Espínola told reporters, "We can't speak of change if 80% of the fertile land in the country is in the hands of 1% of the population, while 85% of the campesinos have access to only 6% of all the land." Speakers threatened land takeovers and blockades of highways unless the government helps peasants.
Yet the movement inspired by Lugo still has a hold on long-term supporters, exemplified by veteran peasant leader Elvio Benítez. Recently interviewed by La Nación, Benítez opined that "the right wing underestimates the popular sectors." He refused to dismiss the threat of a coup against the democracy, suggesting that it is real and, if realized, would represent a "backward step." He said, "The people are paying attention, are prepared and alert in circumstances where they may have to take a stand and defend against whatever attack is directed at turning back this process."
Photo: http://commons.wikimedia.org/wiki/File:Fernando_Lugo.jpg