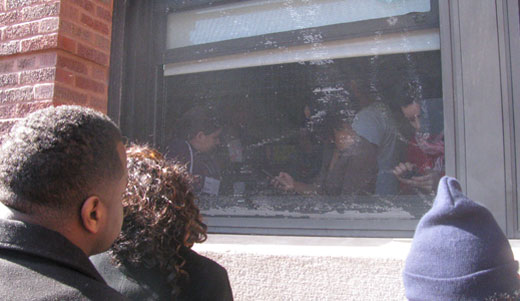 CHICAGO — "It shouldn't even have to get to this point," said Latrice Watkins, one of 15 parents and community activists who occupied Brian Piccolo Specialty School in the West Humboldt Park neighborhood overnight Feb. 17. The occupiers were dramatizing their frustration with plans by the Chicago Public Schools to close the school and reopen it as a charter.
They left Saturday after meeting with Board of Education vice president Jesse Ruiz and the promise of another meeting. They have been trying without success to get someone to listen to the area wide turnaround plan the community has drafted which covers several elementary schools, including Piccolo and Casals, another school slated for charter takeover. A meeting on the school closure was held at Board of Education headquarters downtown on January late at night. Many parents and community members were unable to attend.
CPS is determined to pursue a course of school privatization. The Academy for Urban School Leadership will takeover Piccolo, Casals along with 4 other schools. The plan, which will result in the firing of the entire staff of each school including teachers, administrators and lunchroom workers, has sparked protests in communities across the city.
"It's bull, said Yashanda Hudson, an 8th grader at the school. "I would have been in there too, but I had Saturday school. It's unacceptable. There has been a lot of improvement with the new principal."
Parents at Piccolo say they already have a turnaround plan and don't need AUSL. A poll taken among parents showed that 92% were opposed to the takeover plans. They expressed confidence in the current principal and staff to continue to make headway.
"The parents have spoken," said Kristine Mayle, Financial Secretary of the Chicago Teachers Union, who was present to show solidarity with parents and teachers. "Mayor Emanuel speaks of school choice but why doesn't he listen?"
Instead of giving the money to AUSL, it should be given to the school that has been starved of funding, say parents and the union.
Opponents of the CPS plan say it will mean the fourth principal in six years. They say the new principal is implementing many innovations that are producing results and should be given more time. What are needed are more resources and a spirit of cooperation with Piccolo school leadership and community.
"Sometimes AUSL improves scores and sometimes they are stagnant," said Cecile Carrol of Blocks Together. "With our kids who have behavior problems, will AUSL show them the door? We don't want another Orr Academy or Wendell Phillips Academy."
Carrol was referring to the record of AUSL at both schools, which have had mixed results after several years of management. A recent study issued by the University of Chicago shows there is no dramatic difference between public schools and those operated by charters.
"We want an informed Board, that we know took the time to take into account our plan and engages with us. Because honestly it would be a whole lot cheaper for us to run the school than AUSL," Carrol said.
Photo: John Bachtell/PW