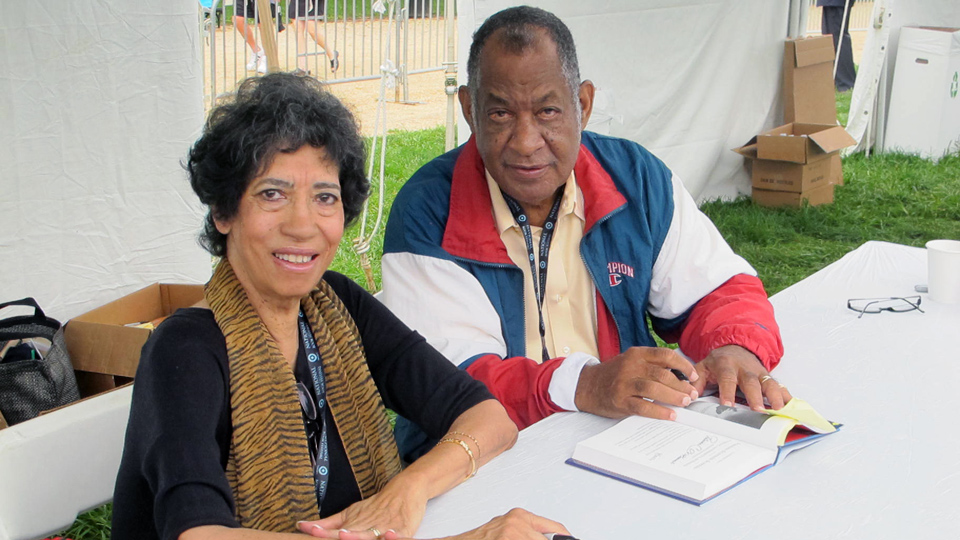 Patricia C. McKissack, a prolific author of children's books on African-American history, folklore, and stories, has died. She was 72.
McKissack, of the St. Louis suburb of Chesterfield, collapsed Friday and was taken to a hospital where she was pronounced dead of cardio-respiratory arrest.
McKissack and her husband, Fredrick McKissack, published more than 100 books. Fredrick McKissack Jr. said his parents shared a "missionary zeal" to write about African-American characters "where there hadn't been any before."
Her latest book, Let's Clap, Jump, Sing & Shout; Dance, Spin & Turn It Out! came out in January and featured a collection of rhymes, songs, and more from African-American childhoods.
"I write because there's a clear need for books written about the minority experience in America – fiction and nonfiction. I also write for the love of it," she remarked upon its release.
McKissack was born Patricia L'Ann Carwell to civil servant parents Robert and Erma Carwell on August 9, 1944, in Smyrna, Tennessee. She was inspired to be a writer by her mother who always read her poetry and also by her grandparents who told her many stories. Her father's stories usually included the names of her and siblings Nolan and Sarah. The characters in these stories were always smart and brave, characteristics present in McKissack's later works. McKissack and her siblings grew up in the South and they all remember the poetry her mother read them by Paul Laurence Dunbar.
McKissack remembered, "Long before I became a writer, I was a listener and an observer. My relatives, who were dynamic and skilled storytellers, helped develop my listening and observation skills before I could read or write.
"On hot summer evenings our family would sit on the porch and listen to my grandmother tell a hair-raising ghost story, or my mother would recite Dunbar poems or Bible stories. Sometimes we'd get a real treat when my grandfather would dramatize an episode from his childhood, told in the rich and colorful dialect of the Deep South. I can still hear him beginning a yarn, saying: 'It was back in nineteen and twenty-seven. I disremember the exact day, but it was long 'bout July, 'cause the skeeters was bitin' whole chunks outta my arms. . .'"
When writing Goin' Someplace Special (2000), Patricia remembered her favorite place to go as a child, which was the Nashville Public Library, where she always felt welcome and where she learned her love for reading.
While attending Tennessee Agricultural and Industrial State University, now known as Tennessee State University, Patricia met up with a childhood friend, Fredrick McKissack, who would later become her husband.
Fredrick and Patricia's first book together was published in 1984, a biography of Dunbar entitled, Paul Lawrence Dunbar: A Poet to Remember,
They collaborated on many works, but one of the most famous was A Long Hard Journey: The Story of Pullman Porter, which won the Coretta Scott King Award in 1990. They also were the authors of Sojourner Truth: Ain't I a Woman, which also won the Coretta Scott King Award in 1993.
McKissack was also a recipient of the 2001 Virginia Hamilton Literary Award, a Newbery Honor Book citation, the National Council of Teachers of English's Orbis Pictus Award, the Boston Globe–Horn Book Award, and an NAACP Image Award. After Fredrick's death, the couple jointly received the Coretta Scott King – Virginia Hamilton Award for Lifetime Achievement.
After he died in 2013, she told the St. Louis Post-Dispatch that although her name was the only one on most of the fiction titles, they shared in the work.
"We were a team," she said.
"St. Louis, and the entire children's book world, have lost a literary treasure," said Patty Carleton, longtime director of youth services with the St. Louis Public Library. Carleton said the writer "experimented with poetry, science fiction, beginning readers, historical fiction – with remarkable success. Her goal was to provide reading material for every child, no matter their age or interest."
Associated Press, Barbara Russum, Wikipedia, and Random House Publishing contributed to this article.