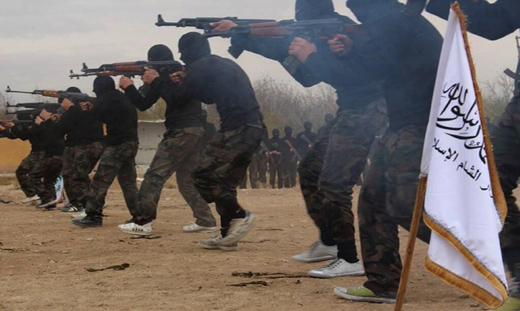 OAKLAND, Calif. – The Oakland Federal Building was the backdrop for a Feb. 17 press conference bringing together leaders of peace and justice organizations around the San Francisco Bay Area, in response to President Obama's announcement last week that he will seek Congressional approval for a new Authorization for the Use of Military Force (AUMF).
The president's proposal would authorize military operations against the Islamic State (ISIS or ISIL) for three years. It would allow for limited use of ground troops but not allow "enduring offensive ground combat operations."
The proposal would repeal the 2002 AUMF authorizing the ground invasion of Iraq. But it would leave in place the 2001 AUMF authorizing President George W. Bush to use all "necessary and appropriate force" against those he determined "planned, authorized, committed or aided" the September 11, 2001 terrorist attacks.
The gathering coincided with the start of a new campaign, Say No to Global Wars! initiated by United for Peace and Justice (UFPJ), to renew the message of the great mass peace demonstrations of 2003 that preceded the U.S. invasion of Iraq.
"When we started planning this campaign, we could not imagine that today we would be in a situation where the president is asking the Congress for a blank check to wage war in Syria, so parallel to the situation we confronted in 2003 with respect to Iraq," UFPJ leader Jacqueline Cabasso told the crowd. At the same time, she said, the crisis over Ukraine, involving Russia, the U.S. and NATO, "has brought into focus the ever-present and growing danger of nuclear war and the urgent need for progress on the abolition of nuclear weapons."
Several speakers emphasized the importance of repealing the 2001 AUMF. Stephen McNeil, Wage Peace director at the American Friends Service Committee in San Francisco, called repeal a "first step," citing the 2001 measure's use "over 30 times, to do lethal drone strikes in Yemen and Somalia, special operations in Mali, and actions in Pakistan."
McNeil said the AFSC is urging the use of diplomacy as well as economic actions to cut ISIL's funding.
Janet Weil of Code Pink emphasized the devastating effects of multiple deployments to battlefields on soldiers and their families. "Our country has wrecked and poisoned Iraq, has damaged Afghanistan, has done vast environmental and political damage throughout the Middle East, and drained resources from our needs at home," she said.
Cat Brooks of the Onyx Organizing Committee called attention to the link between Black Lives Matter struggles at home and freeing peoples around the world "from the threat of American bombs, missiles and gunfire."
A statement from U.S. Representative Barbara Lee, D-Calif., who represents Oakland and neighboring communities, was met with warm applause.
Lee emphasized Congress' constitutional responsibility to debate and vote on matters of war and peace, and expressed hope that the Republican leadership will allow debate on the issue. She called the 2001 AUMF "a blank check for endless war."
Lee said grassroots action by peace and justice organizations and others is "changing the conversation," and urged continuing pressure "to reestablish the checks and balances on war-making that are enshrined in the Constitution."
Last week Lee and U.S. Rep. Mike Honda, D-Calif., introduced House Joint Resolution 30, to require President Obama to submit to Congress a "comprehensive diplomatic, political, economic and regionally-led strategy to degrade and dismantle" ISIL, within 90 days of enactment.
"It would be a tremendous error for our Congress to finally debate a long overdue authorization for the ongoing war against ISIL and neglect the important nonmilitary options that comprise a comprehensive solution," she said.
Lee said that while the new resolution prevents deployment of U.S. ground forces, "it does not close the door for military action," which would have to be debated and authorized by Congress.
"Any comprehensive strategy must address the underlying political, economic and diplomatic elements that have contributed to ISIL," she added. "This bill recognizes that ISIL is a multidimensional program that requires a multidimensional solution."
Photo: ISIS fighters use captured U.S. military eqipment and guns. AP