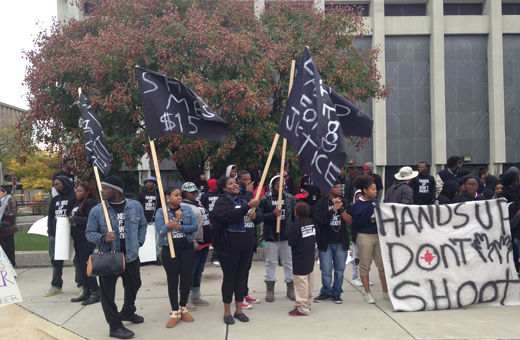 ST. LOUIS – What is now known as Ferguson October could go down in the history books as the spark that ignited the new civil rights movement during what was a weekend of action and peaceful resistance here. Below is just a brief summary of the weekend's mobilization that I was able to witness while on site and embedded with local activists:
Beginning Friday, Oct. 11, thousands from a range of political and social backgrounds converged here for justice for Mike Brown. However, this was not just about the killing of Michael Brown. This new movement is calling for the complete destruction of institutional racism in America, transparency and accountability of all law enforcement officials, and equality under the law for all people, regardless of their race, class, or gender.
"This isn't just a black vs. white issue, this is about what is right and what is wrong," explained a 30-year-old demonstrator from Seattle at a local coffee shop. "Killing innocent black teenagers is wrong, having a legal system that protects only the wealthy few is wrong. If we do not stand up now nothing will ever change or be right in this country."
I joined protestors gathering outside St. Louis County Prosecutor Bob McCullough's office around 2:30 p.m. and in less than an hour the entire parking lot was a sea of hand-painted umbrellas, reading, "Hands Up, Don't Shoot!" and "We Are Mike Brown." The cloudy skies and scattered rainfall were not going to deter the people who were prepared to begin the weekend of resistance.
Montague Simmons, a member of the Organization for Black Struggle and one of the organizers of the weekend's events, called on the crowd to move into the streets as the 3 p.m. march began.  Hands popped up and out from underneath the umbrellas and voices cried out, "No Justice, No Peace!"
"We have to make sure that they can hear us," shouted one activist as encouragement to others to continue making noise. As 4 p.m. rolled around protestors were encouraged by Simmons to head home and, "get some rest because today was only the beginning and our work does not stop here."
Saturday morning came quickly for the next round of demonstrators, both young and old, who had spent their evening planning teach-ins, making signs, and executing more covert operations such as banner drops off the highways. As one fast food worker said, "There is too much energy out here now to just go home, there is still a lot of work that needs to be done before the morning march."
At 10 a.m. I made my way towards the center of downtown St. Louis where 1,500 protestors had already assembled and were now watching as police barricaded the streets and created parking locations for the impending arrival of buses. Walking around the crowd the excitement was almost palpable and I overheard many anxious voices asking when the march would begin. As if on cue, fast food workers organizing for $15 and a union took over the street and began chanting, "No Justice, No Peace!" as their black and white flags unfurled in the morning breeze. Labor unions and other groups joined their fast food brothers and sisters in the street and shortly thereafter, the march was well underway.
For over a mile I marched with the 3,000 participants who sang, chanted, and danced in the streets, creating the sounds of peaceful protest with their voices. Marching beside me was Rasheen Aldridge, director of Young Activists United STL and a fast food worker, who explained that younger activists "are the ones out there every night. After this daytime march is over we will stay out all night until politicians start listening to us." As he made his way towards the front of the march he finished by mentioning that, "people are tired and hungry for change. If politicians don't listen to us then they will soon find themselves out of a job."
By 1 p.m. the march ended with a program led by Tef Poe and Tory Russell, organizers with the Hands Up United Coalition. After introducing speakers active in the Ferguson struggle, Mark Esters with the Coalition of Black Trade Unionists and the AFL-CIO made his way to the podium and let the crowd know that, "We (the labor movement) stand with the youth in Ferguson who put their lives on the front lines to expose injustice."
Later on in the evening many of the young faces seen during the morning events were seen again outside the Ferguson Police Department and in the Shaw neighborhood of St. Louis. With two out of three main events completed all eyes and ears were focused on Monday, Oct. 13. Not many details were released but Hands Up United organizers did let us know that it would be a day of planned civil disobedience across St. Louis.
Monday morning I found protestors mobilized about three blocks from the Ferguson police headquarters at the Wellsprings Baptist Church. The church grounds were overflowing with protestors and as the 1 a.m. bells rang faith leaders left the main chapel, forming a three by three marching line, their voices intoning "We Shall Not be Moved." Clergy and others created a line between the peaceful protestors and riot police for four hours and thirty-two minutes, the same amount of time that the body of Michael Brown laid in the street uncovered and bleeding. For that entire time members of the clergy engaged in civil disobedience, which eventually resulted in the arrests of some 50 people.
Ten minutes away, a group of fast food workers and union members with the Service Employees International Union took over W. Florissant and Lucas-Hunt Highway. Carrying a banner proclaiming black lives matter, six protestors took the street and blocked traffic for over three hours, withstanding a torrential downpour. Police eventually moved in and arrested the street occupiers, who were later released without being charged.
Monday's events ended in the main rotunda of St. Louis City Hall where youth affiliated with Young Activists United STL staged a three-hour sit-in demanding a meeting with St. Louis's Mayor Slay. I witnessed a single protestor take arrest after attempting to hang a banner from the indoor staircase but within 15 minutes activists were able to successfully hang two banners with still a third held aloft by some others. Whistles and clappers created a deafening roar inside as a list of demands was delivered to the mayor's chief of staff.
By 5 p.m. the protestors left, saying that, in 48 hours, they would return with larger numbers if they had not heard a response from Mayor Slay.
This struggle, of course, will not end with just this one weekend. Event ambassadors, a group made up of volunteers who cleaned up the streets and distributed literature,  handed out leaflets announcing October 22, 2014 as the next national day of action against police brutality.
As Simmons explained to the press: "Police terror has existed well before slavery ended. They didn't respect black lives then and they don't respect black lives now."  And activists have promised that they would continue fighting back until black lives and all lives are respected.
Photo: Al Neal/PW