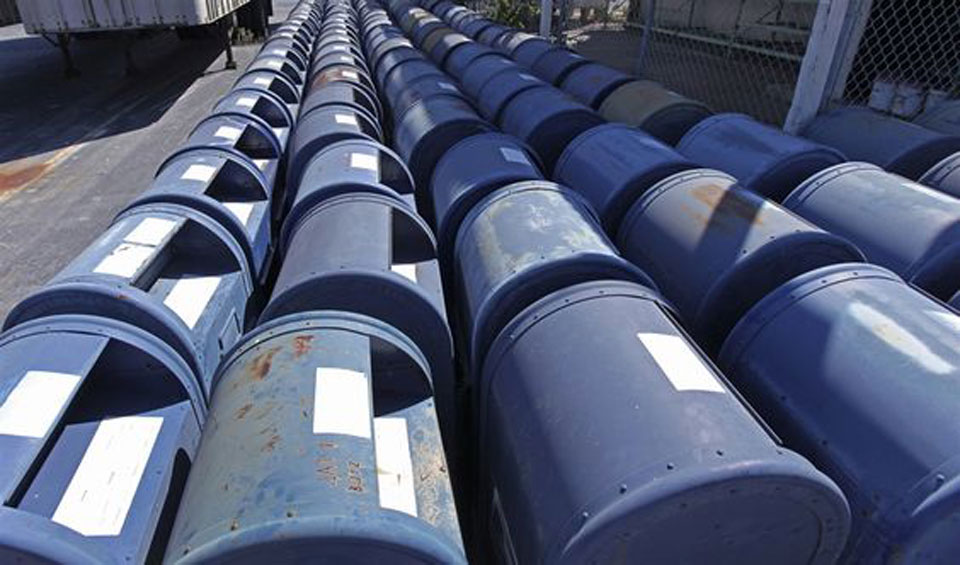 WASHINGTON — House Speaker Nancy Pelosi, D-Calif., has called lawmakers back into session, despite the "virtual" Democratic National Convention, to stop GOP President Donald Trump's multifaceted scheme to stop voting by mail by basically shutting down the U.S. Postal Service before the Nov. 3 election.
Trump's objective, along with that of his political puppets, is to stop the tsunami of mailed-in anti-Trump ballots from workers, women, people of color, and even veterans, from overwhelming him and burying his re-election chances. Other GOP politicians share that fear.
Pelosi's office is drafting legislation to order Trump's hand-picked Postmaster General, GOP big giver Louis DeJoy, from further slowing delivery and yanking out postal sorting machines. The House Oversight Committee summoned DeJoy to testify August 24 on his anti-delivery moves. And six state attorneys general are considering suing DeJoy to stop them.
Trump trails presumed Democratic presidential nominee Joe Biden, who will be nominated August 18, by between four and a dozen percentage points in public opinion polls. He also lags in key swing states such as New Hampshire, Florida, Pennsylvania, Michigan, and Wisconsin. And red states as small as Alaska and as large as Texas have turned into tossups.
So Trump and his pawns, particularly DeJoy, are pulling out all the stops, literally, to stop vote-by-mail.
That includes uprooting on-the-street mailboxes, particularly in communities of color—the most anti-Trump group.
And DeJoy banned overtime for Postal Workers and Letter Carriers, forcing them to leave undelivered mail on postal loading dock floors, and inducing delivery delays. He's yanking out 671 sorting machines nationwide that handle larger, flat envelopes, such as those used to deliver and return ballots.
Trump would literally let the U.S. Postal Service—and its 604,000 workers, most of them unionists—starve to death financially, by denying USPS the $25 billion it needs to get through the end of the year.
USPS needs the funds, its own Trump-named board says, because the closures forced by anti-coronavirus pandemic measures tanked its prime profit source, money-making first class mail. The postal unions agree and are also pushing for the cash.
Not only that, but Trump opposes the $3.6 billion cash-strapped states need to convert to mail-in balloting. That money, too, was in the House passed Heroes Act, HR6800, which Senate Majority Leader Mitch McConnell, R-Ky., has buried. Trump says he'll veto HR6800 if it has mail-in money.
And DeJoy told 46 states and D.C. that the delays will be enough to possibly prevent mail ballots from getting to voters, or getting back to elections boards, on time.
The Trump-induced delays have also tanked delivery of vital medicines, utility, rent and mortgage payments, packages, and even small animals, and produced public outrage. Some first-class mail is taking up to a month for delivery, even when senders pay for overnight service.
"The changes implemented by the new Postmaster General—Trump's ally and a major donor—to the mail delivery process have caused unacceptable and dangerous delays in essential mail such as medications and retirement checks," Sen, Chris Van Hollen, D-Md., told a noon press conference with other elected leaders and local postal union officials outside the Baltimore, Md., mail sorting center.
Trump's moves also produced the conclusion that he planned them to deliberately skew the election in his favor, or to call the results false if he loses, thus sending his supporters into a rage. "He has succeeded enough that everybody is working overtime to clean up the mess," Kristen Clarke of the Lawyers Committee for Civil Rights Under Law, told the Washington Post.
"Trump made it clear his actions are intended to suppress the vote in the November election," Popular Resistance reported, announcing a meeting of the unions' "US Mail Is Not For Sale" supporters on August 18.
"There is a large push for universal mail-in voting because of the pandemic. People are reluctant to vote in person and states are having trouble finding people willing to work the polls.
"Although Trump requested an absentee ballot for himself in Florida, he said mail-in voting is subject to fraud and can only be trusted in Republican states. He denied a request for emergency aid for universal mail-in voting tweeting, 'They want $3.5bn for something that will turn out to be fraudulent. That's election money, basically.'"
Popular Resistance, the unions, civil rights groups, and their allies are all urging postal customers, which means everyone, to deluge senators with demands to fully fund the USPS and vote-by-mail. Various toll-free numbers are available at union websites and elsewhere.