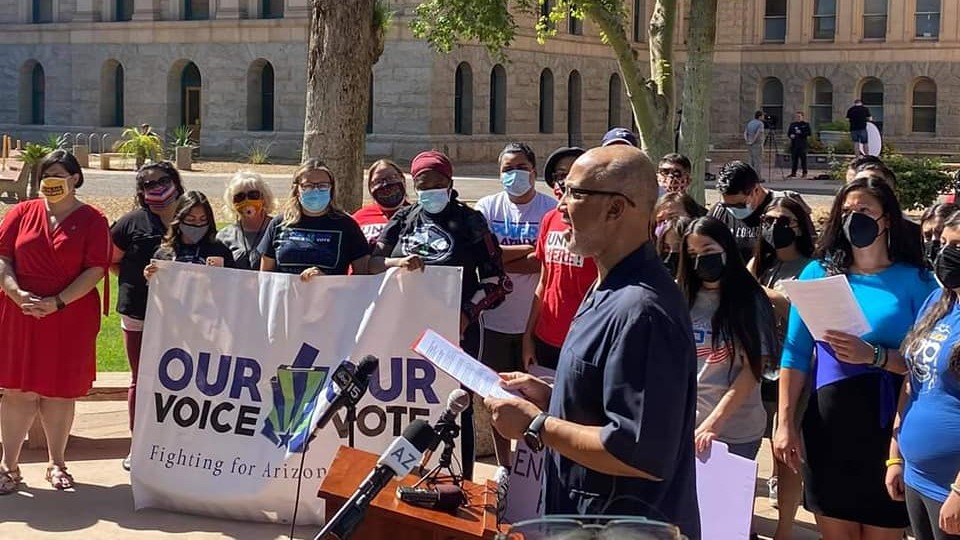 TUCSON, Ariz.—Frustrated with their two Democratic Senators' refusal, so far, to abolish the Senate filibuster rule, Arizonans have been mobilizing in a campaign of pressure from below by the people who put them in office. Sens. Kyrsten Sinema and Mark Kelly are being inundated with thousands of phone calls and emails, together with letters to local publications and actions at their state offices, especially while they were home on recess.
Another major action is planned for May 20. Initiated by the Arizona Coalition to End the Filibuster—and joined by Progress Arizona, Progressive Democrats of America, Jobs with Justice, and other labor and community organizations—demonstrations will take place in Tucson, Phoenix, and Flagstaff.
The Tucson action will take place from 4:30 to 5:30 downtown near Sen. Kelly's office by the Pancho Villa statue.

Phoenix's action will be at the Civic Space Park downtown, from 5:30 to 7:00 pm.

The Flagstaff action sponsored by the Arizona Student Association will take place at 5:30 p.m. at City Hall Lawn, 211 W Aspen Ave.
Organizers point to the anger Arizonans feel when they watch their ultra-right-wing legislature and governor attack and slash voting rights while the filibuster rule is preventing passage of legislation like "For the People Act" and "The John Lewis Voting Rights Act" to restore and strengthen the 1965 Voting Rights Act.
Both acts, if passed, would nullify the legislature's draconian and racist measures. Other popular, progressive, and much needed legislation, like the Protecting the Right to Organizing Act, American Jobs Plan, and Washington D.C. Statehood, will be difficult if not impossible to pass without abolishing the filibuster.
In February, more than 40 Arizona organizations, including the Arizona AFL-CIO, sent a letter to Sen. Sinema urging her to reject the filibuster and reminding her of the opportunity for Congress to pass popular, common sense policies. The letter was followed by lobbying and small demonstrations at the two Senate offices. Arizona's labor movement has also been heavily active trying to win the senators to support the PRO Act and other progressive programs.
Passage of the voting rights protections and the strengthening the freedom to organize on the job will boost the democratic rights of working people and their unions across the country—and this growing strength will open the path for working folks to make further progressive gains.