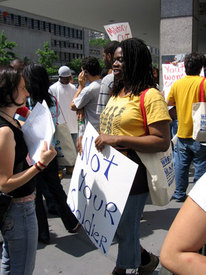 The People's Weekly World/Nuestro Mundo was a hit at the Young Communist League USA's 8th National Convention, held May 27-29 in Brooklyn, N.Y.
"The PWW publishes stories you won't find anywhere else," said Matt Murtagh, from Washington, D.C. Murtagh saw his own byline on the front page over one of those unique stories just last winter. Murtagh, a student at Georgetown University, was reporting from the front lines when students on his campus sat in for four days and helped win a living wage for campus workers.
Outgoing YCL national coordinator Jessica Marshall opened the convention, urging the delegates not only to dig into today's struggles for peace and justice, but to imagine something better "and how we can win it."
"The People's Weekly World is our voice," Marshall emphasized, "and it comes out every week."
The PWW had already captured the hearts of many YCL members before the convention. Arizona native Luis De La Cruz distributes a bundle of the papers to campuses and community centers every week, but he was glad for the opportunity to sign up for home delivery. It's another way, he said, to support the paper he relies on. Tucson YCLers are heavily involved in the struggle for immigrant rights. Living in a border community, De La Cruz works with the human rights group No Mas Muertes, provisioning medical and water stations for migrants forced to cross the scorching desert. Like most convention delegates, De La Cruz leads a many-faceted life. Currently a student between semesters, he makes a living dressing up like Elmo for kids' birthday parties.
"What's Really Good," the paper's new youth-focused column, got good reviews from the crowd around the PWW display at the convention hall entrance. "It didn't take much of a sales job to sell these folks a subscription," said PWW Labor Editor Roberta Wood, "and we were overwhelmed with the enthusiasm to sign up as volunteer writers and photographers." Wood reported that 40 new subscribers signed up for the paper, some no doubt encouraged by the promotional gift of gummy worms and the chance to win a collection of books.
A recent graduate in media studies from the New School in New York, Tokumbo Bodunde was eager to renew her subscription. "I like that when you flip through the pages virtually every image is of people together in some sort of struggle — fighting." She clarified, "Fighting in a good way." Bodunde said that even if she doesn't get a chance to read all the articles, "It's enough for me to look at the pictures and headlines sometimes, to give me a different perspective, to be hopeful."
"Otherwise I would have no idea that people in all parts of the world have the common ability to stand together. Everyone's doing the same thing — steelworkers and students. Everyone all over the world is taking some kind of action against injustice in their lives," she said.
"I feel like most mainstream media is catering to scaring its readers or painting a picture of humans as bad and corrupt. They don't show people as active, or as agents of change. That's not what you see in the PWW," she concluded.
TOWN HALL May 2 – Confronting the COVID Economy: Women Fight Back