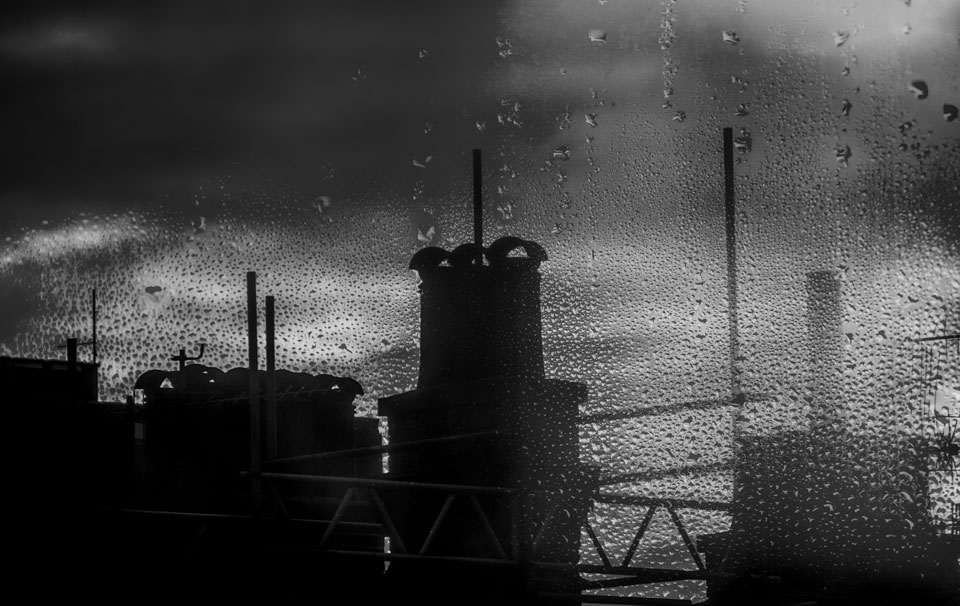 Editor's note: People's World's Al Neal is on lockdown now in the UK from where he will be covering life, work, and politics in England's pandemic era. This is the first of his dispatches.
EAST SUSSEX, England—The early morning light greets with a burst of frigid sea air and sodden rooftops dotted across East Sussex. Inside, it is warm, and there are tea and coffee and the sounds of quarantined daily life. Through an open kitchen window, one hears local builders hammering and chiseling away at dull brick homes in desperate need of repair. Above them the cackling taunts of observant gulls warming their wings atop rooftop flue pipes, billowing clouds of grey towards a dark blue sky.
Below the flat, the sounds of schoolchildren dragging their feet, followed by the stern voices of frustrated parents saying, "come on then….you don't want to be late for school," have gone silent.
This isn't the England of 2019, where Brexit's drama played out on television screens daily, and Brexit conversation was poured out—along with several pints—in pubs across the United Kingdom.
It is 2021, and the U.K is still grappling with the rise, fall, and now the subsequent rise again of Covid-19.
Local pubs are empty. The streets silent, except for the occasional emergency sirens and the few essential workers cautiously setting off to work. And the anxiety over what comes next with the coronavirus—and the post-Brexit U.K.—continues to grow.
My arrival at London Heathrow Airport came shortly before the start of the holiday season. As one would expect with international travel under pandemic conditions, it was filled with anxious confusion, and panic—on top of the usual travel panic we all experience.
As the coronavirus continued its deadly toll across the United States, new lockdown measures and orders aimed at curbing the spread began taking shape state by state. Internationally, the rapid spike in U.S. cases was met with further restrictions for U.S. citizens hoping to travel abroad.
For U.S. travelers, flights overseas included added safety measures and requirements before and when boarding, while in the air, and when deplaning at your final destination.
To enter the U.K. a coronavirus test was required 72 hours before my scheduled departure from the U.S. I filled out the mandatory passenger locator form—giving specific details to the times and places I would be before and after entering the country—boarded the plane, face covered at all times, and settled in for a bumpy ride.
I landed on a foggy Monday morning and felt a slight chill up my spine. The airport was as quiet as an early morning church service. The buzz about the duty-free shop was absent, and there was no reason to stop for food. All the shops were closed.
But there was a feeling of convenience, limited as it was.
The usual heavy foot traffic slowing down border control was nothing to fret over. And without much effort, I made my way through the passport check by smiling into the e-passport gate camera and self-scanning my paperwork.
After a short and pleasant taxi ride and jetlag nap, I arrived at my quarantine destination. Per mandatory government orders, all passengers upon entering the country must isolate for 14-days.
So, I did, and not much happened after that.
Word began to spread of Covid-19 cases popping up in the south of England, primarily in Kent. It was Dec. 15, 2020, ten days before Christmas. A time when families had begun preparations for long-awaited reunions, and a relaxation of the social distancing rules. Bit by bit giddy holiday moods were replaced by fear.
The nightly news reported the rise of a new Covid-19 variant. One highly contagious that would soon replace previous versions of the coronavirus.
On Saturday, Dec. 19, 2020, U.K. prime minister Boris Johnson gave a press conference announcing new restrictions on movement for the Christmas season, and a complete lockdown of London and the southeast of England in response to the spike.
"It seems that the spread is now being driven by the new variant," said Johnson. "It does appear that it is passed on significantly more easily."
And according to Dr. Eric Volz, from Imperial College London, the new variant may be up to 70 percent more transmissible, but the symptoms of the illness have not grown worse, and recovery time has remained the same.
Christmas was effectively canceled.
"I took all the necessary precautions, spent 125 quid on a COVID-19 test, self-isolated—never once leaving my flat, all in the hopes of seeing my family for a few hours on Christmas Day," said Claire, a post-graduate student in Leeds planning to travel home to Surrey, over the phone,
"And after all that, because people got careless and started making excuses for not social distancing or wearing a face covering, I am now forced to spend Christmas alone…I'm furious."
Christmas day came and went. We rang in the new year with limited fanfare, and a tiny amount of hope—just enough to keep keeping on.
Dreary clouds and buckets of rain marked the first Monday of 2021, and the only thing anyone was counting down was the time until the prime minister's televised announcement at 8.00 p. m. GMT.
"As I speak to you tonight, our hospitals are under more pressure from Covid than at any time since the start of the pandemic, said Johnson. "In England alone, the number of Covid patients in hospitals has increased by nearly a third in the last week, to almost 27,000."
He continued: It is clear that we need to do more, together, to bring this new variant under control while our vaccines are rolled out. In England, we must therefore go into a national lockdown which is tough enough to contain this variant."
This marks the third national lockdown for the country. And one which may have a fluctuating end in sight, along with conflicting instructions, procedures, and well…everything in between.
So here we go again…back indoors with uncertainty as a constant companion and constant chatter coming from the socially distanced halls of Parliament in the Palace of Westminster.
Here's looking at what tomorrow will bring.