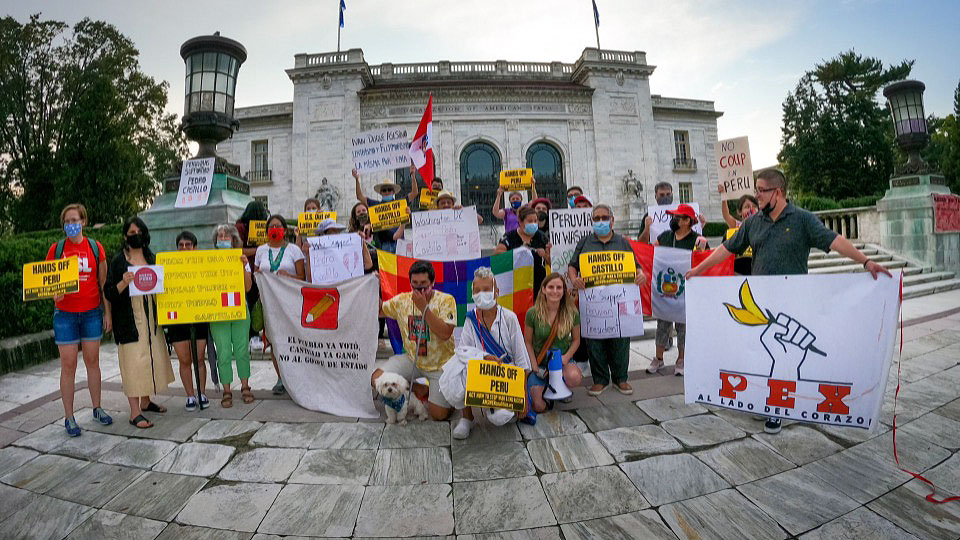 WASHINGTON—Activists and organizers—including members of the Claudia Jones School for Political Education, D.C. Young Communist League, and CODEPINK—met in front of the Organization of American States (OAS) building here last week to rally in support of the Peruvian people and their president, Pedro Castillo, who was elected on June 16th but faces massive right-wing opposition.
Immediately following Castillo's victory, Keiko Fujimori, candidate of the conservative Fuerza Popular party who lost to Castillo in the second round of voting, started claiming the elections had been illegitimate. She echoed similar recent cries from extreme-right reactionaries like Donald Trump of the U.S. and coup leader Jeanine Áñez of Bolivia.
Fujimori is the daughter of former dictator Alberto Fujimori and was named first lady of Peru during his brutal regime in the 1990s. Keiko Fujimori has had a long political career of her own on the extreme right, and during the campaign for the presidency this year she was constantly questioned about her father's legacy of violence and corruption and even her own embezzling habits.
Castillo, by contrast, is a popular teacher and union activist. The son of peasants from a rural part of Peru, he credited support from labor unions as the main factor motivating him to run for the presidency. He was the leader of a 2017 teachers strike that was repressed by the government but still managed to win salary increases for the country's poorly-paid educators and local debt relief. His record scored him the presidential nomination of the socialist Peru Libre party.
The organizations and supporters that rallied in Washington, D.C., last week backed Castillo because, despite his victory at the polls, the reactionary opposition continues to fight against his administration.
Most recently, right-wing legislators managed to delay the vote to confirm Castillo's cabinet nominations. His newly-appointed prime minister, Guido Bellido, has also been attacked by the opposition for allegedly being a supporter of the Maoist "Shining Path" guerillas. They also criticized Bellido for speaking in a Quechuan indigenous language in Congress.
Although the leftist Peru Libre party won, its margin of victory was a slim one. There is still a division between the elite in Lima and everyone else. Despite Peru's increasing wealth, it is largely concentrated in the capital, while Indigenous and mining communities remain underdeveloped.
Even with such a divided country, however, Castillo gained the support of many of those left behind by previous regimes by offering something better. Castillo also has the support of democratic and progressive forces in imperialist countries, such as the United States.
As one activist at the D.C. rally asked, "Why is it that the places where the mining companies operate are [also] the poorest places in Peru?"
Continuing, the demonstrator said: "Your environment destroyed; your people exploited. And when he would go around the country talking to people [They would say] we want a better deal. We want the resources from this country, and the profits of those resources need to stay in our country and benefit our people. That's why he got so much tremendous support."
Another activist, representing Peru Libre, told rally-goers, "Since 1996 when I was born, the opposition funded paramilitary groups like the Groupo Colina to assassinate anyone who opposes their control." The Groupo Colina was an anti-communist death squad active during Alberto Fujimori's dictatorship.
Continuing from him, another Peruvian activist spoke in Spanish, of the need for solidarity: "This is why we are here today, to send a message from all of us from Washington and from the United States to tell Pedro that he is not alone and not to give up. We know the fight will be very hard but you are not alone."
Attendees sang songs of unity led by musical artist Luci Murphy and others in the crowd and expressed hope that Castillo will be able to implement his program in Peru without interference from outside forces.
Only recently the OAS tried to undermine the democratic election of Evo Morales in Bolivia, and organizations like it are widely seen as instruments for the interests of U.S. imperialism by many people in the region.
Yet despite interference from the U.S. and the desperate attempts to undermine Castillo from right-wing Peruvian reactionaries, the message the demonstrators outside OAS headquarters had for imperialism and the capitalist institutions that desire to exploit the Peruvian people and their land was: "Hands off Peru!"