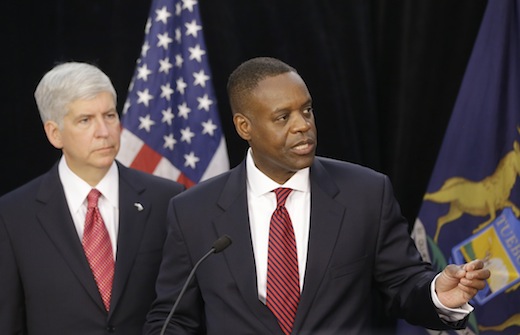 DETROIT – "Much of Detroit's dysfunction is also due to simple complacency. For a long time the city was dumb, lazy, happy and rich." Those comments made by Kevyn Orr, Detroit's appointed emergency manager, in a recent Wall Street Journal interview have rightfully started a firestorm. An online petition, supported by the Detroit branch of the NAACP, is now calling on Orr to resign.
The Change.org petition says Orr cannot effectively restructure Detroit while showing such "disrespect and vile contempt for the citizens of Detroit," calling his comments "vile and callous."
The petition says Orr's outrageous statement misrepresented Detroit's history and its diverse communities – White, African American, Arab, Jew, Latino, Asian and others, including workers and retirees – with a negative attitude about the many hard working citizens of Detroit.
Orr's comments regarding the city have rendered him "morally unfit to both manage the City of Detroit and represent the Governor of the State in the capacity of Emergency Manager," the petition says. "It is therefore beneficial and unifying for the Citizens of Detroit that you resign from your duties."
Detroit deserves better, many here are saying. The news today that Philadelphia had to borrow $50 million to open schools on time and merely provide a bare bones operation gives further proof of the coast-to-coast problems facing our nation's states, cities, and many rural and suburban communities.
Detroit's problems have not happened in a vacuum, "absent an economic crisis," said Detroit NAACP President Reverend Dr. Wendell Anthony in an earlier press release. Auto restructuring resulted in the loss of 90 percent of the city's jobs, he noted.
Anthony said Orr statement clearly demonstrate two different world views of the same condition. The NAACP leader said Orr's comments were "callous, insensitive, disrespectful, stereotypical, and most disdainful of not only the African American citizens in the City of Detroit but in particular thousands of blue collar workers who have given their sweat and blood in building this city."
He added, "Mr. Orr, neither the citizens of Detroit nor its leaders are dumb, lazy, happy with current circumstances and very few, if any, are rich."
Further, he noted, "Detroiters have taxed themselves to build schools and stadiums, to hire police officers and fire fighters, and to improve city services for the past 50 years. Can Mr. Orr say the same thing about his friends on Wall Street?"
Photo: State-appointed Detroit Emergency Manager Kevyn Orr, right, speaks as Michigan's Republican Gov. Rick Snyder watches during a news conference July 19 in Detroit. (AP/Carlos Osorio)