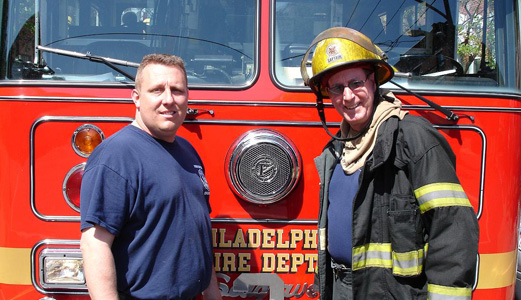 PHILADELPHIA – Philadelphia firefighters have finally won a new contract, after four years of obstruction by the mayor. Their union, International Association of Firefighters Local 22, was awarded new contracts by arbitration three times. All three times Mayor Michael Nutter challenged it in court. A successful mass petition drive this year to curb the mayor's power forced Nutter to back down.
Contracts with all four of Philadelphia city workers' unions expired June 30, 2009. Before that, and in the four-plus years since, the administration of Mayor Michael Nutter has not negotiated seriously with AFSCME District Councils 33 and 47. The police were awarded a new contract by arbitration; both sides accepted it. But Nutter refused to accept the arbitrators' rulings for the firefighters.
During this past summer a petition to City Council was initiated, to begin proceedings to amend the City Charter to require a two-thirds vote by City Council before a mayor can challenge an arbitration award. The petition required 20,000 signatures. Signed petitions were submitted the week after Labor Day. At the end of that week, it was announced that Mayor Nutter is dropping his challenge to the Firefighters' award, and that a bill will be introduced in City Council this fall to require Council's approval for a mayoral challenge to an arbitration award.
Under Pennsylvania law, police and firefighters unions are forbidden to strike, and contracts are awarded by arbitration. For AFSCME DC 33 and 47, terms of expired contracts are extended only if the parties are in negotiation mode and the unions don't strike, even if no negotiations are actually happening. If those unions do strike, the old contract is voided and management can impose its conditions.
No actual negotiations have occurred since early 2009.
Photo: Engine 3 is from the Moyamensing & Washington Ave. fire station in Philadelphia. dwwebber CC 2.0