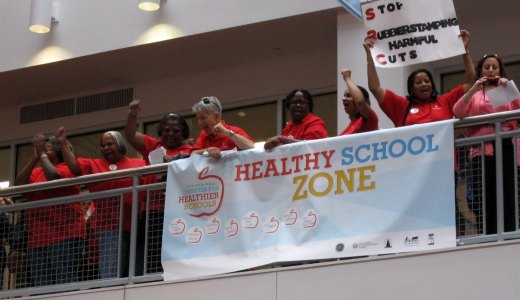 PHILADELPHIA – A spirited crowd of hundreds of school employees and supporters streamed June 13 into the school district headquarters and packed the meeting of the School Reform Commission (SRC) here to protest the district's announced plans to layoff over 1,500 teachers in order to solve its $629 million budget shortfall.
Carrying signs reading "Students need smaller classes!" and "SRC-What have you done?" the protesters chanted, "Hey, hey what do you know? The SRC has got to go!"
When the second floor meeting room was filled, the several hundred remaining demonstrators refused to leave the building and viewed the proceedings on a large screen TV in the downstairs atrium. They cheered Philadelphia Federation of Teachers President Jerry Jordan's speech to the reform commission blasting their proposed cuts and the results they would have for students at all levels. Jordan noted that "inmates in state prison have better access to libraries than students in Philadelphia." After the meeting Jordan told the crowd that the union would work to "make sure" schools would not open in September under the conditions being projected by the SRC.
A massive rally outside the building before the meeting showed the level of unity that school workers have reached in the face of the current attack on public education. Originating with the Pennsylvania governor and legislature, this assault is being largely rubber stamped by the local school district administration. Members of the teachers federation, Local 3 of the American Federation of Teachers, were joined by members of SEIU Local 1201, the union representing bus drivers, custodians, building engineers, cafeteria workers and other support staff.
Jordan introduced Robert McGrogan, president of the principals' union, the Commonwealth Association of School Administrators, who told the crowd, "We have mutual interests; we stand with you. Children are being hurt and a war on workers is being declared simultaneously." When the head of Local 1201, pointing to the building, said that the administration had failed the children of the city, the crowd took up the chant, "Shame on you!"
This year marks the tenth anniversary of the establishment of the Philadelphia SRC by former Republican Gov, Tom Ridge in 2001. Intended to oversee the district's finances, essentially placing it under direct state control, the reform commission is now faced with its largest budget deficit in years following current Gov, Tom Corbett's announced deep statewide education cuts.
Teachers, parents and education advocates have been especially angered by Superintendent Arlene Ackerman's attempt to circumvent the teachers' contract and to protect certain favored expensive programs while teaching positions are being eliminated. The district had gone directly to the State Supreme Court to secure permission to proceed with the layoffs under Act 46, the ten-year-old law that had established the SRC.
The union won a partial victory last Monday when the court issued a temporary stay as it reviews the school district's petition and the teachers' objections.
Diane Mohney contributed to this story.