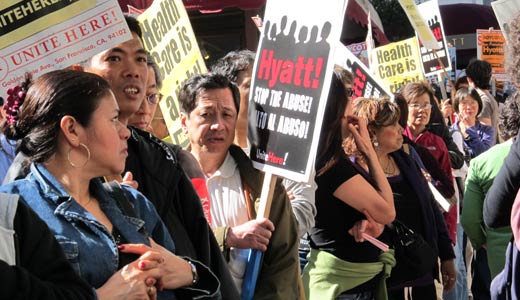 SAN FRANCISCO – Over 1,100 noisy, determined pickets packed the sidewalk in front of the Grand Hyatt Hotel July 21, protesting the hotel's failure to sign a contract with Unite Here! Local 2 almost two years after the previous contract expired. Nearly 100 were arrested after they blocked Stockton St. in an act of peaceful civil disobedience.
The hotel workers and their union and community allies were participating in nationwide coordinated actions that drew thousands of protesters to Hyatts in nine cities around the country.
In this city, other major hotel chains, including Hilton and Intercontinental, signed new contracts earlier this year, replacing agreements that expired in August 2009, and worker-led boycotts against them have ended. But Hyatt has remained a holdout, and the street rang with calls, "Don't check in, check out!" as protesters urged incoming guests to join the boycott.
The union says Hyatt has eliminated jobs, replaced career housekeepers with minimum wage temporary workers, and imposed dangerous workloads on those who remain. In addition, the hotel chain wants to take away union members' right to act in support of other Hyatt workers around the country.
Speaking in Spanish, Antonia Cortez, a housekeeper at the Grand Hyatt for 36 years, emphasized the importance of the workers' right to "stand up for Hyatt workers throughout North America." She told the pickets, "I want them to respect us by signing the contract. We're fighting for all the workers who don't have a union. Alone we can't win, but together we will."
Cortez also emphasized that housekeepers have extremely high injury rates, the result of speedup and the bigger mattresses and ever-increasing layers of bedding with which they must deal every day.
Unite Here! calls hotel housekeepers "the invisible backbone of the hotel industry. The grittier aspects of their jobs – the work of scrubbing toilets, changing sheets, and encountering guests alone behind closed doors – are the hidden foundation on which an atmosphere of luxury and comfort are built."
Hyatt has put enormous pressure on its workers across North America in recent years. In 2009, three Boston Hyatts fired their entire housekeeping staff, totaling nearly 100 workers, and replaced them with lower-paid temporary workers. Some Hyatt housekeepers must clean as many as 30 rooms a day, double the number typically required at union hotels.
Chicago was among the nine cities where Hyatt workers conducted actions July 21. Park Hyatt workers who struck and picketed in 100 degree heat were treated to an especially egregious tactic: the hotel management reportedly sought to bake them out by turning the heat lamps on for an hour. They didn't succeed.
In Chicago, too, Hyatt is the last holdout after other major chains signed new contracts earlier this year.
In San Antonio, Texas, some 300 Hyatt workers joined the national protest.
In Honolulu, union and community protesters crowded the sidewalk in front of the Hyatt Regency Waikiki Beach Resort and Spa, where workers performed a bed-making skit to demonstrate the trials housekeepers must endure.