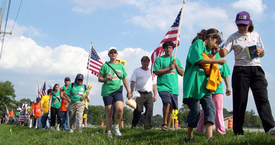 Immigrant rights activists march to House Speaker's doorstep, vow big vote turnout
BATAVIA, Ill. — Bearing American flags and pictures of Jesus and the Virgin Mary while marching to the beat of Korean drummers, some 400 immigrant workers, their families and supporters walked 50 miles from Chicago to the office of Speaker of the House Dennis Hastert to demand action on immigration reform and an end to raids and deportations.
The Immigrant Workers Justice Walk braved the late summer heat, beating sun and a day of rain. It ended with a Labor Day rally of 2,500, including busloads from surrounding cities and towns. Demonstrators vowed the next march would be to the polls on Nov. 7.
Joshua Hoyt, executive director of the Illinois Coalition for Immigrant and Refugee Rights, said, "We're going to Hastert's office because he is the single most important obstacle to just immigration laws in this country." Hoyt added, "Hastert's approach is to try to win Republican-only legislation through enforcement and criminalization."
The entire event joined the fight for immigrant rights with workers' rights. Jorge Mujica, a leader of the March 10th Coalition, called the current immigration law a "killing law," because of the deaths of 3,000 workers crossing the southwestern desert from Mexico. "They died not on the job, but going to a job," he said. Three thousand crosses were left on the sidewalk surrounding Hastert's office.
Mujica called for replacing the broken immigration law with a law that allows people to work and gain citizenship, and added that current labor laws "are on the side of the corporations. This movement is a workers' movement too and we have to change those laws."
Lynn Talbot, international vice president of Unite Here, declared, "We can't accept any immigration law that divides our workers or our families. Immigrants didn't close plants. The giant corporations did."
A group of workers from the Smithfield hog processing plant in North Carolina fighting for union recognition joined the marchers for a day. Many marchers donned their yellow T-shirts in solidarity.
Others carried signs supporting Elvira Arellano, the immigrant mother of a 7-year-old boy born in the U.S. Threatened with deportation, she has found sanctuary in a Chicago church.
Other families threatened with deportation and being broken also marched.
The four-day "pilgrimage for justice" started in Chicago's Chinatown, passed through the heavily Mexican American community of Little Village and then wound its way through the western suburbs, including DuPage County, a Republican Party bastion and a place of explosive growth of the immigrant population.
Many of the suburbs are in the 6th Congressional District, site of a heated battle to replace retiring right-wing Republican Representative Henry Hyde. Throughout the march, participants shouted, "Today we march, tomorrow we vote."
Bernie Lo Wong, president of the Chinese American Service League, marched with nearly 50 members of her organization.
"It is important to send a message to our elected officials," Wong said, "that this country is founded by immigrants." Wong said she would walk "as far as my legs could go." Wong's granddaughter also marched.
Fifteen-year-old Devin Davis, an African American student at Senn High School, was among many youth marchers. Davis, a member of the Multi-Cultural Youth Project, said he participated "to show my love and respect for the whole movement. Immigrants face similar treatment as African Americans," he said.
Milton Rosado, national president of the Labor Council for Latin American Advancement, was at the rally in Little Village. He said, "We're continuing the whole debate," adding that it is a "wonderful idea to go to the Speaker of House's office with a great message to let them understand this hasn't quieted down. We are going to continue voter registration and to get out the vote."
Chicago 22nd Ward Alderman Ricardo Muñoz was the only elected official to march. He said Hastert has "a moral obligation to a comprehensive reform law" for immigrants. "Our job besides marching is that we have to register and vote and come out on Election Day," he said.
Despite a promised counterdemonstration by the Minutemen, only a few dozen confronted the demonstration in Batavia. The marchers endured some hostile remarks from passing cars, but far more frequently were greeted with honking horns in solidarity. Residents came out of their houses to wave; some stood clapping as the long line passed.
Rallies were held in communities and churches along the way and marchers were greeted with food and water. Churches, a mosque and peace and justice organizations organized housing and meals.
The walk had the total support of the Illinois labor movement. SEIU International Vice President Eliseo Medina, who marched with legendary farm worker leader Cesar Chavez, addressed the Batavia rally. SEIU, UFCW and UE participated in the entire walk. At a press conference before the walk, Carl Rosen, president of UE District 11 said, "We are not going to rest until there is a fair immigration process in this country."
Ron Powell, President of UFCW Local 881 said "there was unprecedented activism taking place across the country for immigrant rights. We want to make history on Nov. 7 to change Congress."