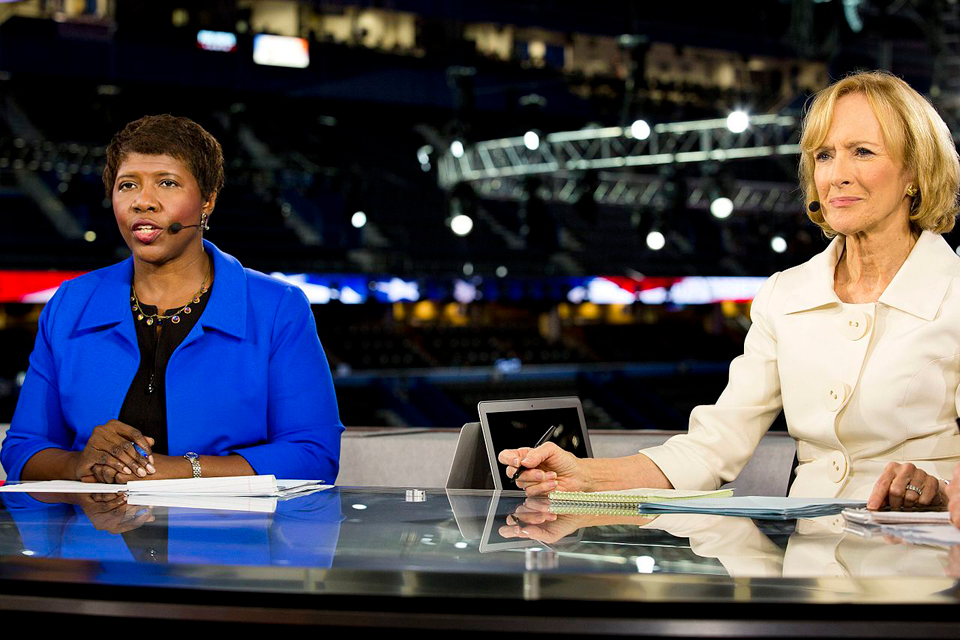 Gwendolyn (Gwen) L. Ifill, born on September 29, 1955, was a trailblazer American journalist, television newscaster, and author. In 1999, she became the first woman of African descent to host a nationally televised U.S. public affairs program with Washington Week in Review. She was the moderator and managing editor of Washington Week and co-anchor and co-managing editor, with Judy Woodruff, of the PBS NewsHour. Ifill was a political analyst and moderated the 2004 and 2008 vice-presidential debates. She authored the best-selling book The Breakthrough: Politics and Race in the Age of Obama.
Ifill died of cancer on November 14, 2016, at age 61, less than two weeks after Donald Trump was elected president of the United States. On January 30, 2020, just in time for Black History Month, Ifill will be honored on a U.S. forever postage stamp, released in Washington, D.C.
Ifill was born in Jamaica, Queens, New York City, the fifth of six children of African Methodist Episcopal (AME) minister Oliver Urcille Ifill, Sr., a Panamanian of Barbadian descent who emigrated from Panama, and Eleanor Ifill, who was from Barbados. During her youth, she lived in several East Coast cities following her father's ministry at different AME churches. She graduated in 1977 with a Bachelor of Arts in communications from Simmons College, a women's college in Boston.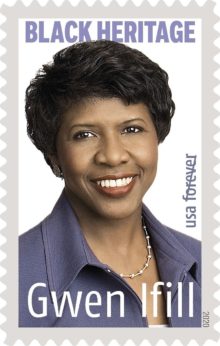 She started her career in journalism at the Boston Herald-American, moving on to the Baltimore Evening Sun from 1981-84 and to The Washington Post from 1984-91. She left the Post after being told she wasn't ready to cover Capitol Hill but was hired by The New York Times, where she covered the White House from 1991-94. Her first job in television was with NBC, where she was the network's Capitol Hill reporter in 1994.
In October 1999, Ifill became the moderator of the PBS program Washington Week in Review, the first Black woman to host a national political talk show on television. In 2006, she co-hosted Jamestown Live!, an educational webcast commemorating the 400th anniversary of Jamestown, Virginia.
On October 5, 2004, Ifill moderated the vice-presidential debate between Republican Vice President Dick Cheney and the Democratic candidate, U.S. Senator from North Carolina, John Edwards. She was the first African-American woman to moderate a vice-presidential debate.
Ifill also moderated the vice-presidential debate on October 2, 2008, between Democratic U.S. Senator from Delaware Joe Biden and the Republican Governor of Alaska Sarah Palin.
Before the 2008 debate, Ifill's objectivity was questioned by right-wing talk show and cable news pundits because her book The Breakthrough: Politics and Race in the Age of Obama was scheduled to be released on Inauguration Day 2009. Citing a possible conflict of interest, Kelly McBride of the Poynter Institute for Media Studies said, "Obviously the book will be much more valuable to her if Obama is elected." Yet John McCain, the Republican presidential nominee, said on Fox News Channel, "I think she will do a totally objective job because she is a highly respected professional."
To her critics, Ifill observed, "No one's ever assumed a white reporter can't cover a white candidate."
"I've got a pretty long track record covering politics and news," she said, "so I'm not particularly worried that one-day blog chatter is going to destroy my reputation. The proof is in the pudding. They can watch the debate tomorrow night and make their own decisions about whether or not I've done my job."
As her renown expanded, she was invited to serve on a number of prestigious boards and to be a presenter and emcee at a number of awards ceremonies. She also garnered a succession of prestigious awards herself in the media and journalism fields.
In addition, Ifill received more than 20 honorary doctorates from universities around the world, including Georgetown University, Smith College, Bates College, and Skidmore College. In May 2011 she served as a commencement speaker at Morehouse College.
The Breakthrough: Politics and Race in the Age of Obama focused on several African-American politicians, including Obama and other up-and-comers such as then-member of Congress Artur Davis, then-Massachusetts governor Deval Patrick, and then mayor of Newark, New Jersey, Cory Booker. The publisher, Random House, described the book as showing "why this is a pivotal moment in American history" through interviews with Black power brokers and through Ifill's observations and analysis of issues. The book was a New York Times best-seller.
In February 2016, she and Judy Woodruff, moderating the primary debate between Hillary Clinton and Bernie Sanders, became the first team of women to moderate a Democratic presidential debate. Columbia University awarded Ifill the John Chancellor Award for Excellence in Journalism in 2016, but she died two days before the scheduled ceremony.
On the one year anniversary of her death, November 14, 2017, Ifill's alma mater Simmons College announced that it would launch a school in 2018, named in her honor as the Gwen Ifill College of Media, Arts and Humanities.
In her personal life, Ifill never married and had no children.
On the night she died, PBS NewsHour devoted almost their entire show to her. President Obama extended his condolences to Ifill's family, saying that he "always appreciated [her] reporting even when [he] was at the receiving end of one of her tough interviews." First Lady Michelle Obama was among the thousands who attended her funeral at the Metropolitan AME Church in Washington, D.C.
A video of Gwen Ifill speaking about race shortly after President Obama's inauguration can be viewed here.
Adapted from Wikipedia.