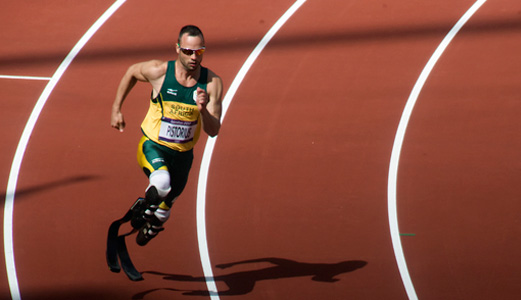 On February 14, One Billion Rising, an annual feminist event, highlighted the fact that one out of three women will be beaten or raped in her lifetime. It called for a "refusal to accept violence against women or girls as a given."
Unfortunately, this same day was marred by news that South African model Reeva Steenkamp was killed and the perpetrator allegedly was her boyfriend, Olympic track star Oscar Pistorius.
Much of the media's attention has been on every salacious detail of the case, as it has become known. However, relatively little has focused on this tragedy as the most recent example of the enduring problems of domestic violence and violence against women across the world.
South African police have publicly stated that the Pistorius residence had multiple domestic violence calls for police help. Yet, some are still hanging on to the now debunked claim that Pistorius mistook Steenkamp for an intruder.
Reports are swirling that Steenkamp and Pistorius argued Thursday morning over a text message she received from a male friend, rugby player Francois Hougaard. When paired with the media sexualization of Steenkamp, one can begin to see the victim-blaming begin yet again – even though violence and killing are clearly not acceptable ways to end relationships.
The point of this column is not to pass judgment on Pistorius' guilt or innocence. The point is to recognize that this is yet another situation where a woman has been killed, and to highlight the institutional problems of violence against women across international borders.
Instead of developing a society that teaches men to treat women respectfully, we have morphed into a society where mass protests are needed in India to ensure that the perpetrators of a brutal gang rape are arrested; 17-year-old South African Anene Booysen was gang-raped and disemboweled by a group of men including her ex-boyfriend; the killing of Kasandra Perkins by Jovan Belcher and his subsequent suicide is acknowledged then forgotten; judges tell rape victims, "If you wouldn't have been there that night, none of this would have happened to you;" and numerous other examples – and then we wonder why violence against women still endures.
As more comes out about this most recent tragedy, it is incumbent on us to fight the notion of inevitability – that these crimes will always occur. We need to highlight the connectedness of violence against women across the world. We need to push for a society where the onus is 1) on men not to rape, assault or abuse women (instead of assuming women are somehow culpable for their abuse because of where they were, what they were wearing, whether they were intoxicated, etc.) and 2) on society to appropriately assign blame to the perpetrators and not to the victims.
Photo: Taken during the first round of the 400m at the London 2012 Olympic Games. Jim Thurston, Flickr, CC BY-SA 2.0.