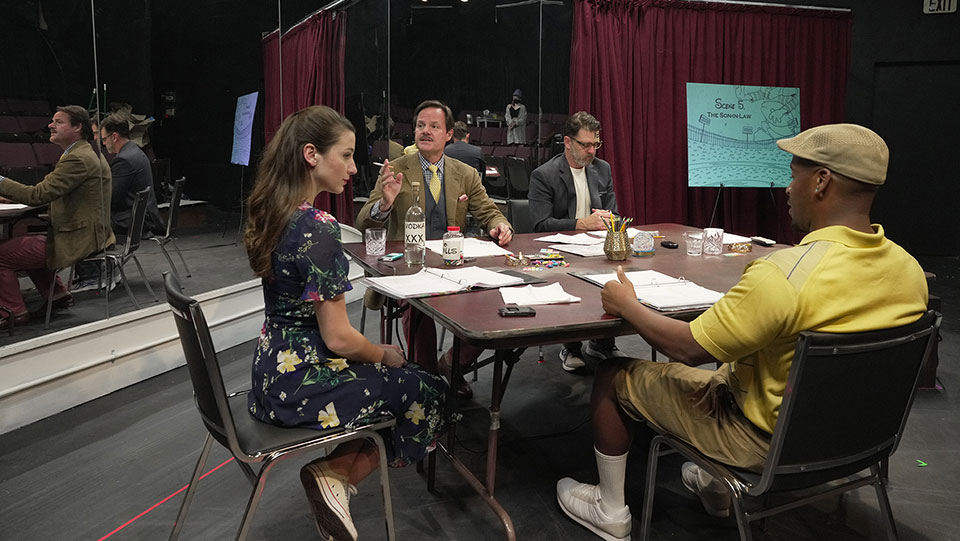 LOS ANGELES — It's a long title for a short play about a big subject: Walt Disney.
It's A Public Reading of an Unproduced Screenplay About the Death of Walt Disney by Lucas Hnath, whose play A Doll's House, Part 2 premiered on Broadway in 2017, receiving eight Tony nominations including "Best Play" and an Outer Critics Circle Award nomination for "Outstanding New Broadway Play." Other plays include Hillary and Clinton, Dana H, The Christians, Red Speedo, Isaac's Eye, Death Tax, and The Courtship of Anna Nicole Smith.
You'd have to be an Indigenous person somewhere in the world uninfected by outside "civilization" not to be familiar with the Disney brand. All over the planet Disney characters spread their special syrup of magic, joy, and happiness, exquisitely fashioned to soften hearts and inoculate the brain against resisting the empire. Scholars and activists in many lands and languages have devoted tomes toward debunking and decrying the subtle pressures upon children, their parents, retailers, governments, to allow the Disney product into every household. It's not enough for a young girl to be smart, creative, kind, helpful, and brave. She must be a princess! China would go belly-up tomorrow if it didn't have contracts to produce Disney Halloween costumes!
Disney critics have also laid into the cultural theft of many of the empire's creations, taking well-known folk tales and bedtime stories in the public domain and commercializing them into fetishistic private intellectual property. Sure, like any of the great hero and heroine stories, there are battles to be fought, hearts to be won, monsters to be tamed. But all is cathartic wonder, delight, and justice at the end. Folks pay a hefty price for this homogenized pablum of culture and myth in the Disney mixmaster, as long as the public consumes it over and over again in endless hypnotic loops of fantasy gratification.
All of this is implicit in Hnath's play, now in its West Coast premiere. The New York Times calls it "a blackly comic inversion of the public Disney persona," although by now any serious student of Hollywood history knows fell well that Disney the man was a puffball of ego and power-madness who ran roughshod over family, his workforce, and the public. One of the main obsessions explored here, after the success of Southern California's Disneyland theme park, is to create another space in Florida (which would become EPCOT), not another theme park but a wholly owned city. Such a political entity would not have to abide by the statutes and regulations of other entities but could establish its own laws, taxes, zoning and eminent domain to ensure the eternal, perhaps one could say robotic solar-powered profitability of the business.
Capsulized in this vision is the whole capitalist enterprise: to remold the world into a constantly revenue-producing commodity, a global theme park with its own agricultural sector, transportation grid, industrial plant, compliant workforce, and monopolized news and entertainments.
Audiences will be both amused and horrified by the way Disney's 1958 Oscar-winning "nature" film about lemmings, White Wilderness, was totally staged and faked, leading to the widespread misunderstanding that these little creatures of the North commit mass suicide by leaping off cliffs.
As the premise of this play, we find Walt Disney (Kevin Ashworth) at a critical moment toward the end when he's constantly coughing up blood. He gathers together his subservient brother Roy (Thomas Piper), his resentful daughter Diane (Brittney Bertier), and son-in-law Ron Miller (Cory Washington), who is being groomed to lead the company to new heights in the next generation after the founder is done.
Walt has written a screenplay that he wants them to read through with him, and to which the audience—the "public" mentioned in the title—is somehow privy. It's about Walt's Nietzschean Superman life, a real Ayn Rand hero for all time, who in a succession of scenes has dealt with so many challenges and come out on top, even with that sorry lemmings episode which he conveniently blamed on brother Roy. No one after he is dead will be able to manage the empire quite as well as he has. So, in the screenplay, he has made arrangements with a cryogenics firm in Irvine to remove both his and his wife's heads and preserve them until such time as science allows them to come back with new improved everlasting bodies so he can once again occupy the empire's wheelhouse.
So we, the invited (actually the paying) audience, witness for 70 minutes, not some avatar of Walt Disney himself but an actor in a play whose conceit is the reading of a screenplay that a fictional Walt Disney wrote with other characters who do not seem to be following any adoring script that Disney might have written, but go off on their own reactive excursions. There is resistance in Mouschwitz—a term I recently came across in connection with the Disney workers' revolt against the new chairman Bob Chapek's belated, cowardly and impotent response to Florida's "Don't Say Gay" law. Such allusions are not out of place, as the kind of corporate control under collaborative state sanction that Disney über alles embraced is literally the definition of fascism.
What is an audience to think? Perhaps the most productive outcome, aside from learning quite a few things about the pill-popping, vodka-swilling Walt Disney (some of which may not be true), a playgoer inevitably contemplates how one's own "screenplay" might be written. Will others remember us as we would want to be remembered? Who gets the final word? And is there a final word?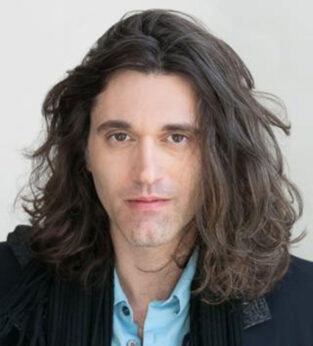 For Hnath it's also an exercise in self-knowledge. For is the playwright really so different from Disney's control of space (the physical spaces of the magical kingdoms or the mental spaces his constructed emotional world has carved out in our brains)? As he says in a Huffpost interview conducted by Shoshana Greenberg, "There is somebody who has made a space…. You enter it and they are going to put on a show for you. You are going to be struck with wonder and awe, but you are not in control when you go into that space. It's the director/playwright/god that is pulling every string."
Just as a theater audience is expected to "suspend its disbelief," those who watch a film or enter a theme park also, in an Orwellian sense, give up a piece of their identity and sign it over to the one in charge. It may not come as all that much of a surprise to learn that Hnath was raised in Orlando, Florida, just a hop away from the Disney World, and early on recognized what it was like to be surrounded by a "total theatrical environment."
If you enter the theater with naïve bubblegum reveries of "The Happiest Place on Earth," you will have left them in the dust far behind you 70 minutes later.
Still, the play is not an attack piece. It has real characters and they each push back against Walt in their own ways. Roy is still smarting from the time Walt threw an Oscar at him, hitting him above his left eye. The bandage on Roy's forehead has become a permanent feature, like the mark on the Biblical Cain for being the first murderer in the world. Director Peter Richards, who fills in for Roy as his understudy April 15 and 17 and whenever else required, says of Walt, "I'm not interested in demonizing him; I'm fascinated by his obsessions, as well as by how those close to him…navigate their relationships with him."
According to Hnath, "I wanted to make Walt simultaneously a person and this concept. It's not a bio play. What's being dramatized is the idea of Walt Disney." After the play premiered at New York's Soho Playhouse in 2017, Theater Mania called it "a blood-pumping and often hilarious evening of theater" and Time Out New York found it to be "enjoyably weird and hermetic…. Nothing that ever came out of the Magic Kingdom was this animated." At the Odyssey opening (March 26), I found myself laughing frequently. Partly, I admit, just watching this capitalist saint getting knocked down a few notches.
The creative team includes scenic designer David Offner; costume designer Kate Bergh; lighting designer Matt Richter; sound designer Jesse Mandapat; projection designer Nick Santiago; properties designer Jenine MacDonald; graphic designer Kiff Scholl, AFK Design; and casting directors Michael Donovan, CSA and Richie Ferris, CSA. The production stage manager is Chloe Willey, and Racquel Lehrman, Theatre Planners produces for Working Barn Productions.
Performances of A Public Reading of an Unproduced Screenplay About the Death of Walt Disney take place Fri. and Sat. at 8 p.m. and Sun. at 2 p.m., through May 1. The Odyssey Theatre is located at 2055 S. Sepulveda Blvd., Los Angeles 90025. There's an onsite parking lot.
For reservations and information, go to www.Onstage411.com/Disney.