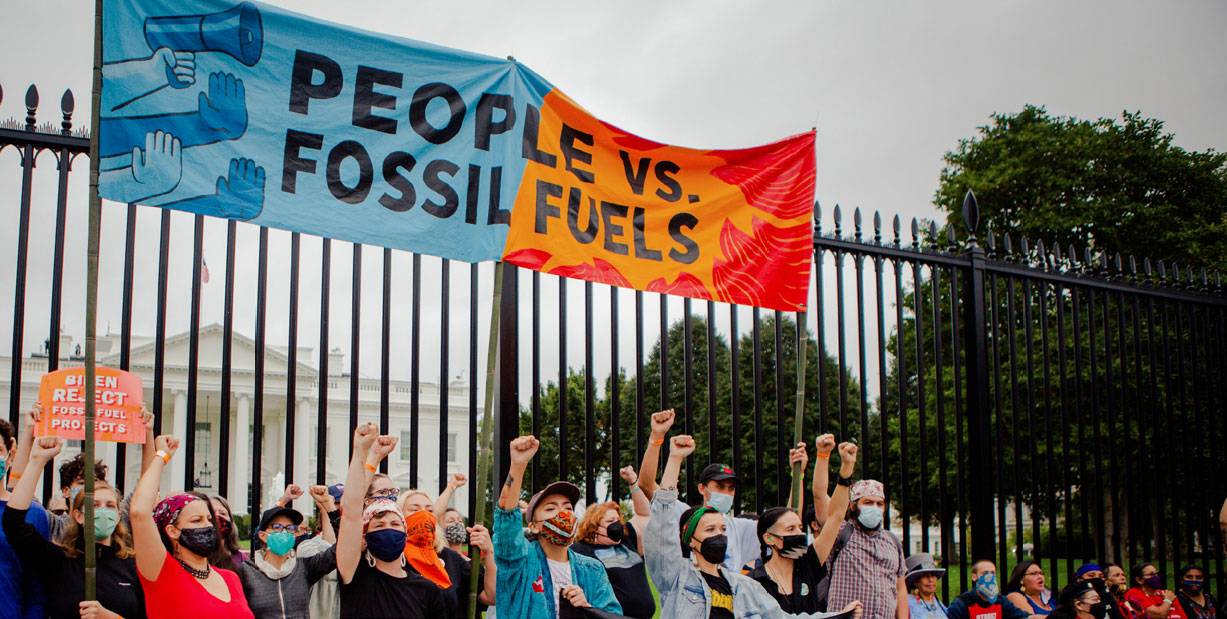 WASHINGTON—"Only mad dogs and Englishmen go out in the midday sun," Noel Coward once wrote in a popular song. But not when the midday sun scorches London with a temperature record of 104 degrees Fahrenheit.
Or when so much of the U.S. Great Plains hits similar highs, raising visions of a second Dust Bowl. Or when forest fires rage out of control in the U.S. West—and in the Greek mountains looming in back and above the Parthenon in Athens.
Then you know global warming and climate change are hitting with a vengeance worldwide, as scientists forecast, but sooner. Another form of heat—this one political—is rising, too, on President Biden, to quickly declare a national climate emergency.
His spokesperson states the president will decide on that, and other unspecified moves, next week. He's going to discuss climate change in a speech in Massachusetts on July 22.
Advocates can't wait until next week.
And Biden has to act unilaterally because anything else must go through Congress. There, it sinks from sight.
"Our world is on fire. At 1.2ºC of planetary heating, climate devastation, and extreme weather are already an existential threat to marginalized communities and vital ecosystems across the planet," says a new international coalition of groups combatting global warming, The Climate Mobilization.
"The time for incremental policy change is over. We need an all-hands-on-deck effort to eliminate greenhouse gas emissions and safely draw down excess carbon from the atmosphere at emergency speed."
But what could an emergency declaration let Biden do? The Center for Biological Diversity, in a 55-page report, The Climate President's Emergency Powers, issued in February, listed options if Biden follows that route. He could use the emergency to:
Halt U.S. crude oil exports. The last halt was overturned in 2015. The report says a halt would be the equivalent of closing 42 coal-fired power plants—and cutting off the carbon emissions that cause global warming.
Stop oil and gas drilling in the Outer Continental Shelf.
Use banking laws to restrict financiers' investments in fossil fuel projects, such as oil and gas pipelines. Last year, those investments from Citigroup, Wells Fargo, Goldman Sachs, and Bank of America alone totaled $137 billion combined, environmental groups report.
Use the Defense Production Act—the same law Biden used in declaring the coronavirus emergency to force production of protective personal equipment—and the government's $650 billion procurement budget "to purchase these (green) technologies for federal use." That would boost construction of green tech plants and put them online, by giving them a ready market.
Combine the emergency declaration with major disaster declarations to "construct renewable energy systems, optimizing distributed energy resources in partnership with environmental justice communities vulnerable to climate disasters, as well as limit construction of fossil fuel infrastructure."
Senate Majority Leader Charles Schumer, D-N.Y., Sens. Bernie Sanders, Ind-Vt., and Jeff Merkley, D-Ore., and Rep. Alexandria Ocasio-Cortez, D-N.Y., are already urging Biden to follow that unilateral path. So are 50 other lawmakers, the center reports.
Given Republican intemperate denial that climate change even exists, much less that human burning of fossil fuels causes it, Biden is forced into executive action.
Republicans' filibuster threats and renegade Sen. Joe Manchin, D-W. Va., beholden to coal, oil, and natural gas firms and their corporate greed, stop everything in the 50-50 Senate. Last week, Manchin torpedoed the remnant of Biden's Build Back Better agenda that included billions of dollars for projects to combat climate change. All the Republicans agree with Manchin. They too cater to corporate interests.
"51 Senators have sentenced America to barren croplands, flooded homes, and incinerated communities," the Natural Resources Defense Council tweeted.
That leaves Biden's executive orders as levers. The wildfires, heat waves, the Dust Bowl risk, and coastal flooding from Mississippi to Miami Beach—and elsewhere—prove the need.