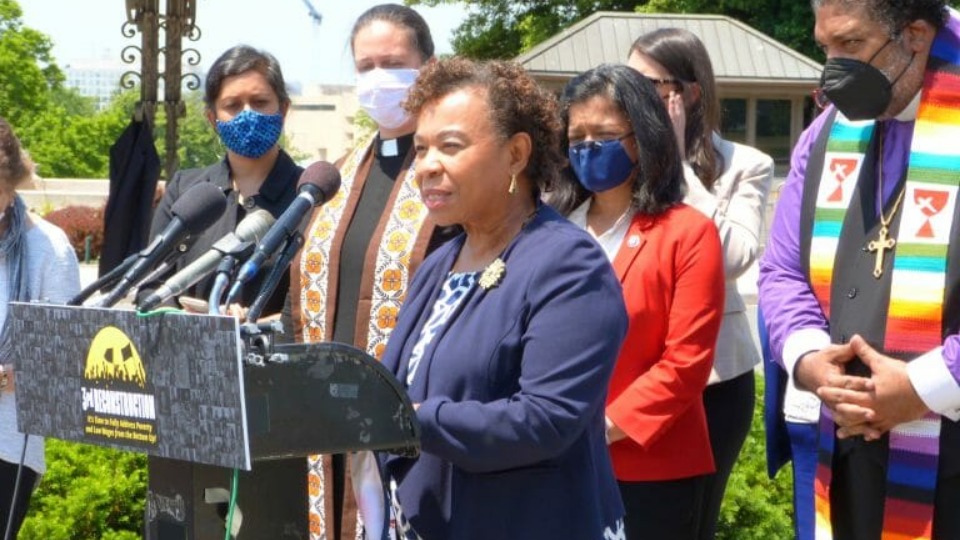 OAKLAND, Calif.—Among Poor People's Campaign supporters gathering at legislative offices around the country June 7, urging lawmakers to back the Campaign's drive for a Third Reconstruction, were dozens who rallied at U.S. Rep. Barbara Lee's office here, thanking her for introducing into the Congress H. Res. 438, Third Reconstruction: Fully addressing Poverty and Low Wages from the Bottom Up.
The occasion also celebrated Lee's decades-long history at the forefront of the fight for peace and justice.
"Knowing nothing separates us from the love of God, no forms of violence caused by interlocking oppressions of poverty and racial hierarchy, from this moment we affirm the Third Reconstruction Resolution … we call this resolution 'the disruption of the status quo, the divine shifter,'" Social Justice Minister Cherri Murphy of Oakland's Heart and Soul Center of Light told the crowd in a reflection that opened the program.
The resolution, introduced into the House of Representatives May 24 by Democratic Reps. Lee and Pramila Jayapal of Washington state with 30 co-sponsors, marks step one in a year-long effort by the Poor People's Campaign to galvanize legislative action to overcome widespread poverty and low wealth.
The next step, according to PPC National Co-Chairs the Revs. William Barber and Liz Theoharis, will be a national virtual and socially distanced in-person gathering in Raleigh, N.C. on June 21, bringing together over 40 state coordinating committees, more than 200 organizing partners, and thousands of moral and faith leaders from the Campaign's Prophetic Council.
And on June 18, 2022, the Poor People's Campaign is to hold a Moral March on Washington and a Poor People's & Low-Wage Workers' Assembly in the nation's capital, to "demonstrate the power and resolve of poor people to make the Third Reconstruction a reality."
California Coordinating Committee member David White, who chaired the Oakland rally, said the current mobilization is a revival of the Poor People's Campaign that Dr. Martin Luther King Jr. had launched shortly before he was killed in 1968.
"At that time," White said, "Dr. King began to state very clearly that there are interlocking injustices: systemic racism, widespread poverty, and the war economy. With the revival of the Poor People's Campaign, we see five interlocking injustices: widespread poverty, systemic racism, the war economy, ecological devastation, and the distorted moral narrative of religious nationalism."
While rally participants focus on the fundamental problems of poverty and the comprehensive way the resolution addresses them, White said, "we're here to hear the voices of those most directly impacted by widespread poverty…a neighbor, a family, people in our community who are terribly impacted by the issues of poverty."
White also highlighted Lee's leadership role in developing Resolution 438 and gathering its initial sponsors. "We look forward to working in tandem with Rep. Lee to develop full support of the entire Congress," he said. "Today we are urging all members of Congress to study it, understand what it says, co-sponsor it, and vote for it—and after that, get busy, because it's a lot of work."
Participants in the rally stepped forward to share their experiences in dealing with the interlocking injustices addressed by the resolution.
First to speak was Bay Area PPC Steering Committee member Carol Crooks, who is also a co-convenor of the Berkeley-East Bay Gray Panthers. After she became homeless more than 20 years ago, Crooks said, it took years to get past the "fear and pain" of not being able to care for herself and the feeling that she should be doing better.
Now "in good shape," with help from Section 8's rent reduction, Crooks said one reason she supports the Third Reconstruction Resolution is that it calls for "policies and legislation that will guarantee housing for everyone." With the resolution pointing out that 140 million people are just one $400 emergency away from poverty, she said, "We need people-friendly policies in this country; when you lift from the bottom, everyone rises."
Returning to the podium, Minister Murphy, who also works with East Bay for a Sustainable Economy and its Faith Alliance for a Moral Economy, told of her experiences during three years from 2017 to 2020 when her main source of income was driving for Lyft.
"I know what it's like to work long hours with no guaranteed wages, no work breaks, no restrooms," Murphy said. "No facilities, no overtime, and always to have the looming threat of an accident with no coverage, a deactivation based on discrimination or retaliation, with no protections, no remedies, and no voice."
Murphy said the Third Reconstruction Resolution reflects "faith values" of racial equity and protecting the most vulnerable from harm. "It is time for a democracy that is there for all workers," she said, "regardless of whether they are sitting behind a desk or a wheel, regardless of their race, citizenship status, sexual orientation or gender. It is time no worker, their family, their community is left behind. It is time we act like we know that economic justice is racial justice."
Approaching the resolution's significance from another vantagepoint was Jackie Cabasso, executive director of Western States Legal Foundation, and a national co-convenor of United for Peace and Justice, a mobilizing partner organization with the Poor People's Campaign.
Cabasso said her work focuses mainly on nuclear disarmament, opposing militarism and promoting peace, with special attention to the nearby Lawrence Livermore National Laboratory, one of two national laboratories that design and develop all U.S. nuclear warheads.
"This preparation to wage nuclear war isn't to protect ordinary people like us," she said. "It's to protect the corporations, the wealthiest and the most powerful interests. As low-wage workers fight for a living wage, working during the pandemic under especially dangerous conditions, the U.S. government plans to spend some $2 trillion over the next 30 years to maintain and modernize its apocalyptic nuclear arsenal. That isn't just guns vs. butter—that's immoral!"
Cabasso said the PPC "has picked up Dr. King's unfinished work," highlighting the ravages of a war economy where 53 cents of every discretionary dollar goes to the Pentagon but just 15 cents goes to fight poverty.
"A radical revolution of values is not an option, it is an imperative," Cabasso said. "If we work together we can achieve it."
A rally highlight: as a special tribute to Rep. Lee, David White and another Bay Area PPC leader, Rande Webster, presented a banner signed by all the rally participants. It was accepted on her behalf by Lee's District Communications Director, Alex Katz.
As the action came to a close, the Rev. Dr. Monica Cross, pastor of the First Christian Church of Oakland and a member of PPC's Prophetic Council, thanked the crowd "for standing tall and standing up, because for generations to come, our voices will be heard!"
In a conversation after the rally, Cross had advice for supporters of the Third Reconstruction: Call and visit members of Congress, who too often hear mostly from the other side. Come to events and make our voices heard. Come to city council meetings because that's where policies are made.
"If you're not at the table, you're going to be on the menu. So be in the fight—otherwise nothing's going to change."
Among the Third Reconstruction Resolution's 30 initial co-sponsors are six Democrats from California: Reps. Sara Jacobs and Juan Vargas (San Diego), Mark DeSaulnier (Concord), Ro Khanna (Fremont), Ted Lieu (Torrance), and Alan Lowenthal (Long Beach).