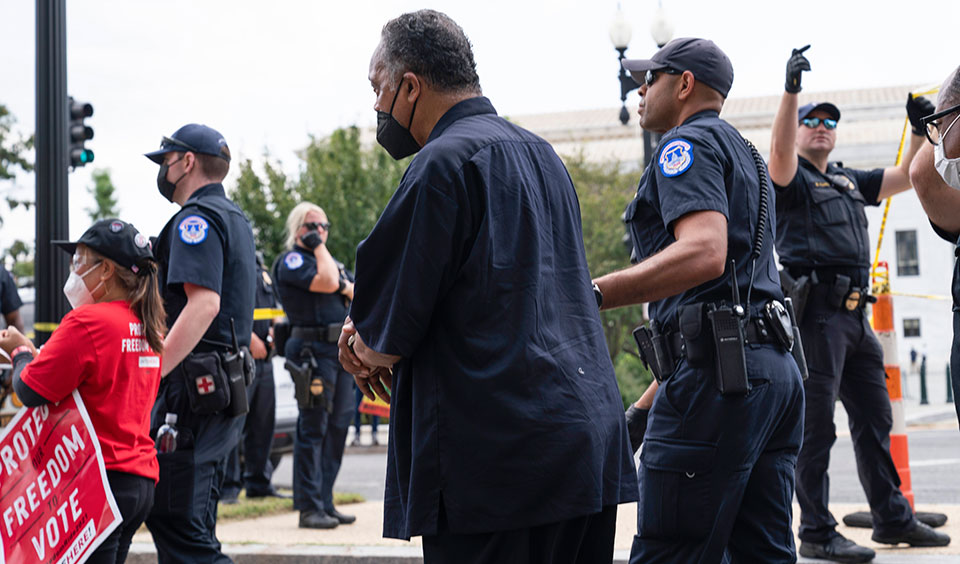 WASHINGTON—Stepping up their drive to preserve, protect and extend the right to vote, the Poor People's Campaign, top faith leaders, and Texas Democratic state reps who fled their legislature to stop repressive GOP anti-voting measures there in their tracks took their pro-democracy drive to Capitol Hill again, on August 12. And they challenged Democratic President Joe Biden to make it a major cause, too.
Led by the Rev. William Barber II, founder and co-chair of the Poor People's Campaign, plus his co-chair Rev. Liz Theoharis, they marched across the Capitol grounds to hand-deliver a long letter to federal legislative leaders—and Democratic President Joe Biden—warning them to act now to save democracy.
Besides forcing Congress to act, Barber challenged Biden and Vice President Kamala Harris "to meet with a group of faith leaders" and "to hear from the people impacted" by voter repression. And then Biden "must go to the well of Congress" and demand an end to such oppression.
Specifically, Barber and other speakers said, lawmakers must pass the entire For the People Act, the comprehensive electoral reform legislation the Democratic-run House approved earlier this year. It's marooned in the 50-50 Senate.
"Today, we're here because we have a moral and constitutional crisis in America," he declared.
"In the aftermath of 2020's challenges to election results, we are seeing a massive form of political insurrection through attempts to block and suppress voting rights in ways that will hurt people of all races and demographics," the long joint letter declares.
"These attacks are a threat to our democracy itself. They are born of elitist greed and aim to limit access to the ballot and to create disparate impact, especially on communities of color. As in 1965, the moral issue of voter suppression cannot be separated from economic justice," Barber explained.
"Yes, Black people are targeted by voter suppression as are Native and other people of color. But the politicians who want to hold onto power by suppressing voters use their power to deny living wages and healthcare to poor Black, white, Native, Asian, and Latino Americans. Voter suppression is a moral issue that impacts all of us."
Barber, Theoharis, 15 other faith leaders, and 18 Texas Democratic state reps signed the letter. But the Republican reaction, in Washington and in Austin, showed the entrenched opposition of both the right-wing and their corporate backers to preserving and extending the right to vote.
In D.C., in the wee hours of the morning of August 11, Senate Majority Leader Charles Schumer, D-N.Y., got the For The People Act—the key legislation to drastically reform the political system—out of a deadlocked committee on a party-line 50-49 vote.
But that's as far as it got, so far.
Needed unanimous agreement
Schumer needed unanimous agreement to start debate on the For the People Act. Sen. Ted Cruz, R-Texas, objected.
Schumer then proposed calling up a smaller measure to outlaw partisan gerrymandering. Cruz objected.
Then Schumer wanted to open debate on another smaller measure, the Disclose Act, to force disclosure of all "dark money" campaign contributions. Cruz objected.
And then the Senate quit for its August recess, meaning the legislation won't come up until mid-September at the earliest.
Meanwhile, in Austin, State Sen. Carol Alvarado, D-Houston, wearing running shoes and being barred from even taking bathroom breaks, tried to talk the GOP's voter repression bill to death—for 15 hours.
She finally sat down late on Aug. 11, and the GOP-dominated Senate approved it 18-11. And the GOP state House Speaker signed arrest warrants for the 50-plus Texas Democrats now in D.C. He wants troopers to bring them back to Austin, where he'd lock them in the House chamber until they yield to the GOP's oppressive program, on voting rights and other issues, including reproductive choice.
That type of obstruction and oppression is what the country faces, Barber and other speakers told a rally outside the U.S. Capitol before delivering their warning letter.
Dem lawmakers treated like political refugees
"Anytime legislators, for simply upholding what they swore to do in obeying the Constitution are treated like political refugees, we have a moral and constitutional crisis," Barber said, referring to the Texans.
"The ones pushing voter suppression in states and blocking voting rights creation at the state level and the ones blocking, fixing it at the federal level are the same political forces that block living wages and fixing the climate and addressing health care," he added.
"All of these things have a devastating impact on the totality of Americans, not just Black people. This current struggle is not purely Jim Crow. It is Jim Crow went to law school, got a degree in law and statistics, and now, he is James Crow Esquire and his goal is to shut down every progressive voice in this nation if he could."
The Democrats fled Austin—for a second time—a month ago to prevent its ruling Republicans from having enough lawmakers for the quorum needed to pass an even more draconian voter repression law.
They've been in D.C. ever since, lobbying for the For the People Act. It would, among other comprehensive election changes, override the voter repression laws already enacted in at least 15 GOP-run states and pending in Texas.
The Texas House Democrats "decided that if people were going to crucify utility grids and crucify voting rights and crucify living wages that Crucifixion requires a moral witness. And they decided to deliver a message to the nation. to nationalize Texas because Texas is the canary in the mine for what's going on in this country," Barber declared.
"Our governor," right-wing Republican Greg Abbott, "already had his voter suppression law" on the books, Rep. Jasmine Crockett, D-Dallas, a civil rights lawyer, explained. "It just wasn't bad enough."
The new voter repression law specifically targeted methods used in 2020 to expand voting rights in majority-minority Harris County (Houston), the state's most populous and a Democratic stronghold. Among other moves, it would bar 24/7 ballot box drop-off voting, strangle absentee balloting, and virtually end "souls to the polls" drives from Black churches on Sundays before elections.
To stop such repression, the lawmakers left and came to D.C. to lobby their national colleagues to solve the mess and restore and strengthen voting rights for Black, brown, Native Americans, and other people nationwide, Crockett said.
"We cannot take democracy for granted," warned Rep. Gina Hinojosa, D-Austin, speaking not just of Texas but of the whole country. "We learned that on Jan. 7," the day after the white nationalist Trumpite invasion and insurrection of the U.S. Capitol, festooned with Confederate flags.
The Dems' leader, Rep. Carl Sherman, D-Houston, also issued a call of defiance to his GOP colleagues in the Lone Star State.
"If to ensure that believers have access to vote during the traditional times of souls to the polls is the crime…then lock us up. lock us up. If fighting to protect the sanctity of our democracy is a crime, then lock us up. If fighting against the big lie is a crime, then let God be true to every man alive and lock us up, lock us up," Sherman, who is also a preacher, declared.