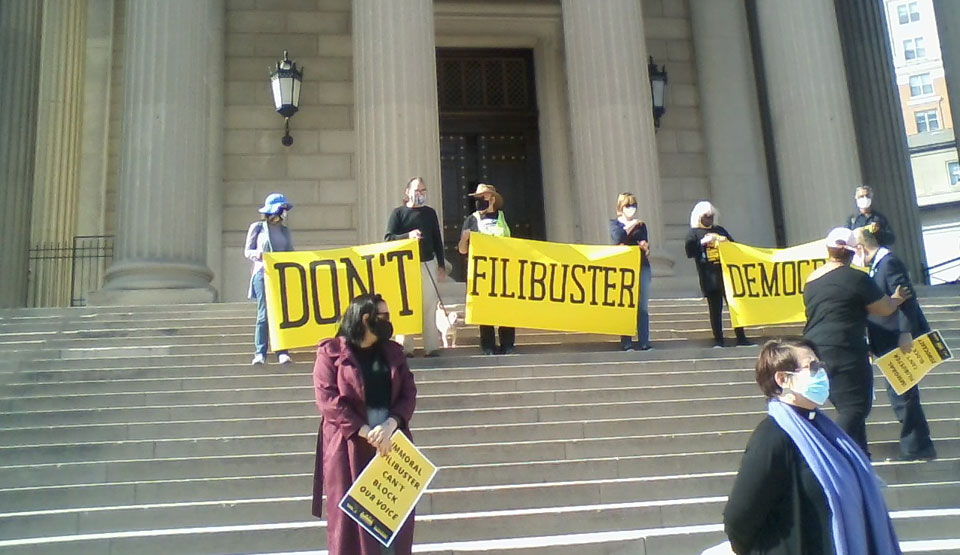 WASHINGTON—Evoking a combination of the moral imperative of Holy Week and the political imperative of ending minority control of the U.S. Senate, the Poor People's Campaign launched a new phase of its continuing drive to end the Senate filibuster.
Without that action, said the Revs. Liz Theoharis and William Barber II, the campaign's co-chairs, everything from worker rights to voting rights to legislation against long-running economic and societal racism would founder and die on the filibuster rocks.
"Don't filibuster democracy!" was the repeated chant of the group gathered in D.C., and allies elsewhere—and emblazoned in large black letters on three big yellow signs, too.
The PPC and its allies launched this latest phase of its drive with a rally on the steps of National City Christian Church in downtown D.C. and events elsewhere, notably in Arizona.
There, Theoharis said informally afterwards, a group of PPC members—it's dropped the "new" from its name–advocates and allies gathered to push the state's two Democratic senators, Kyrsten Sinema and Jack Kelly, to vote to end filibusters, once and for all. Both are key votes on the issue.
Theoharis told the D.C. crowd a Senate filibuster—the rule that lets 41 senators block legislation by threatening to stall against it—is usually viewed as a racist relic of Jim Crow designed to suppress people of color. But it's blocked a lot more than that, she said, singling out workers' rights.
In practice, Senate Republicans easily garnered 41 backers to threaten filibusters more than 250 times in the last Congress, thus blocking debate on everything from labor law reform to civil rights to even ordering the GOP Trump regime to protect people from the coronavirus pandemic.
Reading from a national clergy statement distributed in D.C. and elsewhere, Theoharis added: "Our vote, our wages, our healthcare, and our voice are being blocked by an immoral filibuster.
"The filibuster has been used to block civil rights, labor rights, voting rights, living wages, and health care access, especially for poor and low-wealth Black, brown, white, Asian and indigenous people," she said. "The filibuster continues to facilitate idolatrous policy platforms about who deserves to thrive and who does not."
Barber, speaking by phone because he was caught in a traffic jam on the way to the rally, singled out how filibusters and filibuster threats stopped past efforts at rewriting U.S. labor law to remove the roadblocks, legalism, and outright law-breaking corporations have used for years to thwart workers' rights. Going back into history, he reminded listeners racist Southern senators used it to block federal anti-lynching laws.
"The filibuster blocked efforts to repeal the anti-labor Taft-Hartley Act," he explained. That 1947 GOP-enacted law, passed over Democratic President Harry Truman's veto, virtually emasculated the original 1935 National Labor Relations Act. Its multitude of holes shot through the NLRA included legalizing another Jim Crow-era set of statutes: State "right-to-work" laws.
Records show filibuster threats and corporate campaigns, many rife with lies, also helped filibusters stop labor law reform in 1977 and 2009. And without filibuster reform—the topic of the NPPC's demonstrations and its "April 5th Call to Conscience"—it will again.
The call to conscience, which NPPC wants supporters to use to call their senators, is on its website, www.poorpeoplescampaign.org, plus video of the D.C. rally.
Filibusters have also "been used to stall laws adding to unemployment benefits, strengthening voting rights and…even disclosure of campaign contributions," said Barber.
Noted local pastor the Rev. Graylan Hagler, senior minister of the Plymouth Congregational Church in D.C., was even more outspoken about the impact of the filibuster and the character of those politicians who employ it.
Filibusters, he said, "basically sideline democracy." Its proponents want to reduce democracy, he said, using "a spirit of fascism that does not want to be held accountable."
"We're not about shrinking our democracy. We're about its enlargement. We're about its increase—so that our voices must be heard."
"We're making our voices heard, standing for justice, for voting rights and for living wages," all progress for workers, people of color, and the poor threatened by filibusters, Theoharis declared.