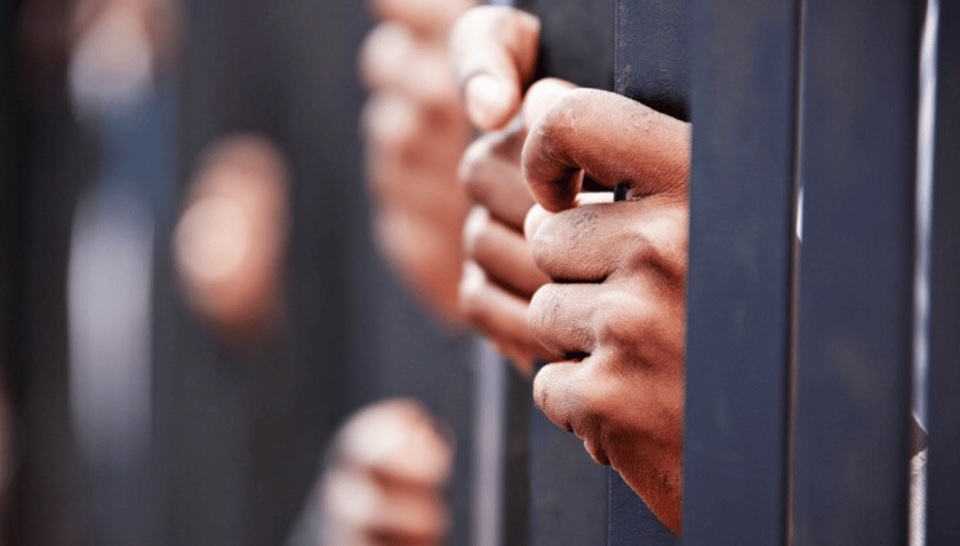 BECKLEY, W.Va.—Saying unexplained deaths of two poor people in a West Virginia prison are "the tip of the spear" of a nationwide problem, the Poor People's Campaign demands the Justice Department's Civil Rights Division investigate what really happened to Quantez Burks and Alvis Shrewsbury in the Southern Regional Jail in Beckley, W. Va.
But as available data, which is incomplete and years behind, and other individual cases show, questionable deaths in custody are not just a West Virginia problem.
"West Virginia families are saying 'We'll be the tip of the spear" in the drive for justice, said the Rev. William Barber II, the Poor People's Campaign co-chair. They'll demand state Gov. Jim Justice (R) and senior Sen. Joe Manchin (D) push for an open state investigation, along with the federal Civil Rights Division probe.
"We've had many instances throughout history" that show "when the system polices itself, it protects itself," he explained. "What you see here in West Virginia is just a microcosm" of what's happening around the U.S.
The Justice Department's Bureau of Justice Statistics report for the year last full year available, 2019, said there were 4,234 prisoner deaths from all causes that year, and 91% were in state prisons. The death numbers and rates have skyrocketed over the prior decade, to 330 deaths per 100,000 prisoners in state prisons in 2019. The non-partisan independent Government Accountability Office said last year the annual undercount is at least 1,000 yearly.
BJS also did not split out deaths in private for-profit prisons, which states and counties have hired in many cases, and where rampant abuses and reports of mistreatment or worse are also rife.
And the deaths of people taken into custody but not charged, and who die questionably, aren't counted separately, a new report from the Project on Government Oversight (POGO) noted. BJS splits deaths in prisons into "natural causes", "homicide", and "other causes."
Barber expanded the scope of the organization's campaign against such questionable deaths at the end of a Feb. 24 press conference with West Virginian Poor People's Campaign leaders and with the relatives and fiancée of Burks and Shrewsbury. The campaign will also take the cause to the state capitol of Charleston in early March.
There have been more than 100 unexplained deaths in West Virginia jails alone in the last decade, the campaign says. Once the bodies of Burks and Shrewsbury were released, families found evidence of beatings and worse.
Not Ok to say "go in and die"
"It is not OK to say 'Go in and die'" to poor people taken in on misdemeanor charges or less. "The law is supposed to 'protect and serve,' not injure and kill," Barber said.
"What we will not do is be silent, be quiet, and be unseen."
Burks and Shrewsbury were the two latest of the dead in West Virginian prisons, 13 of them in the last year alone at the Southern Regional Jail.
"What we're seeing in West Virginia is how poor people of all races are being caught up in a system, going in for one thing and ending up dead, and some in less than 24 hours. This should not be going on, and we must have a full, independent federal investigation of what's happening here," Barber reiterated.
"Just the fact that these families have to literally beg and run around, and can't get any answers is just so offensive. The system that is treating people in this way is just immoral, shameful, unjust, and wrong."
Shrewsbury's daughter, Miranda Smith, said his arrest photo showed him with a clear face, but once they saw the body—he had been held 19 days—he had a very black eye and other marks of violence.
Kimberly Burks said once the family got access to Quantez Burks's body, and paid for an independent autopsy, "the findings were consistent with his being handcuffed" after being arrested for driving with a suspended license "and with being beaten" in the prison before he died.
"His wrists and (one) arm were broken, his whole body was bruised and he suffered a heart attack because of the stress…We've never heard to this day of anything the state has done" to investigate. "They haven't acknowledged us at all."
But, as Barber said, what happened to Burks and Shrewsbury is happening nationwide.
A spot check of websites of civil rights and victims' rights law firms and the Internet turned up similarly horrifying cases in Texas, Alabama, New York City, and Illinois, plus POGO's report, released just days before, outlining the national scope of the unexplained—and unjustified—prison deaths.
The Texas case—the widely publicized ultimately fatal traffic stop of Black woman driver Sandra Annette Bland—is ironic because POGO pointed out that the Lone Star State has one of the best reporting systems for deaths in custody in the U.S. But even Texas covers up, as the Bland case, which became a cause celebre during the Black Lives Matter movement, shows.
POGO also reports there's been a federal law, the Death in Custody Reporting Act, on the books for almost a decade ordering the Justice Department to gather such data and to investigate unexplained and contradictory cases. But the data states send is often incomplete or misleading.
Other questionable deaths
Besides Burks and Shrewsbury, the spot check also turned up other questionable deaths in custody:
In the Texas case, Bland died on July 13, 2015, three days after she was taken into custody during a traffic stop in Waller County. The Naperville, Illinois, native's death by hanging within her cell was ruled a suicide, but her family contested it, and ultimately settled its lawsuit against the officer and department involved for $1.9 million in damages and a permanent prohibition on the officer ever being employed in law enforcement again.
In New York, an independent investigation by the non-profit Vera Institute for Justice shows conditions at the city prison on Riker's Island are so bad that city council members, New Yorkers of color, and lawmakers—including Democratic Rep. Alexandria Ocasio-Cortez—demand it be shut for good. Nineteen people died while in city custody last year, many after being denied needed medical treatment.
The latest was Edgardo Mejias, 39, who died in late December. "He had been arrested under suspicion of shoplifting perfume," the institute said. It called New York City's jails "abominable."
"Edgardo Mejias was delivered a death sentence without a trial,"  Freedom Agenda Co-Director Darren Mack told the Vera researchers. "What will it take for judges, prosecutors, and police to stop churning people through this death trap, and for the mayor to stop encouraging them?"
In Alabama, the Equal Justice Initiative reported on Feb. 21 that Anthony Mitchell, 33, died of hypothermia on Jan. 26, two weeks after he was taken to the Walker County Jail in Alabama. His family has sued the jail for "one of the most appalling cases of jail abuse the country has seen," says Equal Justice Initiative founder and director Bryan Stevenson.
Walker County sheriff's deputies, rather than an ambulance, arrived at Mitchell's house on Jan. 12 and arrested Mitchell, who was delusional, malnourished, and allegedly fired a handgun before running into nearby woods, after his cousin called 911 for help.
They took Mitchell to the county jail where he was first held—with no charges filed yet—"for the next 14 days in an isolation cell intended for temporary holding during booking, not for housing detainees." It had no bed and a floor drain for a toilet.
Then jail camera video shows him being dragged out of his cell, losing his dentures, which were never returned, and placed "in a chair in the jail kitchen's walk-in freezer or similar frigid environment and left there for hours." By 9 am on Jan. 26, he was dead of hypothermia. The FBI is investigating the case. The corrections officer suspected of leaking the videotape was fired in retaliation.
Yolanda Jackson, the mother of Kevin Curtis, one of three men who died within three days while being held at the Illinois state prison in Menard, "was given very little information about her son's death and had to wait months to get even basic information about how he died," she told Chicago public radio station WBEZ
"She said the prison did not tell her that staff members had raised concerns about the health of her son prior to his death and that staff falsified documents related to his death. She said the lack of transparency is what allows abuses to flourish.
"The United States government does not know how many people die in the custody of the criminal-legal system each year," says POGO's report, A Matter of Life and Death: The Importance of the Death in Custody Reporting Act. "This is both a moral and administrative failure.
"Without clear, accurate, and publicly accessible information on deaths in custody, policymakers, researchers, and advocates are unable to make the changes necessary to reduce preventable in-custody deaths.
"Every year that collection remains incomplete costs people in custody, some of the most vulnerable people in U.S. society, their lives."