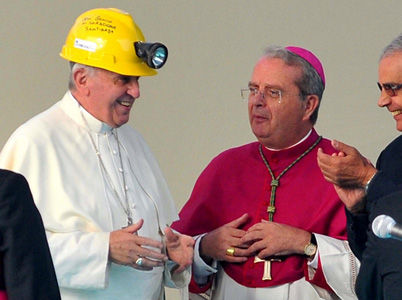 There is a lot of excitement in anticipation of Pope Francis' first visit to the United States. Ever since Jorge Bergoglio became the head of the Catholic Church, he has brought the spotlight back to principles of reducing inequality, helping the poor, solidarity, and creating a more just economic system.
Throughout the years, faith and labor have intersected in myriad issues and ways. Today, that message has become stronger, as working Americans are coming together in solidarity to reclaim the American Dream and reassert the notion of family values around an economic system that works for everyone, not just for the wealthy few.
The labor movement has continuously worked towards propelling and supporting the Pope's message and will stand together with faith organizations to highlight Pope Francis' message as an agent of social change.
Since becoming Pope, Francis' key message has revolved around inclusion, economic justice, and solidarity with the poor. On May 2013, just a few months after moving to Vatican City, the Pope spoke of "a need for financial reform along ethical lines that would produce in its turn an economic reform to benefit everyone."… "Money has to serve, not to rule."
In an "Evangelii Gaudium" – Apostolic Exhortation – published on November 24, 2013, Pope Francis denounced the "idolatry of money," urged people to "say no to the economic exclusion" and was critical of "trickledown economics."
Francis has backed his words with his actions. He is the first Pope to wash prisoners' feet and to visit a slum in Rome, and has elevated the church's mission to reduce inequality and embrace social inclusion.
A survey by Lake Research, which was commissioned by allied faith and labor organizations, found that 56 percent of voters are interested in what Pope Francis has to say when he comes to the U.S. Further this survey confirmed that religiously affiliated voters embrace the Pope's theme of community and reject the prevailing economic view that says we are in this alone. The survey found that a majority of people believe that the value of money has trumped the value of people in society.
It also confirmed that a majority of religiously affiliated voters strongly support social policies such as ending racial discrimination, promoting racial justice and guaranteeing earned sick time.
This poll also found that Latinos are the demographic group most interested in the Pope's message.
The labor movement has joined other faith and civic organizations to ensure that Pope Francis' message on inclusion, solidarity and equality is amplified during his visit to the United States during the third week of September.
In June, the AFL-CIO and Catholic University of America held an event titled "Erroneous Autonomy: A Conversation on Solidarity & Faith," which examined the importance of solidarity and faith.
As the Pope's visit nears, the AFL-CIO and its affiliates are working together to generate activities and build support for workers' rights and policies of equality and inclusion.
Pope Francis will arrive at a time when politicians will be doing everything possible to get voters' attention. He preaches justice, respect, a better and fairer society, and the end of unjust economic policies that have only created more poverty and an extreme concentration of wealth. Millions of Americans will be listening to his words in September. Maybe it is time that political candidates and elected leaders follow suit and also listen.
Supporting Pope Francis' message on creating a just society is not only the labor movement's mission, it is our moral duty.
Eric Hauser is the AFL-CIO's communications director. He sent this article out to the press on Sept. 2.
Photo: On his visit to Sardinia, Pope Francis wears a helmet given him by a local coal miner. AP