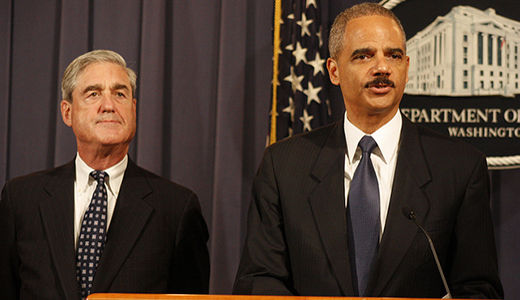 Attorney General Eric Holder announced a federal investigation into possible fraud by big banks foreclosing on homeowners yesterday, October 6, at a Washington, D.C., press conference. Holder was responding to a demand placed earlier in the week by House Speaker Nancy Pelosi and 30 other Democratic leaders.
Several big banks have announced a temporary stay in foreclosures in 23 states due to gross negligence in following proper procedures when foreclosing on homes. Bank officials signed tens of thousands of foreclosure documents, a process called "robo-sigining," without first reviewing them. Homeowner rights were potentially violated.
Pelosi said the bankers "have repeatedly misled and obstructed homeowners from receiving the help Congress and the Administration have sought to provide. The excuses we have heard from financial institutions are simply not credible three years into the crisis."
TheHill.com writes, "Pelosi and the other lawmakers have charged that homeowners have been unable to obtain help such as loan modifications because banks never responded, lost paperwork and didn't provide straightforward information on what they needed to do to avoid foreclosure."
The Financial Fraud Enforcement Task Force will launch the investigation, Holder said.
These announcements have sparked growing concerns about systemic risk in the housing market and the wider financial system. With attorney generals in several states filing suits against the banks, "judges around the country have increasingly ruled that lenders had no right to foreclose, because they lacked clear title," write Brady Dennis and Ariana Eunjung Cha in the Washington Post.
The housing crisis began when similar sub-prime mortgages were repackaged and sold around the world. The current mortgages, while not sub prime, present a similar danger. The Post article continues, "If millions of foreclosures past and present were invalidated because of the way the hurried securitization process muddied the chain of ownership, banks could face lawsuits from homeowners and from investors who bought stakes in the mortgage securities – an expensive and potentially crippling proposition."
In August, banks grabbed up 95,364 homes – a record – and issued foreclosure filings to 338,836 homeowners.
The Obama administration has provided tens of billions in assistance for troubled homeowners, money that isn't being properly used, apparently, because of the banks' grab for extra profits by seizing homes while disregarding law and homeowner rights in the process.
Civil rights, labor and community groups have been calling for a moratorium on foreclosures. Banks have stiffly resisted the demand.
Photo: Robert Mueller and Attorney General Eric Holder http://www.flickr.com/photos/ryanjreilly/4718184220/ CC 2.0