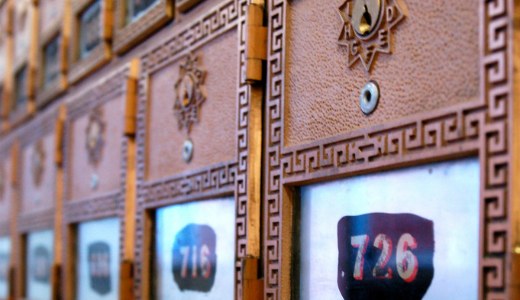 I was caught red-handed. I was in the arms of another woman and my wife found out. Actually, the dame was in my arms. But this was not a case of The Postman Always Rings Twice. I've been accused of bein' a little fresh, but never frisky.
My buddy Frank, a friendly patron on my mail route, had passed away from cancer back in August. Frank would see me struggling through the snow and ice in the winter months and we would exchange some colorful language about how much we hated winter. "Trucker talk" – as Karen, his wife, would call our banter.
I got to see him one last time before he died as he rested in his wheelchair on the sidewalk in front of his house. I went to his funeral on my lunch break, dressed in my postal blues and, after the funeral, I returned to my route, slipping the ghostly letters still addressed to Frank into his widow's lonely mailbox.
Two months later, Karen was coming home from work as I was delivering her mail. "It's good to see you. How are ya doin?," I asked in my friendly mailman voice. Well, dog gone it, she started to cry. So I walked over and gave her a big brotherly kiss and a hug. Just then, out of the blue, Madame Dick pulls up in her little white pick-em-up truck. I introduce the two ladies and they both started laughing.
My wife had come by to see what I wanted from the grocery store and caught me, innocently, consoling this nice lady, still dealing with her grief. It is part of the job description of the letter carrier that our bosses will never understand. You cannot measure or place a dollar value on some parts of our jobs. If I had been on an inspection, the supervisor would have called it a "time wasting practice."
So now, here we are. All the headlines are screaming, "The postal service is on the brink of extinction!" The pundits are asking the question, "Do we even need a postal service?" The ultra-right is blaming the overpaid union workforce, and the postal service is promoting the elimination of Saturday delivery and the closing of thousands of post offices and hundreds of processing centers. It is time for us all to ask the billion-dollar question: What is the role of the United States Postal Service in the 21st century?
"I am convinced that until we get to the 24th century, we are going to need the postal service as somebody to provide delivery services." That quote did not come from the Postmaster General or one of the presidents of the postal unions. That came from Vint Cerf, vice president of Google and a founding father of the Internet, speaking at a recent conference on the future of the postal service.
Like Google, the postal service runs a huge network that makes daily business and communications possible. The USPS runs and maintains the whole address network system for the United States. This network of addresses grows at an alarming rate every year, even during a recession. If the postal service did not exist, a federal agency would have to be created to fill this function.
One truth for the postal service is self-evident; first class mail, the bread and butter of our operation, has declined 25 percent over the last five years. This has been the result of the electronic diversion of mail, coupled with the Great Recession.
The USPS must make a choice soon: it can either evolve or go extinct. To cut services and to close post offices seems to this writer to be a shortsighted vision of the future of our venerable institution. But that has long been the problem of our organization; upper management hacks who only look at dollars and not sense.
But do not fear, brothers and sisters! The workers of the USPS have come to the rescue of their employer with some innovative thoughts on how to transform our roles as the carriers of 40 percent of the world's hard copy communications. Through a program called "The Last Mile Project," initiated by the National Association of Letter Carriers, we have been asked to contribute ideas on how to save the postal service for future generations. Be ready to have your minds blown!
Imagine you have an elderly or handicapped family member that lives alone and you cannot visit them on a daily basis. For a fee, a letter carrier would send you a daily twitter message stating that they had checked in on Mom or Dad and everything was okay. Would you pay for that? I know I would.
Imagine that the whole country, every election nationwide, used a vote by mail ballot process. The state of Oregon is doing this now, and has voter participation rates of 80 percent plus in most elections.
The postal service fleet of delivery vehicles, the largest civilian fleet in the world, could be outfitted with pollution and ozone monitors to assist a variety of federal agencies with information gathering about our climatic changes. Why have the Census conducted by a once- every-10-year-part-time-workforce when we visit every home on a daily basis?
As a service to housebound patrons, we could pick up and deliver groceries and other essential goods from local businesses to these folks who are most in need of some community support. These ideas are just the tip of the iceberg contributed by the Last Mile Project.
Instead of closing post offices, we should be expanding government services offered by them. You can already get a passport and money order while buying your stamps, why not a Postal Bank in every city across this grand land? My son in Switzerland does his banking at the Poste store in Geneva. He can't imagine why we don't do it here. Hell, you can bank at Wal-Mart!
I could go on and on, but I believe in brevity as well as levity. We need to think outside the box for the sake of saving this 250-year-old tradition known as the United States Postal Service. It is a symbol of our federal government, a noble symbol that walks up to your doorstep six days a week. It is the connection that common folks everywhere have, whether they have a computer or not. We are the tie that binds this great nation, the true epitome of working towards the common good. And, if need be, there will be plenty of hugs and kisses for any of my beloved patrons. My wife says it's okay.