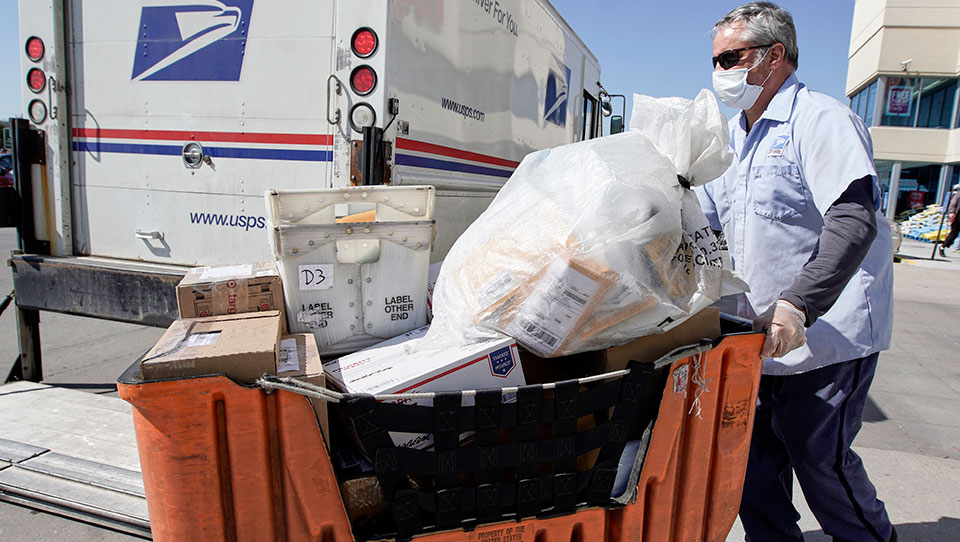 WASHINGTON—The financial collapse of the U.S. Postal Service, which could happen any time between late summer and Sept. 30 without federal aid, "would disenfranchise tens of millions" of voters in the November election, Postal Workers President Mark Dimondstein warns.
And that threat was one reason Dimondstein joined two Secretaries of State – the top elections officers in their states – to advocate inserting money for voting by mail in the next economic stimulus bill, and to order the states to implement it nationwide.
Dimondstein, Republican Kim Wyman of Washington and Democrat Jim Condos of Vermont made the case for voting by mail during an April 29 telephone press conference on the issue, organized by APWU. Voting by mail is a longtime cause of both the nation's postal unions and the top elections officials in the states and D.C.
But it's even more urgent in the time of a coronavirus pandemic which has sickened more than a million people nationwide and killed almost 60,000. That's because the recent results of the Wisconsin primary show how the virus can spread.
Citing the threat of "community spread" of the virus, Democratic Gov. Tony Evers tried to convert the entire balloting to vote-by-mail, but Wisconsin's ruling Republicans in the state legislature thwarted him, going all the way to the U.S. Supreme Court to do so.
Their legal win forced thousands of Badger State voters to wait in long lines to get into the few open, and understaffed, polling sites. Election judges quit en masse due to fear of getting the virus through community spread. Of the few judges, other polling officials and the remaining voters, 73 so far have tested positive for the coronavirus.
That scenario of long lines and disenfranchisement – multiplied many times – could repeat itself this November if the USPS financially collapses, Dimondstein said. At least six states, including Washington, Oregon, Colorado and deep red-state Utah, vote only by mail. Take away the USPS and chaos would accompany the balloting, Wyman and Condos warned.
"The whole discussion about access to the ballot box is part of the wider COVID relief discussion," Dimondstein explained, using the official name for the coronavirus.
"We keep building a movement" among voters and constituents "to make sure it isn't this way," the union leader added. "It would be a shame if ideology got in the way."
But that ideology is in the way. GOP President Donald Trump, and congressional Republicans in general, oppose voting by mail. Indeed, Trump said in late March that if voting by mail was instituted nationwide "the Republicans would never win another election."
And the GOP has its chance to ban voting by mail – or at least ban funds for it – because the USPS is in deep financial trouble. Dimondstein explained the service has suffered a 50% volume drop in its key money-maker, first-class mail, and is on its way to losing tens of billions of dollars this year.
USPS brass asked Congress to include $75 billion, not counting the separate vote-by-mail money, in the next stimulus bill. One-third would go for immediate expenses, another third for modernization, and the rest for needed equipment and supplies. APWU, the Letter Carriers (NALC), other unions, and the AFL-CIO are lobbying for it.
That USPS request has let Trump and his designated bargainer with Congress, Treasury Secretary Steve Mnuchin, demand big concessions in return: Cut pay, fire workers, cut services, raise the prices of package delivery to the point where it would be uncompetitive with private deliverers – especially anti-union FedEx – and, in so many words, rip up its union contracts covering more than half a million current employees.
"He didn't tell Boeing they needed to increase the price of airplanes" when the mid-March $2.2 trillion stimulus law funneled billions to the top aircraft maker, Dimondstein said. "Now he's telling that to the Postal Service. It's a sellout…putting it on the path to privatization. There's an agenda there."
All three urged lawmakers to approve vote by mail, as well as the larger funding request for USPS, and Condos had his own thoughts about Trump's opposition.
"At this point, it's just one person" – the president – "who has a bone to pick" with the USPS over its package rates, specifically the rates it charges Amazon, Condos mused. Trump hates Amazon owner Jeffrey Bezos, one of the nation's three richest people.
"I'm sorry he has it" – the bone – "but this is bigger than him."
Lobbying lawmakers of both parties "is on my list of things to do," Wyman added. Besides, voting by mail has been constructed in such a way, according to all the secretaries of state, as to virtually eliminate any deliberate vote fraud, another GOP bugaboo.
The biggest instance of election fraud – not vote fraud – in decades saw a right-wing GOP operative in North Carolina try to rig a 2018 congressional election there, the secretaries noted. He got caught and the results got tossed out. The election was rerun last year.
But if vote by mail goes, problems could return, Wyman warned, and if lawmakers "act in a partisan way" to block it "people could lose confidence" in the honesty of elections.
Dimondstein added one other point about refusing to allow vote by mail: The people most hurt by such a ban would be people of color. They, especially African-Americans, can't stand Trump. But they and 91% of all Americans, love the Postal Service, polls show. Disenfranchising people by banning vote by mail "would be the biggest threat to voting rights since 1965," when Congress passed the Voting Rights Act.
Like free stuff? So do we. Here at People's World, we believe strongly in the mission of keeping the labor and democratic movements informed so they are prepared for the struggle. But we need your help. While our content is free for readers (something we are proud of) it takes money — a lot of it — to produce and cover the stories you see in our pages. Only you, our readers and supporters, can keep us going. Only you can make sure we keep the news that matters free of paywalls and advertisements. If you enjoy reading People's World and the stories we bring you, support our work by becoming a $5 monthly sustainer today.
TOWN HALL May 2 – Confronting the COVID Economy: Women Fight Back