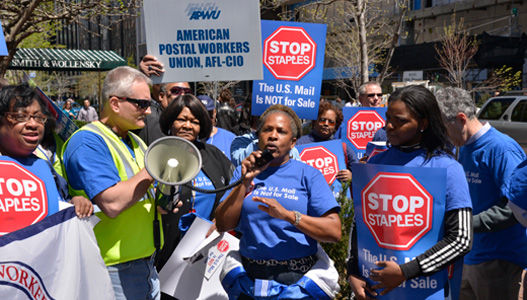 WASHINGTON (PAI)–Chanting "Whose post office? The people's post office!" and "The U.S. Mail is not for sale!" more than 100 Postal Workers and their union allies marched through downtown Washington on April 24, protesting the U.S. Postal Service's scheme to run postal services out of Staples stores.
The demonstration was one of more than 56, in every state in the U.S., on a National Day of Action that the Postal Workers (APWU) and other postal unions called to campaign against the Staples scheme. The Staples plan is a cog in Postmaster General Patrick Donahoe's current campaign to cut costs by firing full-time union workers and giving postal jobs to part-time minimum-wage no-benefits non-union workers toiling at Staples stores.
Donahoe's Staples "pilot project," which postal workers call privatization, is part of his plan to cut costs by trashing workers and reducing service. Donahoe wants to fire 100,000 employees, let another 100,000 go by attrition, eliminate Saturday service, kill door-to-door service, close USPS sorting centers and shutter or cut hours at 13,000 post offices. He also wants to transfer the remaining full-time workers to a new, untried, USPS-run health care plan.
All this has led the nation's postal unions – APWU, the Letter Carriers, the Rural Letter Carriers, and the Mail Handlers, a Laborers Sector – into an unprecedented alliance to mobilize their members and the public to stop his plans and substitute better alternatives.
The 56+ demonstrations are the alliance's second joint effort, following an April 14 joint letter from the unions to lawmakers calling President Obama's budget proposals for the U.S. Postal Service unacceptable. Many of Obama's USPS budget plans track Donahoe's recommendations.
Union members and leaders in the D.C. demonstration made it clear they had little taste for the Postal Service's plan, which would throw hundreds of thousands of minority-group members, veterans, or both, out of middle-class jobs.
"We have a rat in the house and it's spelled S-t-a-p-l-e-s," Metropolitan Washington Central Labor Council President Jocelyn Williams told the D.C. crowd at its destination, one of two downtown Staples stores. Members of the Letter Carriers, the Mail Handlers/Laborers, AFGE, the Office and Professional Employees, SEIU, The Newspaper Guild-CWA, IBEW and the Teachers also marched. Their support, along with backing from the rest of organized labor, gratifies Mark Dimondstein, the new, activist president of APWU.
"Only together will we rise; Separately, we will fall," he said. "This is a fight against the Wall Street privatizers and the postmaster general who works with them." And Dimondstein warned the nation: "Do not be seduced by convenience" of mail handling at Staples stores.
"We're here to say no to outsourcing," added Letter Carriers Executive Vice President Tim O'Malley. "We should put trained APWU postal clerks in private establishments, just as they were in Sears Roebuck stores when I was in Philadelphia."
"This is not just about Postal Service workers. It is about America and it is about survival of the middle class," added Williams, who helped pay for his college expenses by toiling four years as a seasonal Thanksgiving-to-Christmas postal worker.
"We are going to fight this contracting-out of vital postal services," said AFGE President J. David Cox. "I want the Post Office to be processing all of the mail."
"We'll stop this ill-advised scheme by the postmaster general," Mail Handlers President John Hegarty told the crowd.
While Donahoe tries to shift postal services to Staples, he's silent on union-suggested moves to increase USPS revenues, such as expanding its business to include postal banking, notary public services, longer weekend hours, licensing and other services, Dimondstein said.
In their letter to lawmakers, Dimondstein, Letter Carriers President Fredric Rolando, Hegarty and Rural Letter Carriers President Jeannette Dwyer made those same points against the president's, Donahoe's cost-cutting and congressional postal "reform" bills that mimic those moves.
"We strongly oppose major elements of the administration's proposed reforms as out‐dated and counterproductive to the goal of strengthening the Postal Service for the 21st century. The USPS has strongly recovered over the past 18 months as the economy has bounced back and the e‐commerce boom" benefiting the USPS "gathered pace," they wrote.
Without a congressional mandate that USPS must pre-pay $5.5 billion yearly in future retirees health care costs – imposed by a 2006 GOP-passed postal "reform" bill – USPS was profitable last year, they pointed out. The president's budget disregards that, they add.
"Reducing deliveries and slashing the quality of service never made sense as a business strategy. Market research…for USPS found that service cuts would cause mail volume to fall by 7.7 percent and reduce revenue by nearly $5.3 billion – that is, by more than it would reduce costs. Now that USPS is recovering and has eliminated some 75,000 career jobs since 2011, slashing service further makes even less sense. It would discourage businesses from partnering with the Postal Service," their letter said.
"Kicking the can down the road" is not a solution to the Postal Service's most-pressing financial problem, the health care prepayment, the four declared. "The payments are unaffordable now; they will be unaffordable two years from now. The USPS has already set aside more than $50 billion for decades of future retiree health benefits. It's time to repeal the pre‐funding burden that no other private or public enterprise faces."
Ending Saturday pickups and deliveries would kill 81,000 jobs and eliminate the unique advantage USPS enjoys over other delivery services, they point out. Ending door-to-door delivery eliminates 16,000-20,000 more. Indeed, "many customers, like Amazon.com, have already begun to partner with the Postal Service to provide 7‐day delivery," they said.
Photo: Washington, D.C. APWU flickr "Stop Staples National Day of Action."