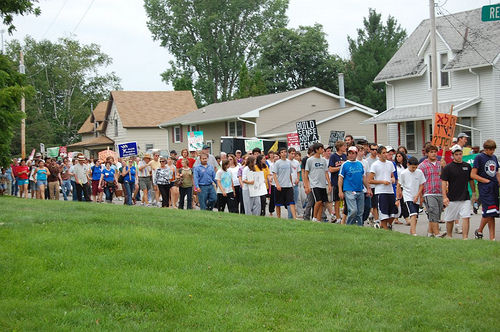 Flanked by civil rights and union leaders, Sen. Robert Menendez, D-N.J., announced April14 at a Capitol Hill press conference, legislation that would strengthen worker and immigrant rights.
Menendez said the POWER Act (Protect Our Workers from Exploitation and Retaliation) was written in response to numerous reports from around the country that employers use the threat of deportation and immigration raids to retaliate against workers who speak up for their rights on the job.
One such story comes from Daniel Castellanos, an engineer from Lima, Peru.
Castellanos was recruited to work in New Orleans in the aftermath of Hurricane Katrina, when 1000s of Gulf Coast residents were looking for work and housing.
"Daniel's employer paid half the wages of a U.S. worker, subjected the workers to atrocious conditions, and counted on their fear of deportation to keep them quiet. When Daniel led the workers in a public fight for respect and dignity, the employer fired him. This bill would protect Daniel and others like him so they can speak out without fear or trepidation against abusive employers. This bill would help our economy by making sure American workers and immigrant workers are treated fairly alike," Menendez said.
There are numerous examples of abuse by employers using workplace raids as a bludgeon to keep "workers in their place" and maximize their rate of profit.
Civil rights leaders, including the Rev. Jesse Jackson, and union leaders supported Menendez's move because the POWER Act would provide vital labor protections and guard workers against employer retaliation.
"The POWER Act will provide courageous workers with the necessary tools to ensure that their rights to organize and work in a safe and lawful work environment are protected," said Marielena Hincapié, executive director of the National Immigration Law Center.
Hincapié said abusive employers know they can use deportation threats to thwart union organizing, and keep workers in line if they dare speak out about wages or unsafe working conditions.
"This undercuts other employers and creates a 'race to the bottom' that America can ill-afford," she said.
The "race to the bottom," experts say, is a contributing factor to the stagnant wages and growing wealth gap U.S. workers have experienced in the last decades.
In a statement, SEIU Executive Vice President Eliseo Medina welcomed the bill and spoke of his own family's experience in the "race to the bottom."
"I know this story all too well. My family came to this country in the 1950s under the notorious Bracero program that brought in needed farm help, but did not provide protections from abusive employers, low wages and terrible working conditions. Over the decades, our immigration laws have changed, but the ability of unscrupulous employers to threaten workers with abuse, deportation or withholding of wages has not."
Medina said U.S.-born workers are hurt by the abuse as well, and don't gain rights or more wages from workplace raids and threats of deportation.
"When some workers are easy to exploit, it depresses wages and creates dangerous working conditions for all. Nobody wins–not American workers, not immigrants and certainly not well-intended business owners who play by the rules," he said.
The bill's introduction comes at the same time a broad-based immigrant and labor rights coalition is mobilizing for comprehensive immigration reform, which would include a path to legalization and citizenship, workplace and civil rights and family reunification.
To read about the key provisions of the POWER Act, go to, National Immigration Law Center.
More stories on workplace raids and immigrant worker abuse at peoplesworld.org:

Largest-ever workplace raid terrorizes 600 workers in Miss.

Study finds workplace raids unlawful

Meatpackers union sues on immigration raids

Used and abused: guest workers and U.S. immigration reform
Photo: After a workplace raid at a kosher meatpacking plant in the town of Postville, Iowa, some 1,200 people protested the treatment of immigrant workers. http://www.flickr.com/photos/ellenmac/ / CC BY-NC-ND 2.0