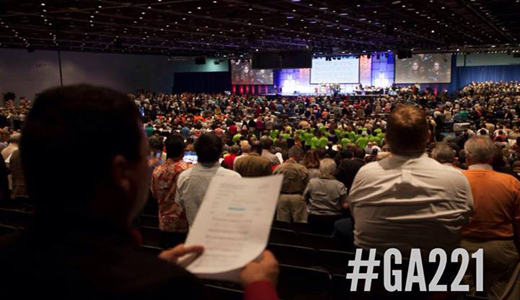 The 1.9-million-member Presbyterian Church (U.S.A.) last week narrowly approved divestment from three U.S. companies that supply Israel with equipment used to maintain its occupation of Palestinian territory.
By a vote of 310-303, the church's 221st General Assembly, meeting in Detroit, approved a measure calling for divestment from Caterpillar Inc., Hewlett-Packard and Motorola Solutions. At the same time the assembly disapproved a proposal for a boycott of Hewlett-Packard.
The church says it has about $21 million invested in the three firms. Church leaders said they had tried for years to convey concerns to the companies over their profiting from the occupation through their sales of bulldozers, surveillance technology and other equipment to Israel.
"After a decade of corporate engagement with Caterpillar, Hewlett-Packard, and Motorola Solutions, these companies have failed to modify their behavior and continue to profit from Israeli human rights abuses and non-peaceful pursuits," the Rev. Dr. Walt Davis, a member of the church's Israel/Palestine Mission Network and professor emeritus at the San Francisco Theological Seminary, told the Detroit News. "This is a historic vote and the culmination of a long and deliberate internal process within the church."
A similar measure, which the church calls an "overture," failed in a close 333-331 vote at the church's previous assembly in 2012.
The measure approved last week also affirms the U.S. Presbyterian Church's commitment to interfaith and ecumenical dialogue and relationships in the region, and to a two-state solution to the Israeli-Palestinian conflict. A preamble was added on the floor to reinforce that, saying, "The PC(USA) has a long-standing commitment to peace in Israel and Palestine. We recognize the complexity of the issues, the decades-long struggle, the pain suffered and inflicted by policies and practices of both the Israeli government and Palestinian entities. We further acknowledge and confess our own complicity in both the historic and current suffering of Israeli and Palestinian yearning for justice and reconciliation."
Immediately after the vote, church Moderator Heath Rada emphasized, "In no way is this a reflection for our lack of love for our Jewish sisters and brothers.
Divestment was the most debated part of the measure, with the vote announcement drawing "audible gasps" from attendees, according to a church press release.
Assembly delegates opposed to divestment cited concern about damaged relationships with Jewish partners.
"Divestment has the symbolic power to humiliate our Jewish friends in this country," said Sid Batts, a teaching elder from the Salem, N.C., presbytery. Batts serves a church across the street from a Jewish temple and said he values the strong relationship between the two congregations.
But the Rev. Gradye Parsons, a church leader, told the New York Times, "We're still committed to Israel and its right to exist, but we're concerned about the occupation and think Israel can do better."
Many Jews are in favor of divestment, argued Ben Falter, a young adult advisory delegate from the Geneva, N.Y., presbytery.
"Just as we here have differing views, so too do our Jewish brothers and sisters," he said.
Others said they were concerned passage of the measure would align the PC(USA) with the international boycott, divestment and sanctions movement. The overture was amended to read: "This action on divestment is not to be construed … as an alignment or endorsement of the global BDS (Boycott, Divest and Sanctions) movement."
"Divestment will not end the conflict and bring peace. Divestment will bring dissension," argued Frank Allen, a teaching elder from central Florida. "Dialogue and relationship-building will lay the groundwork for real peace." Allen presented a minority report opposing divestment.
Andries Coetzee, a teaching elder from Muskingum Valley, Ohio, noted the PC(USA)'s divestment from companies supporting apartheid in South Africa. As a member of the oppressive white minority in South Africa, Coetzee thanked his fellow Presbyterians for divesting there and encouraged the assembly to do the same for Israelis and Palestinians.
"You put me on the road to gaining back my humanity," Coetzee said.
The Presbyterian Church is one of the most prestigious "mainline" Protestant denominations in the U.S. Many U.S. presidents have been Presbyterians.
The Presbyterians' move follows actions by other U.S. churches. Earlier in June the United Methodist Church pension board announced that it would sell holdings worth about $110,000 in G4S, a company that has security equipment contracts with Israel's prison system.
Last year the Mennonite Central Committee announced it would not invest in "companies that benefit from products or services used to perpetrate acts of violence against Palestinians, Israelis and other people groups." In 2012 the Quakers sold their stock in Hewlett-Packard and two other companies that sold products to Israel's military.
Americans for Peace Now, the American affiliate of Israel's Peace Now movement, said the Presbyterians' action "should serve as a resounding warning for the Israeli government. Increasingly large segments of American society – including ones that care deeply about Israel's future and invest in it – are losing patience with the nearly five decades-long occupation and with the Israeli government's refusal to act seriously to bring it to an end."
Photo: Opening worship time at the Presbyterian Church (U.S.A.) 221st General Assembly, Detroit, June 15. Spirit of GA Facebook page