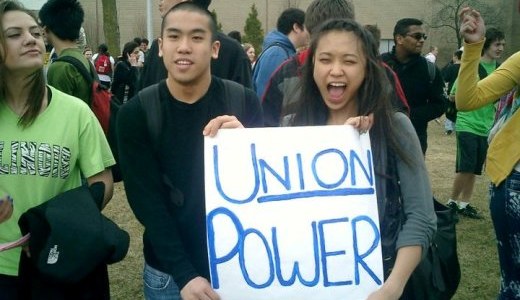 The right wing's widespread attack on workers has a new target: the nation's youth. Currently the number of youth who are unemployed, especially youth of color, has risen to a level not seen in the last 60 years. It is estimated that only one in four youth who are looking for summer jobs this year will find one.
At the same time, Republican lawmakers in Maine and Missouri are proposing legislation to repeal child labor laws, which would allow children to begin work at an earlier age, for longer hours, for less than the minimum wage. Already state Sen. Jane Cunningham in Missouri and Gov. Paul LePage in Maine are using the argument that putting children to work in sub-human conditions will somehow be a solution to the nation's economic crisis.
Exploiting young people not only ignores the need to hold corporations accountable for skyrocketing poverty levels in the U.S., but perhaps even more importantly threatens the generation of people who will determine the economic stability of the nation for the next century.
Especially for working class youth, finding stable employment at an appropriate age is imperative in the process of securing economic well-being. However, it has become increasingly difficult for youth to find stable employment, both while they are still in school and upon completing their education.
According to the U.S. Bureau of Labor Statistics, the share of young people who were employed in July 2010 was 48.9 percent, the lowest July rate on record since the bureau began tracking this number in 1948. This summer's overall youth employment rate is expected to plummet even further.
A recent Reuters article projected that the unemployment rate amongst African American youth between ages 16 and 19 in Chicago could reach 90 percent this summer.
Hispanic youth face similarly staggering unemployment numbers. The National Puerto Rican Chamber of Commerce estimated this past February that the overall unemployment rate among U.S. Latino youth was 24 percent, while for African Americans it was 32 percent.
The quoted numbers have terrifying implications not only for young people's economic stability but also for their exposure to violence and incarceration. The same Reuters article referenced above reports that 700 youth in Chicago alone were victims of gun violence last year. Simultaneously, the racist GOP policies that create a "school to prison pipeline" – in other words the rapid pushing of youth of color from school into prison – will gain much traction during this time of drastic youth unemployment.
While corporations and the right wing are creating a hostile economy for youth who are actively looking for decent jobs, Maine and Missouri lawmakers are making sickening proposals to over-work youth at lower wage rates and at younger ages.
In Maine, Republican Gov. LePage is pushing for legislation that would:
* increase the number of hours per week that students can work from 20 to 24,
* eliminate the maximum number of hours that a minor of 16 years or older can work on a school day,
* allow children to work until 11:00 p.m. on school nights (right now they can only stay working until 10:00 p.m.).
Another bill pushed by LePage would have introduced a "training wage" of $5.25 per hour for the first six months of employment – the standard minimum wage in Maine is $7.50 – and removed limits on their school-week work hours. That bill has been killed.
LePage stated in a public meeting in Topsham, Maine: "I went to work at 11 years old. I became governor. It's not a big deal. Work doesn't hurt anybody."
In Missouri, state Sen. Cunningham has proposed Senate Bill 222, which would:
* make it legal to employ children under the age of 14,
* remove the requirement that children age 14 and 15 obtain a permit from their school to work
* allow children of any age to work in hotels and motels in any capacity if the hotel provides a place for them to sleep,
* remove restrictions on how long children can work during the day,
* remove the requirement that businesses keep records regarding the children that they employ,
* eliminate the state's authority to inspect employers who employ children.
These shocking proposals illuminate the intentions that the GOP has to concentrate wealth and power in corporate hands at literally any cost.
As a nation we must focus on creating good jobs for the young people who are at an age where starting their working lives makes sense. We must vehemently oppose the efforts in Maine and Missouri to make young workers into the new population that capitalism can exploit. The student leadership in Wisconsin's uprising and in many other states across the country clearly demonstrates that young people are ready to play a central role in the labor movement today, not only in solidarity with their parents and teachers but for their own futures as well.
Photo: People's World