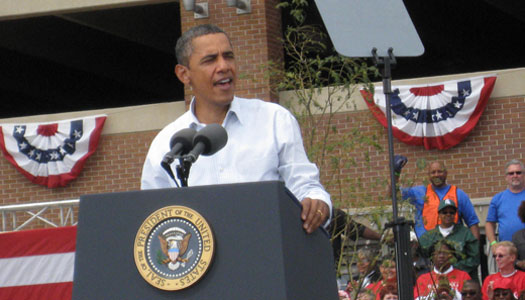 DETROIT – The president of the United States, the nation's labor leaders and one of America's cultural icons teamed up here on Labor Day to boost the labor movement, which they said is crucial to any economic recovery.
President Obama, Secretary of Labor Hilda Solis and AFL-CIO President Richard Trumka were joined by Detroit's own Aretha Franklin, who ended a four song set with her "Respect," fitting for the tens of thousands marching that day and demanding respect for the work they do, day-in and day-out.
Franklin, the "Queen of Soul," received a rousing ovation after her call for respect for "the man in the Oval Office."
The president, who came on stage to chants of "four more years," linked recovery and prosperity to the labor movement "I want everyone to know that as long as I am in the White House I am going to stand up for collective bargaining," Obama declared.
"When working families are doing well, when they're getting a decent wage and they're getting decent benefits, that means they're good customers for businesses. That means they can buy the cars that you build. That means you can buy the food from the farmers. That means you can buy from Silicon Valley. You are creating prosperity when you share in prosperity.
"When I hear some of these folks trying to take collective bargaining rights away, trying to pass so-called 'right to work' laws for private sector workers – that really mean the right to work for less and less and less – when I hear this talk I know it is not about economics but about politics."
Underlining the administration's intention to signal strong support for unions, Vice President Joe Biden, in a speech the same day in Cincinnati, said the union movement is in a fight for its life and that the "other side" is determined to take away its right to exist. Biden said unions are the only non-governmental group that has the power and capacity to stop the onslaught against the middle class. "The middle class in under attack because labor is under the most direct assault in generations. The other side has declared war on labor's house and it's about time we stand up."
Saundra Williams, chair of the Detroit rally and president of the Metropolitan Detroit AFL-CIO Labor Council, led the crowd in a "Good Jobs Now" chant. Michigan is suffering double digit unemployment and a new report, citing 235,000 state residents out of work six months or longer, added urgency to their cry.
United Auto Workers (UAW) union Secretary-Treasurer Dennis Williams put it bluntly: "We don't care about the debt ceiling, raise it. We have 13 million out of work. Put their asses back to work."
During his remarks President Obama said that next Thursday he will address the nation on jobs and, in a hint about the speech, said, "We've got roads and bridges across this country that need rebuilding."
U.S. Congressman Sander Levin blasted Republican Presidential candidate Mitt Romney's contempt for the UAW and the jobs of autoworkers. In 2008, with GM and Chrysler facing bankruptcy, Levin reminded everyone of Romney's comments: "If auto companies get a bailout, you can kiss the auto industry goodbye."
President Obama was a singular voice standing by the industry and today, it is "roaring back," said Labor Secretary Hilda Solis.
Teamsters International President James Hoffa said to the president, "This is your army, we are ready to march."
Michigan Congressman John Conyers said, "When we go back to Washington next week, our message to Congress and the president is, 'jobs now,' not just for Detroit but everyone in the nation."
Photo: John Rummel/PW