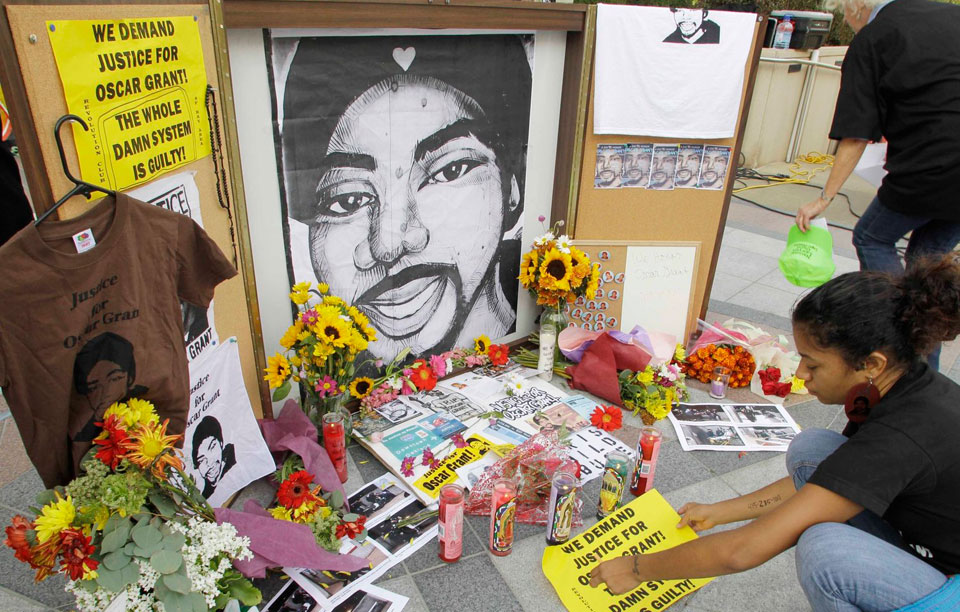 OAKLAND, Calif. – The family of Oscar Grant, a 22-year-old unarmed African American man killed by a transit police officer on New Year's Day 2009, was joined by supporters including elected officials this week as they vowed to step up their fight for justice after a district attorney declined to charge a second officer involved in Grant's murder.
Oakland City Council and Bay Area Rapid Transit Board of Directors members joined family and community supporters in denouncing the decision.
Grant was shot in the back by BART Police Officer Johannes Mehserle on the platform of Oakland's Fruitvale BART station, as he lay face-down on the station platform, surrounded by other BART police. Videos by witnesses showed Grant appeared to be cooperating before two officers pushed him face-down, followed by the shooting.
Mehserle, who claimed he meant to tase Grant but accidentally reached for his gun instead, was tried, found guilty of manslaughter, and served 11 months of a two-year prison term. Though videos showed another officer, Anthony Pirone, also attacking Grant, no other officer was charged at the time.
Grant's family has always insisted Pirone be charged as well, a demand redoubled after a previously-confidential BART report was released in 2019. Among its findings: Pirone repeatedly called Grant a racial slur, struck Grant in the head, and pressed his knee into Grant's neck, while Grant did not fight back.
After the report became available, Grant's family and supporters demanded the case be reopened. Their hopes rose when Alameda County District Attorney Nancy O'Malley announced in October she had assigned a team of attorneys "to evaluate the evidence and the law" and make a determination.
But on Jan. 11, O'Malley announced that she would not charge Pirone. She released a report of her department's investigation, which concluded that while Pirone's conduct on New Year's Eve 2009 "was offensive and unacceptable" and "the Office deplores his behavior in the strongest possible terms," it was not possible to prove Pirone guilty beyond a reasonable doubt. "We condemn Pirone's conduct, but we cannot charge him with murder."
When the Grant family, community supporters, and elected officials gathered on the morning of Jan. 12 for a press conference in front of Oakland's City Hall, they were outraged, deeply distressed, and even more determined to win justice.
Oakland City Councilmember Loren Taylor called O'Malley's decision "a travesty." Taylor noted that the investigation BART commissioned found Pirone "in large part responsible for setting the events in motion that created the chaotic environment and tense situation on the platform, setting the stage, even if inadvertent, for the shooting of Oscar Grant."
"In other words," he said, "if not for actions of Officer Pirone, Oscar would likely be here with us today."
Taylor said he, Oakland City Council President Nikki Fortunato Bas, and Councilmembers Carroll Fife and Treva Reid would bring a resolution before the Council that afternoon, calling on O'Malley to charge Pirone in Grant's killing and to seek the maximum penalty on conviction.
A similar resolution, sponsored by BART Directors Lateefah Simon, Bevan Dufty, Janice Li, and Rebecca Saltzman, was slated to go before the BART Board of Directors on Jan. 14.
Grant's uncle, Cephus Johnson, "Uncle Bobby," described the years'-long struggle, escalated by the unsealing of the BART report, to convince the Alameda County District Attorney to file murder charges against Pirone.
Johnson declared, "We will move forward seeking these charges," for the family, the community "and all who believe that justice should be applied to all people, especially Black and brown men across this country. We have a right to justice, and we will continue our fight for justice until it's brought down to all of us that are entitled to have this form of justice, including my nephew, Oscar Grant."
BART Director and former BART Board president Lateefah Simon called on Oakland's Police Commission, the San Francisco Board of Supervisors "and all elected bodies in this Bay Area" to pass a resolution demanding that O'Malley reconsider felony murder charges against Pirone.
She said the resolution she and fellow BART Director Bevan Dufty are bringing to the BART Board "clearly states, this murder happened on BART land, and it happened because there were employees who saw a young man as unhuman, and we take responsibility and we ask Nancy O'Malley that she do the same thing.
"Today our community says we are not done," Simon said. "We have waited too long as a community, a national and international community, to get justice for Oscar Grant, and justice delayed is justice denied."
Declaring "this movement is not going to stop," Dufty cited findings of BART's independent investigation calling Pirone largely responsible "for setting the events in motion that created a chaotic and tense situation on the platform, setting the stage, even if inadvertently, for the shooting of Oscar Grant."
Attorney Charles Bonner, who has been working on the case together with fellow civil rights attorney John Burris, said the two will meet with O'Malley next week to point out contradictions they have noted both in the law and the facts cited in the District Attorney's report, and to encourage her to charge Pirone.
Oscar Grant's mother, the Rev. Wanda Johnson, vowed that family and supporters "will fight, will continue to push, until justice is served … We have to fight as a family and a community to ensure justice is served not only for my family but families who have lost their loved ones at the hands of police.
"Now, Nancy O'Malley, do your job," Johnson said. "Charge the officer like he should have been charged when it first occurred."
That afternoon, the Oakland City Council unanimously passed the resolution by Taylor, Bas, Fife, and Reid, calling on O'Malley "to expeditiously charge former BART police officer Anthony Pirone with felony murder and any other criminal charges she finds applicable for the killing of Oscar Grant," and urging her to "seek the maximum penalty for such crimes upon conviction."
On Jan. 14, the BART Board of Directors, by a vote of 6-3, joined in that call.