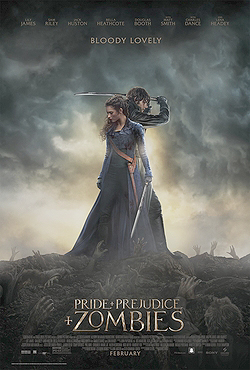 Do you enjoy classic novels about manners, morality, education, and marriage in 19th-century Britain? And do you also enjoy violent horror pictures about the zombie apocalypse? Then there's a movie coming out this weekend that was made just for you. In fact, it could be suited for anyone who enjoys well developed characters, strong female leads, and an overall fun time at the movies – that includes flesh-eating undead humanoids.
From the creators who brought you Abraham Lincoln: Vampire Hunter comes the movie adaptation of one of the bestselling novels of 2009. Pride + Prejudice + Zombies is a horror film that mashes together the classic Jane Austen novel with a modern-day zombie twist. All the beloved, well known characters of the original source are there, but now in a world where the undead roam the earth as an ever growing threat. Yet this doesn't stop society from continuing to push for a woman to be well behaved and well married. Repressive patriarchal norms don't take a day off, not even in the zombie apocalypse. The movie follows the journey of the main character, Elizabeth Bennet, as she negotiates a world where she'd much rather be slaying reanimated corpses than looking for a husband.
Burr Steers (Igby Goes Down, Charlie St. Cloud) is the screenwriter-director for this project. He creates an early 19th-century environment, with women adorned in beautiful British regency ball gowns and petticoats, while maintaining the darker horror element: Those same women are often seen lifting their petticoats to reveal blades and rifles in hidden places ready for a zombie fight. The film takes itself seriously enough that when there are no threats of the undead on screen, one could be watching one of the many film adaptations of the Austen piece. But when the zombies come out, there are plenty of amusing beheadings, severed limbs, and sneaky walking corpses all in a PG-13 style. Very Jane Austen polite – although some fans of the zombie genre might find the lack of excessive gore a bit frustrating throughout the movie's 108-minute running time.
What may be most appealing about the film is that at its heart is a young woman attempting to find her place in the world, while falling in love with a man who is obsessed with class rank. In the original Austen novel Elizabeth Bennet had an internal struggle between her mind and heart. P+P+Z keeps Elizabeth's conflict intact, while adding the external threat of death at every turn. The stakes are raised higher for her, given that at any moment her life may become a short one. Not exactly a far cry from the original, as the life expectancy at that time was an average 47 for men and 50 for women. (Austen herself died at 41.)
Lily James, as the rebellious heroine, and Sam Riley, as her brooding zombie-fighting suitor Mr. Darcy, have plenty of chemistry to keep viewers interested in the romantic subplot. Their classic scene of Elizabeth rebuffing Mr. Darcy's insulting marriage proposal is tweaked in the film to include a high-energy hand-to-hand combat between the two would-be lovers, that lends action to their fiery words. It's almost as if Austen, in writing that now famous dialogue, knew that one day it would be infused with ninja combat and flying bodies. OK, that may be a bit of a stretch, but the fight sequence fits perfectly with the dialogue, as do many other scenes that fill out the well known classic moments with battle.
Television and film stars Lena Headly (Game of Thrones, The Purge), Matt Smith (Doctor Who), and Charles Dance (Game of Thrones, Bleak House), play smaller, but memorable parts in the film, adding to the efficient cast. James' dynamic with her onscreen sisters, played by Bella Heathcote, Suki Waterhouse, Ellie Bamber, and Millie Brady, is believable as all the young women go back and forth between being "warrior daughters" (as Dance's Mr. Bennet so affectionately calls them in the film) and young women trying to be presentable for their suitors.
You've got a strong heroine, a dashing love interest, an interesting subplot, good battle scenes, and the high stakes of world doom: All the makings of a solid zombie film with Austen's social commentary mixed in for good measure. You don't need to be familiar with the original novel, or the parody novel by Seth Grahame-Smith, to enjoy P+P+Z, which stands alone as a fast-paced zombie film that happens to be set in the early 19th century. If you want an entertaining night at the movies with a bit more character development than merely the expendable bodies of the traditional zombie genre, then this film comes highly recommended. The movie opens nationwide on February 5th.
A trailer for the film can be seen here.
Pride + Prejudice + Zombies
Cast: Lily James, Sam Riley, Lena Headey, Douglas Booth, Matt Smith, Jack Huston, Charles Dance, Bella Heathcote
Director: Burr Steers
Screenwriter: Burr Steers, based on the novels by Jane Austen and Seth Grahame-Smith
PG-13, 108 minutes
Photo: Poster for Pride + Prejudice + Zombies