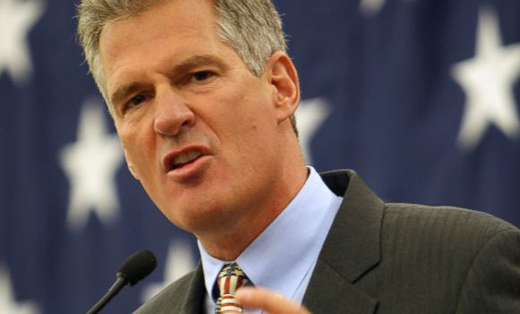 The 2014 primary election season came to an end yesterday with the former Massachusetts Republican Senator Scott Brown, who was defeated by Elizabeth Warren, winning the GOP primary in New Hampshire.
The win will allow him to attempt a comeback into the U.S. Senate if he can best incumbent Democratic Sen. Jeanne Shaheen on Nov. 4. After losing in Massachusetts Brown moved into his summer house in New Hampshire and claimed that it is his new round-the-year permanent home so he could take on Shaheen. It was widely believed that Shaheen's seat was safe but polls have recently narrowed into the single digits following a huge influx of right-wing money into the campaign on Brown's behalf.
In one of New Hampshire's congressional races the incumbent Democrat, Carol Shea Porter, will face Republican Frank Guinta again. She defeated him in 2012 after having lost to him in 2010. He was the elected representative from the 1st District in New Hampshire when Porter ran against him. Guinta's victory last night in the GOP primary was over Dan Innis, an openly gay Republican.
In New Hampshire's 2nd District it was clear that the tea party was too far to the right for most of the state's Republican electorate. The Republicans there were running for the chance to beat the incumbent Democrat, Ann McLane Custer. The winner of the Republican primary was state Sen. Marlinda Garcia, who said she supports a pathway to citizenship for undocumented immigrants. She openly accused her opponent, state Sen. Gary Lambert, of being a right-wing extremist.
Despite the presence of a tea party candidate in her race Garcia had the backing of the right wing Club for Growth and Sen. Ted Cruz of Texas.
In Massachusetts, meanwhile, the state's attorney general, Martha Coakley, won the Democratic nomination for governor. She hopes this is a major comeback for her after having been defeated in the race for former Sen. Ted Kennedy's seat by Scott Brown.
Also in Massachusetts a tea party effort to capture the GOP nomination for the governor's race failed. Mark Fisher, a businessman who aligned himself strongly with the tea party, lost in a landslide to Charlie Baker, a so-called "moderate" Republican who fashions himself in the style of Mitt Romney.
In another Massachusetts race, the Democrat Seth Moulton, an Iraq War vet, defeated incumbent Rep. John Tierney. Moulton will square off against the GOP's Richard Tisei who, if he were to win, would by the first openly gay Republican member of Congress.
The labor movement and workers concerned about retirement security are facing a quandary in Rhode Island. Gina Raimondo, the state's treasurer, defeated Providence Mayor Angel Taveras.
How the state's pension obligations are to be handled was a major issue in the race. Raimondo backed attacks on earned benefits and pension rights that, of course, unions opposed. Taveras, who backed a plan that was less anti-worker but still problematic, had more support in the labor movement.
In New York State incumbent Gov. Andrew Cuomo defeated a stronger-than expected challenge from Zephyr Teachout who got 36 percent of the vote as opposed to Cuomo's 60 percent. Teachout had rallied support from progressives angry about many of Cuomo's moves to the right. Teachout criticized Cuomo for many of his positions including his support for charter schools over public education.
In Delaware too the tea party lost out yesterday. Republican voters chose Kevin Wade to face Democratic Sen. Chris Coons, the likely winner, in November.
Wade's tea party opponent, retired Air Force veteran Carl Smink, openly claimed during the campaign that he was directly recruited for the race by the occupants of Heaven. He devoted much of his campaign to opposing Sharia Law, warning voters that it is about to be implemented across the United States.
Photo: Scott Brown. AP